Occupational Hazard
You'd have expected me to sleep in on a Saturday morning. So did I.
But NOOOOOOO..... I woke up before 830am and Yasi was up soonafter too.
Two teachers-to-be-who-wanted-to-sleep-in-but-could-not.
Sigh.
The kids think I am Eurasian/American, which is quite amazing, frankly. I was doing relief for a class and as I was walking around supervising them while they completed their comprehension worksheet, one boy raised his hand and asked:
"'Cher, you from which country ah?"
"You guess?"
"America-ah?"
"Maybe?"
"oooohhh..."
What did I just do?
Then two boys started conversing in Malay and in between their convo, they'd sneak a sly look at me which clearly spelt out
HOHO YOU DON'T KNOW WHAT WE ARE TALKING ABOUT
.
Too bad they couldn't interpret my saccharine-sweet smile as
HOHO I UNDERSTAND EVERY SINGLE WORD THAT HAS BEEN EXCHANGED BETWEEN YOU TWO.
I can't wait to shock them one day.
::::

And it's back to the wake-up-by-530am days
Just with a lot of differences this time around:
- So what do I wear this morning?
- where's the concealer?
- damned heels!
- yay let's go to the canteen before the kids get there!
- and to top off my first day as an (almost) full-fledged teacher in Singapore, a student came up to me and said, " 'Cher, thank you-ah!" (kids here just somehow drop the syllable 'tea')
I am so amused.
A snippet from a Sec 1 Lit class that I was observing this afternoon:
"I attended a funeral during the holidays, that's why I couldn't contribute much to the group project"
"What, you attended your own funeral?"
"Yeah-la!"
(as the teacher tries to hide her laughter) "No, I said, did you attend your OWN funeral!"
(the boy realises his mistake and tries to salvage) "Yea la, you see teacher, I am reborn!"
I meant it completely when I told my colleagues-for-4-weeks that I was looking forward to a good 4 weeks in the school.
And yea, for this one day so far, I am feeling good about this school :)
But it's 10pm now and I should sleep soon, hee.
edit: By the way, the whirlwind weekend back to Ipoh was good! Short but thoroughly refreshing! Brought Ernie for his maiden movie outing (what else but
Cars
?, and he had the audacity to go to the toilet FIVE times throughout the 2 hours.); had a lovely birthday dinner for my mom and Jan came along; yumcha session where *someone* was the main target; generally feeling good about being at home!
::::

Excuse me, you do not have a hyphen in your name!
I looked up quizzically.
"But I do!"
"No, your name on your FIN card does not indicate a hyphen and we follow it here."
"But it's just cos the computer didn't generate that hyphen for me."
"So your name does not have a hyphen and we must follow it." said the sorry-excuse-for-a-woman triumphantly.
"So I am supposed to change my name now?"
Silence for 2 seconds.
"We follow whatever that is printed on your FIN card." Said THING takes up a pencil and cancels off the handwritten hyphen on my file.
I was too appalled to do/say anything but to walk off.
It goes without saying that I am extremely pissed not because it is JUST a hyphen. I am pissed because it is a hyphen and it is part of my name. I am pissed that someone is telling me that the hyphen is not in my name just cos some dumb computer system can't pick it up (it usually doesn't!) I am pissed that she treated us like some 13 year old young punks when we are all full fledged university graduates who are adults too, which must have conveniently slipped her mind.
I think B-I-T-C-H would be an understatement.
What a way to start off your first day of working life.
::::

So it's 3 more days
To the end of my post-graduation, pre-employment period.
And I've loved every bit of it. Yes, the Bangkok girly trip, the dinners and drinks with the girls, the working part, the staying-at-home-to-cook-and-clean times, watching DVDs, my new haircut (yes I've cut off my ponytail once again) and down to the past two days where the boy and I:
- spent yesterday traipsing through the city, walking and stopping as we liked. Met Hann and Weihui for a lovely dinner at
Cheng Li Yuan
before ending the night with chips, groundnuts, beer (for the boys), port (for me) and juice (for Wei the driver) and of course, Spain vs Ukraine at Merbau. This bar features the works of local(?) budding architects, and is situated right below the
Singapore Institute of Architects
office. No prizes for guessing why we even ended there haha.
- we wanted to go to Malacca today for a 2d1n trip and were all ready to leave this morning. But I wasn't feeling too good and he had to settle some stuff so we had a nice lazy day in watching TV, pigging out, and just generally lazing around.
I promise I'll get up tomorrow.
Maybe, just maybe, these 3 weeks of being apart has been good for us, as he gallivanted through Melbourne and Adelaide helping his dad and reconnecting with his Kuching friends while I spent much time with the girls and myself. We talked,
like y'know, really talked,

these 2 days and yea, I am looking forward to good days ahead.
Oh and last Friday, Boon,
Jer
and I went to support
Serene
at her musical
Vanity Victorious Virtue Vanquished
. We enjoyed every bit of the musical, which dealt with very very real issues with the woman's body in a satirical way. Great job to Serene who played the very convincing Becky, hee :) And I am too lazy to put the pics together so let's use another one of the collages that Jer painstakingly put together: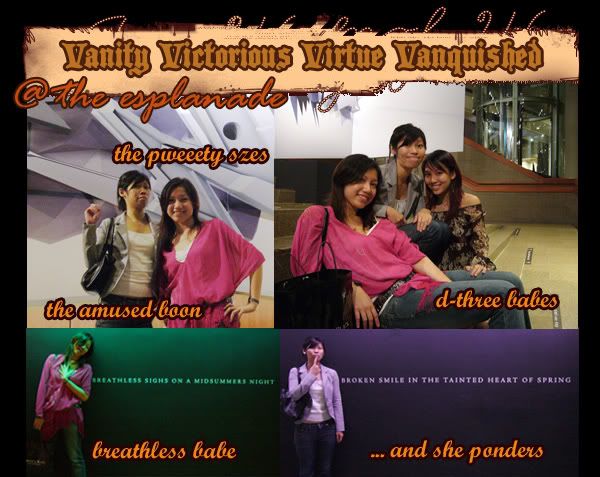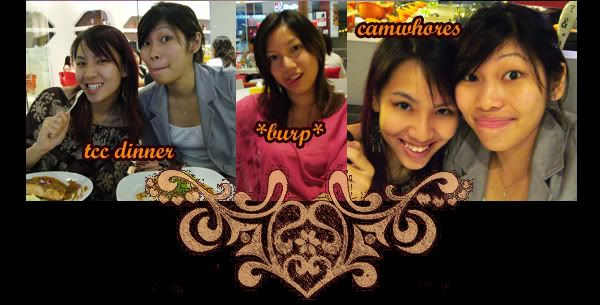 Had a short convo with Ron the other night and we talked a little about NIE. Yea, I AM excited, and a little apprehensive at the same time. This experience that I've always talked about as a faraway plan "Next time when we are in NIE" is now about to become a very near reality.
And I think I'd be a little more ready for it when I have better shoes in my shoe closet. Yes, I do need more shoes.
::::

Whee
Someone's back from Melbourne/Adelaide!!! With a great big smile (plus a Liz Claiborne wallet and a Britney Spears Curious set :)) for me!
Lovely week planned ahead, along the lines of dinners, drinks, KTV with good friends and more.
::::

Cooking chronicles ... Continued
Ho ho I've turned domesticated!
Last night I, *ahem*, single-handedly cooked dinner for 6 - Fei, Siang, Yasi, my sister, Phong, and myself :) Not really the first time la but it was quite an accomplishment as it was the first time that I was 99% happy about the results! So the menu for last night was:
This pork dish that my ah-ma (paternal grandma) taught my mom that my mom taught me
Stir-fried cabbage
Luncheon meat-assorted mushrooms omelette
ABC soup
And we topped off everything with yummy ice cream from
The Daily Scoop
that my sis and Phong brought over!
Yumms!
And today, for dinner, I had intended to just cook udon noodles in regular stock. Then,
why not fried udon?
So I put together:
1 x pack of udon noodles
handful of chopped button mushrooms
lots of cabbage
half an onion
2 x sausage
3-4 cloves of garlic
sesame oil
light soy sauce
1 x egg
And I had a very yummy dinner with Fei (whom I didn't dare to cook for for it was my first time frying noodles ... really!) while watching Channel U thank you very much.
I miss taking pictures. yes, I will not procrastinate with the fixing of my camera.
::::

Slacking is good
So today was a tai tai day, where my activities consisted of:
- lunch with Serene and Yasi at Little India
- eyebrow threading session
- traipsing through Chinatown's People's Park Complex with Serene, discovering new treasures at every corner
- made yet another healthy dinner of steamed chicken and asparagus
- vegged out in front of the TV with my TVB DVDs and So You Think You Can Dance
And now, with a strawberry mask on, feeling completely luxuriant.
:)
::::

One of the perks of living on your own..
Is that you get to eat whatever you want at any time.
So today, I felt like eating healthily ala the mother. So, for an early dinner, I made steamed chicken breast with yummy portobello mushrooms and broiled broccoli.
I wish I had my repaired camera to show you the fantastic colours of the brocolli and the mushrooms (oh the mushrooms!) and the chicken :)
So, since I am pretty much alone this coming week before Justin returns, as Fei and Siang only comes back for dinner, it's more cooking :)
::::