Broken Bridges, anyone?
Thinking of catching
Broken Bridges
, at
KLPAC
.
Anyone? I am looking at Serene hur hur. Think: weekend of food, shopping AND a play. And join us, if we DO go! I am looking at one of the Sat nights :)
::::

Weekend, good.
So Friday was:
- last day of school
- Racial Harmony Day
- some CIP stuff going on where I tagged along a bunch of Sec 4s to Bukit Batok Nature Reserve. Okay, I didn't tag along, I was supposed to oversee them. I forget that I am a teacher-to-be at times.
The kids were really really sweet and I hate it that it is only during the last few days when you realise that you should have gotten to know them more and yes, one month is just not enough - it's only enough for them to sort of end the warming-up-to-this-new-teacher period.
Oh well.
Anyway, yes it was a very good weekend :) Justin and I haven't been able to spend too much time together these couple of months so off we did! Began with an inpromptu movie outing to Clementi's super-authentically-vintage cinema, Empress, where we watched
Nacho Libre
. Then it was off to church for dinner and the JOW workshop.
Then it was off for a long-awaited boardgames night at Mind Cafe with 2 other friends. It was a hillarious night indeed-
Ticket to Ride
,
You Must be an Idiot!
and the classic
Taboo
, over the span of 3 hours. I think my sides still hurts from all the laughing :)
Saturday afternoon, we found ourselves at Malacca bus terminal.
"You do realise that we are at a place of which we know NOTHING of ay?" he asked.
"Yup." :)
Anyway, getting around Malacca was pretty ok for us as they provide a lot of transport and accomodation info at the bus terminal. After some walking around Jonker Street, we settled on
The Baba House
. Not exactly the best place around but when our purpose was to (what else) eat and do lots of sightseeing, we figured that a budget hotel as such would suit us the best :) And it did :)
And it was a lovely 2 days of walking hand in hand throughout the historical city centre of Malacca - spent Saturday hanging around Jonker Street area, taking in the atmosphere, talking to very interesting people, sharing every single meal (so as to try out more things!) Woke up early on Sunday morning, had a simple breakfast in the hotel before we proceeded to the historical centre itself, St Paul's Hill and all.
I like Malacca :)
Slept like a baby throughout the 3 hour bus ride before we reached home at about 1230am. And I need to be at NIE by 830am tomorrow. Sheesh.
And before I forget - HAPPY BIRTHDAY GEEKCHIC!
::::

When shall we three meet again?
Gonna be conducting a Macbeth lesson tomorrow morning.
Need all the fingers crossed!
This is the last week of my Enhanced School Experience and as cheesy as it is, it has been one enhancing experience indeed. The kids have been a joy and so are my colleagues. Having been taken out of my comfort zone (y'know, people who go through top primary school >> top sec school >> jc >> uni) and placed amidst kids who go "WOW" when they hear that you've just graduated from NUS - an experience indeed.
But I guess it's up to God where I'd end up eventually. Though, *psst*, I wouldn't mind coming back :)
And *someone*'s absence is keenly felt.
::::

Pictures from convo!
So I didn't trip on stage but I took a lot of pictures and videos which *bless them* should never be exposed to light.
But you can see the more presentable ones :)
First up, with the parents:)
And the family (Ernie stole me a flower!),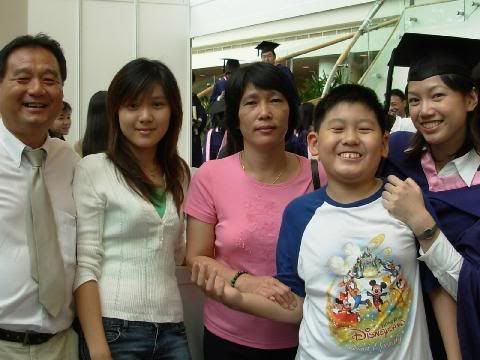 With Serene inside UCC before the ceremony.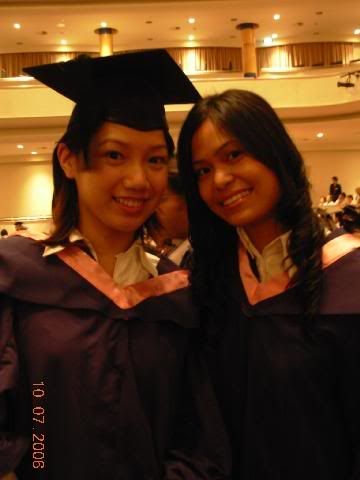 With most of the lit Honours people: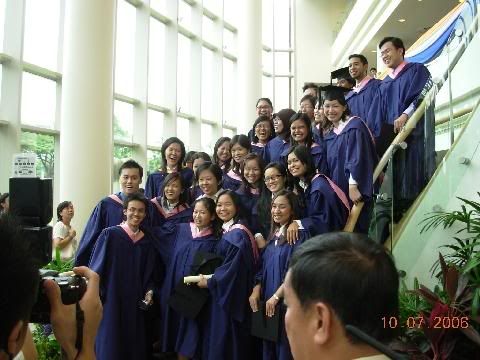 Girlie girls!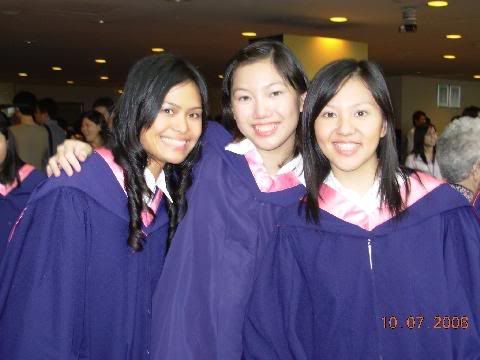 And a preview of the beginning of our retarded (but assuredly adorable and lovable) pictures and video(s):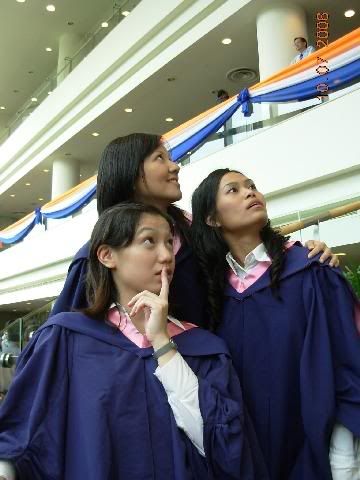 And I've finally identified something/someone at my workplace which/who has the capacity to piss me off. But I was calm, and still was nice and smiled at it/him.
::::

So I *commence* adulthood in the morning
Convocation (or what NUS calls it, Commencement) tomorrow morning.
Unreal, surreal, must-be-real.
What if I trip over my heels on the stage?
::::