1 Tuesday night
2 weeks since we've met up
3 hours of girly chatter
4 ... (can't think of what to say here la)
5 girls
6 scoops of Ben and Jerry's ice cream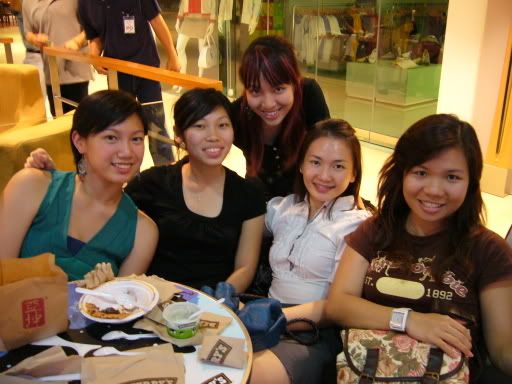 And oh,
someone has finally noticed
.
It's a complete embarrassment to the country if you ask me. Just a couple of weekends ago, when Justin and I were leaving JB, there were A4 sized paper stuck to the various counters with this hand-scrawled message on it:
"Komputer rosak. Jalan terus."

Big joke I tell you.
Oh, for the Malay-illiterate, it means "Computers down. Just walk through this shack which is disguised as the Johor immigration checkpoint exit cos frankly, we don't really care if you are some fugitive who is trying to flee the country".
Justin and I always have this conversation whenever we leave the JB checkpoint. And we came to a somewhat conclusion that weekend:
- Foreigners will complain but it's no big deal to them cos it's just a one off experience for them.
- Singaporeans will complain but they'd just attribute it to how Malaysian it is, cos, of course, most things/people Malaysian is backward
anyway
.
- Malaysians won't complain cos they never do cos they have been conditioned either to live with things as it is or to understand that all complaints will fall on deaf ears anyway.
Happy Merdeka :)
::::

So, stuff have been happening
But it's too long and too much for you to know.
Justin and I were in Ipoh for the weekend and boy, did I miss home. I miss the routine of lazing at home, yumcha-ing and doing other taitai activities with my mom in the afternoon, another round of yumcha at night with Jan and Keon and everyone else.
Can I do that in December?
Oh, and I got myself a haircut. Which looks like this:

Man I want to be as hot as she is at that age.
Comments on the haircut have included "spunky" and "you look younger!"
So I guess it's a good thing :)
But no I will not wear cutesy hairbands.
::::

The only thing that kept me from bursting out in laughter...
Was the fact that I was in the NIE library.
Check this out: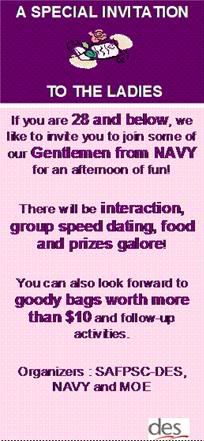 There is more to this picture of course, with the pertinent details like time/venue/date/the fact that you can get a goody bag, etc.
Matchmaking teachers with navy men. Hmmm.
::::