Cynicism? Or maybe not./Me, academics, and God's plans.
I haven't been blogging much, maybe cos simply too much have happened .. working, new flat, Bangkok trip, working some more, Justin being in Melbourne :)
But what inspired me to post was the final episode of
Devil Beside You
. There was this scene where, in short, the two leads profess their undying love for each other as the guy's departure is near. As the guy goes on to say something which goes like,
even if you fall in love with someone else or someone else falls in love with you after I leave, I will just be in love with you my whole life
.
A snigger escaped me before I was even aware of it.
These lines would have unleashed the floodgates within me about 4-5 years ago but I, erm, sniggered. I know I am still quite idealistic when it comes to the matters of the heart such as these but maybe, just maybe, I've grown a little over these few years. And, I swear that it could be attributed to my university education as well. I have to stop recontextualising everything I read/see/encounter.
But not enough to stop tearing over lovey dovey scenes in these Taiwanese serials and have Justin wonder why I am so siao.
and oh, I am graduating with (phew) my second lower honours. Really thank God for it. I don't remember if I blogged about it but I erm, handed in my ISM (Independent Study Module, i.e. module which consists of one and only one essay) with 3000 (yes, three thousand) words over the word limit. Don't bother calculating. I'll tell you here. My ISM consisted of about 8.5k words. The essay was literally my baby and I guess, if the mommy is big, she can't help it that the baby was big too.
But I freakin' got an A- for it!
And I am still very proud of my ISM. Simply cos no one ( or rather, there has been no published works) has worked on this direction before. Which complicated matters for me cos I could quote practically nobody except for the novels that I was working on. Which also made my ISM journey exciting cos I could gan2gan2 (boldly) write my stand and no one could rebutt me cos (again) no(published)body had written on the same thing before.
And I know God saw me through those few months in the library, in my supervisor's room, in front of my laptop, amidst my mountain of library books and papers. And also my moments (lapses, rather) of procrastination.
Too much, God has given me too much this semester. The unexpected grade for Crit theory, the ability to do well for crit theory, and now this ISM grade. And the best grades that I've ever gotten throughout my four years here.
And again, I am assured of God's plan for me.
At 17, I was like 'huh?' when I was given the impression that I was to be a teacher.
At 17, I was given good enough grades to enter Form 6 despite nearly failing my sciences.
At 18, allowing me to meet an affordable (and really really good!) Lit tutor when no schools in Ipoh offered Lit for F6.
At 20, giving me a great relief teaching experience.
At 20 again, giving me straight A1s in Lit and giving me my first choices when it came to unis.
At 22, granted the teaching award despite being rejected the year before ("why were you rejected last year?" "(thinks: I don't know, ask your people) haha maybe they had a quota?")
And now, at 24, despite the ups and downs in my academic life, granting me a good enough grade to graduate well.
As I always say, how to not praise God like that? Though I had not quite believed in the beginning, God has shown me through my journey these 6-7 years that if it is His calling, He will make the path straight for us.
5 Trust in the LORD with all your heart
and lean not on your own understanding;
6 in all your ways acknowledge him,
and he will make your paths straight.
Proverbs 3:5-6 (New International Version)
And I sure hope that I am not the only one working on the "in ALL your ways part".
::::

Yay!!!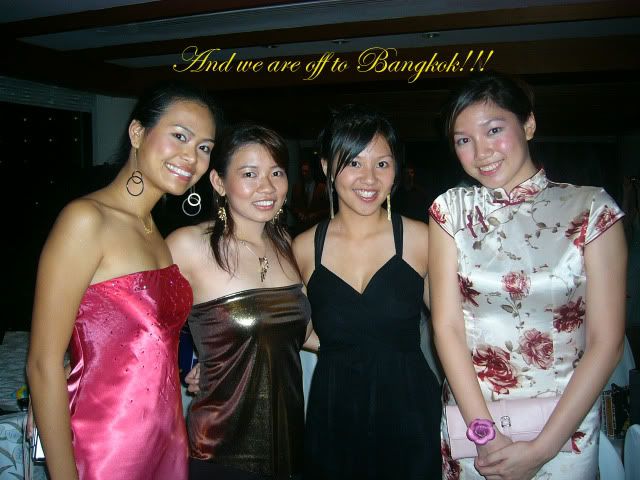 ::::

Overheard at work....
1. On TUESDAY
3 teenaged, Mean Girls-esque looking girls walk past. Referring to the hanging posters, one girl goes, "Ooooh, Mothers' Day!"
Girl B halts, grabs her friend by the arm, exclaims:
"Oh shit, is it today?"
2. Today
Little chubby girl, about 8 years old.
"Mummy, xing3yi4xing3 (wake up!), xing3yi4xing3, toys-toys zai4lou2shang4 (the toys department is upstairs!)!"
It has been interesting all right, but I am still glad that tomorrow's the last day of my stint :)
::::

Pissed
And nope not reporting from the new flat. From the Central Library, NUS.
In short, I tried to submit my employment pass application at the post office just now. In typical Singaporean fashion, you have to go through a funky computerised system where the post office lady will key in your details and do a computerised (actually manually since you have to TYPE on the keyboard but WHATEVER) checklist of the PAPER DOCUMENTS that are you submitting to MoM (Ministry of Manpower).
So I'd completed everything given to me by the MoE. And guess what?
"You don't have this section called 'Further Declaration by the Applicant ay?"
"Further Declaration?"
"Yea, without that, I can't check a YES or NO on the system and then I can't go on!"
"But that's all MoE gave me!"
"This is for MoM not MoE" (Hello, like I am stupid?)
"Go back and check with your MoE people."
"What's the Further Declaration thing about?"
"I don't know"
And I call MoE. Two lines. Either busy or no one picking up. A phantom must have be on the phone.
There is already a "Declaration of Applicant" in the multitude of forms. Pray tell, what's the "Further Declaration" for?
I hereby declare that the declaration above was the truth and nothing but the truth but then again I am not sure what is the truth so maybe declaring further would be a good idea so here you go another declaration of my honesty cos really, I would have preferred to lie about where I live and where I was born.

Arthur Yap comes to mind now. I don't have the poem with me now but it's that one where the persona in the poem has to fill up forms just to get permission to jump off a building and just die.
And that's how much I hate hate bureaucracy.
::::

All my bags (boxes) are packed....
but am I ready to go?
As of now I am surrounded by boxes and plastic bags and little items scattered on my bed and desk and a bare corkboard and a bare wardrobe and I am asking myself-
Sze, you ready?
Serene and I were just saying the other day that it was a pity that we all had to leave in such a hasty way. But is there any other way to leave?
Indeed, at 4pm today, my boxes and my bags will leave with me, as I leave behind-
Four years reading a major that I had chosen despite various demeaning remarks given by non-important people.
Four years realising that I might have been pretty good in what I was doing back home but here, I am put firmly down at where I belong, where I still struggle to get out of that rut.
Four years where my mind was introduced to various ideas and notions that I would have otherwise never known. Heidegger, who? At least I am graduating with a few Germans and French people up my sleeve.
Four years living in a hall where I had laughed, cried, laughed a lot more, and maybe not cried enough.
Four years where I've struggled to find myself an identity, to find a skin where I'd be the most comfortable in, only to find out that I don't need that skin at all.
Four years where I've made some of the best friends ever, whom I can share my innermost fears and apprehension, where I know I will not be judged.
Four years spent trying to be the 24 year old graduate that I aspired to be at the age of 20. Nowhere near that ideal but I guess that only spells room for improvement!
Four years marked with various crazy antics that will probably never happen again in another context.
Four years knowing full well that God had placed me here for a reason, as part of His bigger plan for me. And each and every day, I am more certain that He has been guiding me and making the path smooth for me.
Aiya, I think I am ready to go la :)
Am really quite excited with the idea (the reality!) of moving out with the guys and Yasi/Harn Ni. We have been discussing various stuff about the house and yes, it's really quite exciting. I like the fact that we are all fairly easygoing people and on top of that, frank as well.
So the next time I blog, I'll be blogging from the new flat :)
On another note, I will need to talk about how my Lit Honours class celebrated graduation :) I for one, have never been really close to my Lit classmates until Honours year when we all began to talk to each other more. And Thursday was my first outing with them! We'd finished our final paper, Cold War, and ho ho ho ....
Serene and I didn't join them for dinner but from what I heard, they had a pretty good time. Then, we met up at Liberte@Chjimes for drinks and toasts and various devious plans concerning graduation gowns :) After about 3-4 rounds, we walked to
MoS
(and not forgetting to take pictures with cutouts of cows next to the Defense Museum) and what happened after that was just a lot of fun - dancing and drinking and more dancing and a rubber ducky and girls hitting on guys and more and more dancing. Until we pretty much collapsed at McD's at about 330am.
I am glad that my last clubbing session as an undergrad went sooooo well :)
And so, yeah loh, I have graduated. Cliched, but it's almost surreal.
And from the looks of it, we all had fun that night!!!!
::::

Thank You
An email to my cellulites and a few other friends today ...
Hey there

Couldn't help as I neeeeeedddeed to share desperately :)

I had my first paper today. yes, first paper, 2 May 2006 1pm. Modern critical theory. The module that I never really understood throughout the semester and was really really scared about. I did a term paper for it during the 2 weeks that I was home and I felt that I did a really bad job.

How bad did I feel? Well, until I refused to collect the term paper should the grade affect my mood to prep for the exam today.

So what happened? Praise God for:
1. I prayed that God would grant me an exam paper that at least I would comprehend and that it would be something that I could do out of my memory, something that I have prepared, for I didn't read EVERYTHING. Turned out that
- the paper was easier than previous years, as in more choices
- I could rely on previous knowledge rather than just those restricted within the module
- and the compulsory question - tho I didn't prepare a text to be deconstructed, I was reminded of an essay prep that I had rejected in favour of another topic - but praise to God I remembered the stuff I had prepped for the essay and it was completely relevant to the compulsory question!

2. And the term paper? I collected it immediately after my exam just now and - expecting a C+ - it was a B++!!

How not to praise God like this?

2 more papers to go....

Love,
sze
I had given up studying last night. Was completely convinced that my term paper had gotten me a C+ and I couldn't do the past year questions at all (then again, silly me, NUS Lit past year questions are NEVER reliable!). Was so stressed out that I
- couldn't focus
- made myself busy by playing mindless online games
- was completely bloated yet
- wanted to eat something fried and oil-laden
But no worries, I didn't do the 4th thing hee. I just had to give it to God and tell Him that it was all His from there onwards. Here, the oft-quoted verse comes to mind:
Trust in the Lord and do good; dwell in the land and enjoy safe pasture. Delight yourself in the Lord and he will give you the desires of your heart.
Psalm 37:3-4
Okay la, so it wasn't an A paper today. But just imagine, I was envisioning myself coming back to NUS next semester to do one more module because I imagined that I had gotten a C+ for the term paper and also imagined the situation where I'd sit at the exam hall with NOTHING to write about. I probably managed a B minus or B paper today. Even C+ would be better than the F I was speculating.
And again, as I told Janice today, if God has seen me through SPM and STPM, with a clear cut calling for me, I have faith that He will continue to see me through this journey as I inch a step closer towards what I believe He has planned for me.
And indeed He has.
Oh and in a completely unrelated note, after the paper today, I felt so relieved that I took a couple hours off to take a look at our new flat with Phing today. Came back with a SGD7 (yes, SEVEN bucks!) white bikini haha. So what if the top part is slightly too big for me- not my fault that I am pear-shaped/my boobs are not proportionate to the rest of my body :) More cloth to cover up the essentials anyway.
Tanning at Sentosa, anyone?
::::