Remember The Electric Company?
In my daily hours of procrastination, I stumbled upon this video at YouTube. It's interesting to see how there might have already been a consciousness to portray a certain level of political correctness back in the oh, early 1980s?
Then again, with the little twist at the end of this clip, it gets you thinking again ... :)
::::

Cantopop
Although Justin is possibly the person with the largest Cantopop library in hall, I am possibly the only one who has an entire playlist dedicated to it and the only one who belts out Cantopop while ostensibly working.
I want to go for Canto karaoke.
Not that I don't enjoy going for karaoke with the usual gang (Hui Siang and co.) but it'd be nice to go for one trip with everyone else singing Cantopop as well and not just me alone.
Hohoho.
Having another lead in my ISM is a nice little breakthrough for a lovely breezy Sunday which should actually spent in a walk downtown.
::::

600th post - to our final weeks as Eusoffians
Haven't been updating cos I was scratching my head over what to blog about cos, well, it's the 600th post (not that it's of any significance to most of you) for this blog which began in Eusoff itself when I was still a whiney attention-seeking freshman.
Serene's
post
was the perfect trigger. Serene blogged about the changes in our night life as a Eusoffian, which are oh-so-true.
Year 1 was when I first began clubbing and came face to face for the first time people who would get drunk and spout nonsense, talk silly, cry, lie unconscious, puke, and the list goes on. But we were also the crazy girls (that the seniors no doubt shook their heads in utter disdain about) who were on the platform for half the night dancing away while trying to keep away the lil army boys who thought my friends were hot ;)
It was also the year when we first started forming our little cliques here and there - everyone was 'testing' out everyone else, everyone had their little nicknames for people they didn't like, for people they liked, and everyone else. We heard gossip about seniors, stories about Eusoff from yonks ago, while also trying out a gazillion hall comms at the same time (7pm-1am dance schedule woohoo!).
Year 2 we came back a little (but not too much) wiser, having had one EHOC experience up our sleeves (oh the proposals! oh the recceeing! oh the complaining! oh the shirt-tuck-ins!) but still continued scurrying about in hall, taking up more leadership positions, doing our little things here and there.
The difference was that the D3 corridor was formed hur hur hur. It was really like home, coming back to the corridor to the familiar mess of shoes and boxes and mops and what-nots, knowing that the girls behind the doors would be alive and ready for anything at 4am rather than 4pm :)
It was also the year I found myself a little quieter, and wishing that I could turn back the clock to erase the annoying brat that I was in year 1. Oh well. I still think the same these days haha :)
Year 3 saw most of us letting go of more hall activities - to begin with, I joined the "One Song One Dance" club of DP. Yes, I loved being in DP and all that, but it was also the year that I realised I wanted more time out for my studies and for my other friends and just plain for myself. D3 was getting closer, with of course the little bumps along the way. I found myself finally gaining a better grasp as to what I was reading as a Literature major, though not doing as well as I would have liked to, was finally catching up :)
I was also a new recipient of the MOE Teaching Award, despite being rejected without an interview the year before - what God had clearly promised me and shown to me during my two years in Form 6 had really materialised. It really did motivate me to pay more attention to my work.
I landed myself as Special Projects head of EVC, hoping to right some of the wrongs I had done as an EVC head the previous year. I had also endless sessions of beating my own chest as I agonised over the shitty job I had done as EHOC programme head. Among other things.
I think that was when my confidence hit a new low and I began to want to talk less. I'd stop myself from talking for fear that I'd just sound stupid. Probably around year 3 sem 2, I just wanted to stop talking altogether at times.
Year 4 has been a great year so far. Well, obviously not in terms of studies as I am still your borderline undergraduate thank you very much. There are times when I tell myself that ultimately, grades don't matter but I know deep down inside me the insecurity still lies within the thought that I am still not as smart as I would like to be. But I guess what matters is what God thinks of me ultimately ay? But I'd still need to put in work of my own!
I also found myself walking into the dining hall not knowing about 75% of the people in there. I was constantly mixing up the year 1s and the year 2s. "Jie, you have ZERO hall points leh." My JCRC sister tells me. Hoho, I never thought I'd come to this, considering that my comeback points have always been above 60. But not doing any hall activities has been good to me so far - I've had the opportunity to spend more time with the D3-ers, more alone time, and more alone time. I like. More time to myself did not necessarily mean more time to study but ultimately, it has been good :) Serene and myself might have gone for more ladies' nites than we have for the past 3 years put together but we have been good so far (and yes the last 2 drinks on Wednesday night was still a mistake) I suppose :)
And of course, the Ruicheng trip had a huge impact on me. So huge that I know I'd want to do it again. So huge that I know that God has purposely provided for me for this trip so that I'd spend more time with Him. So huge that I don't even know where to finish talking about how great our God is :)
Yasi told me some time ago (before CNY if I recall correctly) that it was to be our last 8 weeks in hall.I hear juniors telling me that they are impressed at the large batch of year 4s that are still present in Eusoff. Last night at MOS was the last hall bash we'd be attending as Eusoffians. I see the girls on the platform and I told Serene "Remember? It used to be us a couple of years ago?" The boyfriend did his erm, moves at the Retro Room last night and found that he couldn't keep up as he used to anymore (sorry dear, it was just too funny last night).
I am joining Serene (and about 2/5 of the Lit Hons class) in NIE come 19th June 2006. Really am looking forward to it, not because I anticipate that it'd be the best experience ever, but because I feel the need within myself for a change. God had promised that He'd make the path straight for me as a teacher if I followed and so He has - with a scholarship and with good friends along in NIE as a bonus.
We are going to be filming our graduating seniors video next Monday. I joined the taping last year as we wanted to be with the rest of the D3-ers but this year, it's just me and Serene and Sujin with the guys for D block. I think I'd take this taping more earnestly than I did last year.
I'll be leaving D322 for real in about, well, soon. I was the first to live in this room since it was newly renovated, had my share of a dirty phonecall, noisy TH A blockers, cats following me around, overflowing wardrobe, closed-door talks and others in D322.
I guess I'd be more reminiscent in about 8 weeks time. Or maybe in about 3 weeks time when our final DnD comes along (wear what ar?). Till then, see how la.
p/s I've left out loads of other stuff, like the karaoke sessions, the JB trips, the little getaways, the fast internet connection, the downloading, the everything,gah.
::::

While we wait for another one of Lim Ah Loo's fantabulous collages...
Here are some of the more decent pictures taken at Jer's place on Saturday night!
Decent as in pictures that do not involve private-part-shaped-purses, too-much-leg and glimpse-of-undies. :)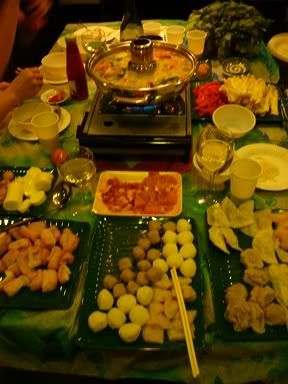 When the D3 girls gather, it's steamboat time!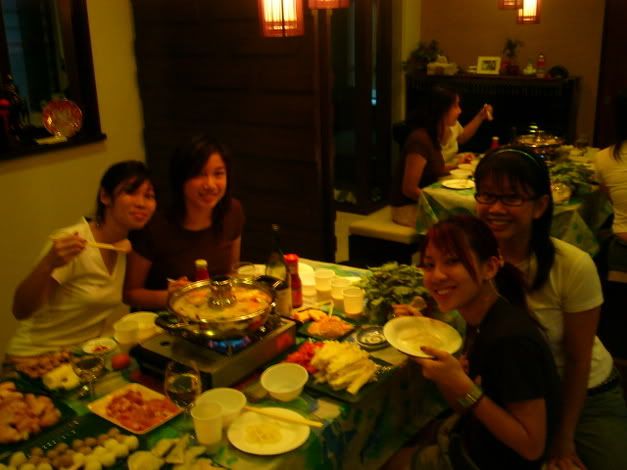 A fairly demure beginning of the night :) Check out Jer's cosy haven!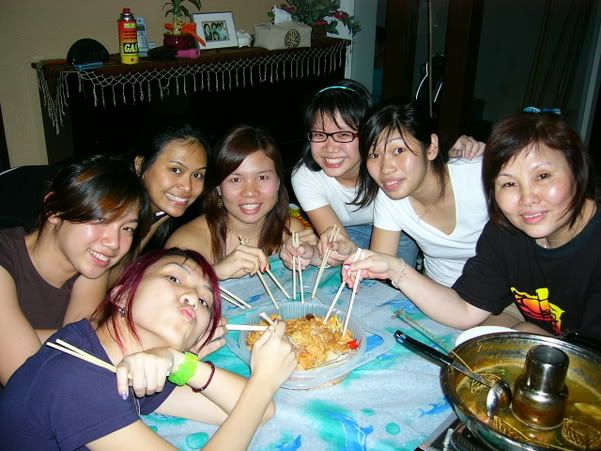 The obligatory
lao sheng
moved from D3 lounge to Jer's place.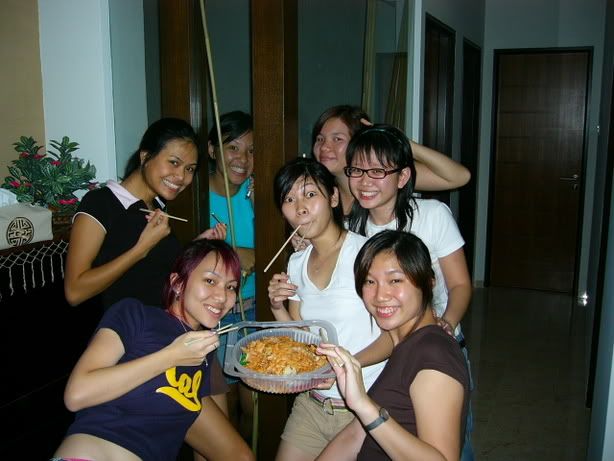 This was the only way we could get Yasi into the picture!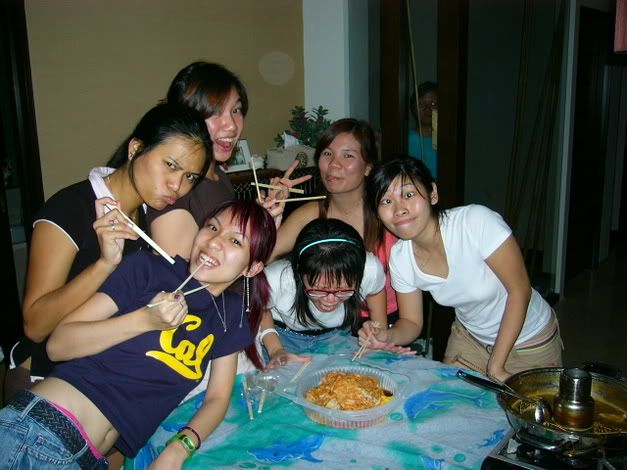 We were made to do this :)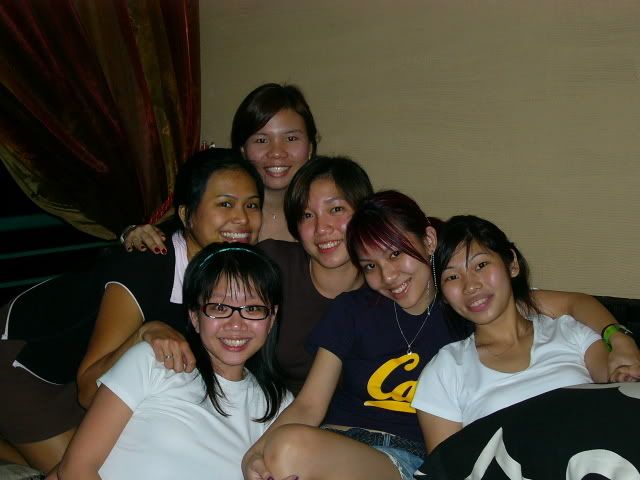 We are generally nice, demure young ladies....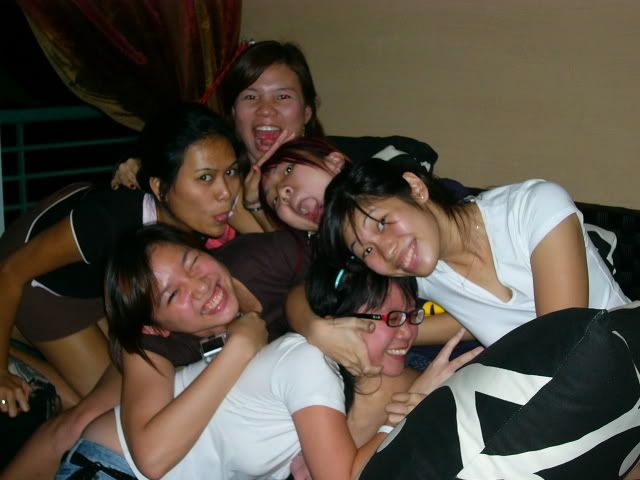 .. who are a bit
siao
sometimes also
la
.
That was before we played Fuzzy Duck and In Between I think. And Justin was common enemy of the night hur hur hur. And dear it's not about the twenty cents haha. It's precisely because of the twenty cents ;)
::::

I have to wake up by 830am ...
... but Hann sent this and I JUST HAD TO PUT THIS UP before I go to bed.
It's entitled "Funny UPSR BM Essay". In Malay, naturally. It's actually very, very sad ... but hillariously sad, if there is even such a term ....
::::