...
Hann just reminded me that I could have taken Thursday off as well and stay in Ipoh till like Saturday or something.
I cannot believe that I did not think of that.
My heart says stay. Stay cos your brother would want you to. Stay cos YOU want to.
My head says no. No cos you have to sit down and start cracking on your mountain-pile of work. No cos you will feel the exact same way on Saturday night prior leaving. No cos you've gotta have more discipline.
So it's no. People in Singapore will see me on Thursday morning. At least there are things lined up.
Media lecture. Tuition. Tuition. Library trips. Tuition. Cell group. Dance. Catching up with work. Church. Dinner with the girls. More catching up.
::::

In complete randomness ....
Is there even such a word, meaning what I meant?
- 9.5-year-old boys should never, EVER,
EVER
, be given a Sony PSP. Heard that? Never!
- Completely enjoyed meeting up with Pei, Liz and Kristina last night. Those girls rock! I am so proud of their work in Ruicheng!
- Serene and I are bad for each other. But put the two of us together we create good times for each other woo hoo.
- After last night, as Serene and I solemnly toasted with our first drink of the night, we will work hard!
- I love my boyfriend's spontaenity :)
- Don't you find taking candid pictures of food and people in general during meetups a complete distraction and a waste of time? Everyone's doing that these days (and I admit I had my fair share of doing it and still indulge in it every once in a while these days) but doesn't it disrupt conversation? All these phototaking reminds me of what we discussed last semester, about our increasing need to take pictures, keeping
sites of memories,
why are we so adamant about remembering every single detail, why are we so eager to turn every single detail of our daily lives into material things of which we can touch and feel?
- But don't you feel the desperation sometimes when you see something absolutely breathtaking and while one part of you wishes that that moment will last forever, another part of you is also desperately trying to drink in all the beauty that your naked eye has had the privilege of viewing and also fervently attempting to capture all that into your memory? And when that fleeting moment just passes by, you hardly feel satisfied but nothing would be able to satisfy you anyway cos there is no way you can experience that moment a second time?
- And that's why I am waiting for Heaven - where I know I will be able to be surrounded by the beauty and the awesome eternity of which I will not require a digicam to capture every single detail for remembrance.
Not exactly heaven, but we were passing through clouds and a rainbow on the way to Xi'an. I like to think of it as God's promise to us then that He would take care of us while we were there.
::::

I guess I've changed, then.
You Have a Phlegmatic Temperament

Mild mannered and laid back, you take life at a slow pace.
You are very consistent - both in emotions and actions.
You tend to absorb set backs easily. You are cool and collected.

It is difficult to offend you. You can remain composed and unemotional.
You are a great friend and lover. You don't demand much of others.
While you are quiet, you have a subtle wit that your friends know well.

At your worst, you are lazy and unwilling to work at anything.
You often get stuck in a rut, without aspirations or dreams.
You can get too dependent on others, setting yourself up for abandonment.
I did a similar, longer test when I was 16. Twice. And I came out as a sanguine. Twice.
This test may not be that accurate after all, la. What, with 5 questions?
Reminds me again of Huiyi commenting to me two years ago that I seemed to have grown more quiet after a year in hall. Don't know lei. I think I am still too noisy haha. Still learning when to shut up and when I don't need to speak. :)
::::

A conversation between Sze and and MD of some company
MD: So, what do you study in the university?
Sze: Oh I major in English literature.
MD: English Literature (pronounced very slowly)? Oh, I've never heard of this subject before!
Sze: Ah...well....there are people reading it in universities these days ....
you moron, I really hope that what you meant was that you have not heard of anyone reading literature in university and not that you have not heard of the study of English literature before!...
*flashes a big lip-glossed smile*
MD: Oh, so what can you do with this degree?
Sze:
Ahh typical question
...
We----ell...you can go into the publishing industry, broadcasting, journalism .... most things actually. It IS a very general BA degree after all.
MD: So what are you going to do?
Sze: Well, I am on a sort of teaching scholarship so I'll be enrolling into NIE this July.
MD: *laughs* Good luck! Singaporean kids are not an easy bunch!
Sze: Well....someone's gotta do the job I guess .....
are you and your wife planning to send your children to Singaporean schools?


MD my foot.
Of course I have other pleasant news :)
The short weekend spent in Kuching was fun - basically spending time with Justin's family and some of his cousins .... maybe a couple of pictures later :)
I told you it was a SHORT weekend.
Oh and I met up with Wei Sun (otherwise affectionately known as "Si Lai" back in the 4Sc3/5Sc3 days) who is back from Sheffield for a short break. We shared our latest happenings, news about our classmates, among other things over a mudpie each at The Heeren's NYDC this evening.
And she looks exactly the same, SEVEN (7) years later.
Nothing beats a nice couple of hours spent with old schoolmates :)
::::

And so it's my turn now
I've just filed for graduation.
As I looked through the list of classes that I've taken throughout these 4 years,
has it been 4 years already?
, my heart spoke.
Thoroughly looking forward to this final semester, not just because it's
the
final semester for me in school or to do anything scholarly that is related to the study of literature , but also because after 1.5 weeks of classes, the first week of school thrill still remains and I am looking forward to learning and reading and spouting.
After so many people graduating/beginning work/bitching about work/getting engaged/going back to school...Sze is finally graduating.
::::

City of Glass
I've just watched this film. Again. For the n-th time.
It is possibly the first HK film that I really fell in love with...simply for its music, its storyline, the seamless takes between the 70s and the 90s, and the music.
Watch it if you can, and walk away with tears of happiness in the end, for death was merely the renewal of a beginning for them :)
::::

It almost felt WRONG...
... to be hanging out at 230am.
Although it was a Saturday night.
I can't believe it - I've been back for barely a week and already I am so caught up with schoolwork and tuition stuff that, as I've mentioned, it almost feels wrong to be out chilling on a Saturday night.
Hang on, I need to learn to say stuff in a chronological order.
So last night at about 9ish, Justin, me, Hann, Weihui and Hann's friend Cheng Hui found ourselves at
The Mind Cafe
for a night of board games. And board games we did play. We began with
Balderdash!
, my current favourite board game which I have been raving about to Justin and Hann (anyone wants to get me that for my 24th birthday? It's never too early to start dropping hints, hee. Don't think you can get it at any of the Malaysian or Singaporean stores though.)Justin emerged the winner (hrrrmppphhh!) and we went on to other stuff like good ol'
Jenga
(I swear we are amazing at this game), some Pictionary-esque picture game which title is completely beyond me right now,
Charoodles
and by 1230, we were playing
Blokus
.
Yes, I am a board games geek. Fun
what
.
We headed to
Loof
after that. It's a pretty cool rooftop chillout place round the corner of Carlton Hotel. I see myself back there soon, bringing the girls along :) Was pretty zonked out by that time cos it was a 730am day for me but nevertheless, it was a good time just chilling out by the seats which allowed us to have a pretty good view of the surrounding buildings.
Useless fact of the day: 98% of the cars that are on the road at 3am are cabs.
Anyway, fairly busy week ahead - readings to be completed, classes to be attended, 5 hours of tuition in total, among other things to be done. Will be flying to Kuching early this Friday morning and will be back in Singapore on Sunday afternoon. And it's Ipoh the following weekend! Whee!!!
::::

Courtesy of Jerraine Lim Ah Loo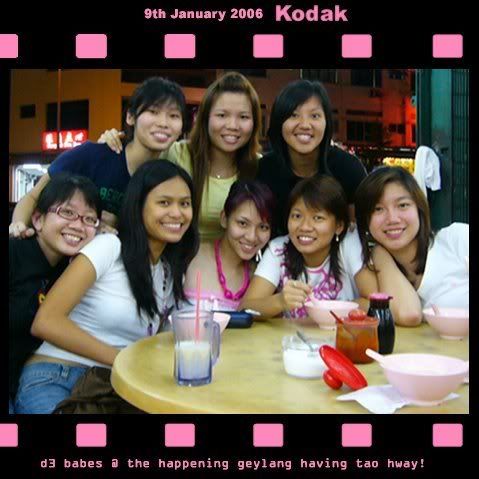 One of the many photos of one of the many tai-tai-ish meetups.
On a completely unrelated note, I've only noticed very recently how fair I'd become since coming back from Ruicheng. Serene had first exclaimed it during the very week I came back but it only became REALLY apparent to me in the KL/Ipoh pictures and these Geylang pictures.
So maybe having the sun out today was good.
But I miss the rain already.
And yes I do realise that I've put on weight again. Though, funnily, this particular person from hall (whose privacy shall be protected for obvious reasons) who never fails to comment on my weight gain during our first contact every new semester since like freshman year , actually commented that I lost weight. Of course, he/she quickly added that of course, I wasn't like what I was during year 1 sem 1. For the record, it was the semester when I first moved to Singapore and lost 10lbs. Who said that Singapore food was not good? Hee.
::::

Another thing....
Last night as Boon stayed over and we were talking *like the old days* and in the middle of the conversation I got up to close the door *like the old days*, it almost felt as if Boon were just living down the wing again.
I am so glad that we are all still meeting up so regularly ;)
::::

Nocturnal activities
Not the naughty kind la.
Been back for less than a week and I just realised today that every single night of the week has been taken up by something:
Monday: Geylang beef hor fun-tau foo fah dinner with the D3 girls!
Tuesday: Today la. Marina South steamboat dinner followed by a very satisfying hot fudge sundae at West Coast Park McD's with the Malaysian gang.
Wednesday: Ladies nite with girls, girls, and girls! I don't remember how many girls are going now. Hee. But we'd have to be back early that night :)
Thursday: Tuition with Dawn.
Friday: Cell group.
Saturday: Service then dinner with the D3 girls.
Sunday: Nothing as of now. Time to do readings?
Hui Siang commented that we seemed to be still on holiday mode right now. I'd beg to differ. I think reality sunk in very very quickly during my Monday lesson where Dr. Phillips held up a stack of readings which were about 1.5 inches thick and proudly announcing to us that it "was just Volume One". And when the first class of the semester ended at 5:10pm when we'd usually be let off latest by 4:45pm.
Will. Study.
Have at least seen a little progress on the ISM side.
Will. Go. To. The. Library. And. Work.
I am not such a social butterfly la.
::::

Bring it on
And this is what NUS has in store for me for my final semester ever...
Monday 2pm-5pm : EN4242 Critical Theory
Tuesday 2pm-5pm : EN4231 America at War and Peace: Reading the Texts
Wednesday 6pm-9pm: GEK1531 Introduction to Cybercrime
Thursday 9am-12pm: EL3254 Media, Discourse and Society
Rest of the time will be taken by ISM, tuition, dance, more ISM, tuition, lots of eating, spending time with friends, time in the library for ISM and reading, and generally soaking in the precious last moments of the final semester ever :)
::::

Looking ahead
December 2005 was a lovely ending to the otherwise still-fantastic year of 2005. This has been a year where I had more time to myself, to my friends, to my family. It was the year the karaoke sessions became more than an annual thing. It was the year where ladies nite became more than a hall-bash-only thing. I als spent much of this year thinking, thinking about everything and everything. Kicked myself occasionally for being so easily contented with the sheltered, comfortable life that I have been leading in Singapore and Ipoh. Found myself wanting for more, and I can say that the trip to Ruicheng was indeed good - both for my walk with God and my personal development. God has led me to see that many things that I previously thought of as impossible CAN BE DONE and many times, I just need to make my own decisions and that whatever I decide will decide what will happen to me! 2005 saw me becoming more decisive (bossy, whatever hee) and more reflective I guess :)But it hasn't made me as articulate as I'd like to be hee.
Spent the final week of 2005 with Justin, Yasi, Serene, Hui Siang, Chen Fei, Harn Ni, Eric and Su Leen. We were in KL (eating, shopping, eating some more, suan-ning each other) before Justin, Yasi, Hui Siang, Chen Fei and Harn Ni came to Ipoh on NYE for more eating, driving around Ipoh like tourists, more eating, and a fantastic karaoke session :)
I think I am ready for the final semester in NUS. Ready to make a new start, ready to look forward to the change that is to come in July. The road to becoming Ms. Poh has finally taken a new turn :)
::::