I can see clearly now ....
... that I've put on my contact lenses. On the correct sides.
I've been wondering for the past week or so whether the degree of my short sightedness had increased or had my astigmatism returned, cos I often couldn't see the screen clearly during classes and I had problems reading without squinting at my computer.
Then today, it struck me - did I put the left lense into my right eye and vice versa?
So I switched sides.
And as I said, I can see clearly now.
How am I going to be a teacher if I am so blur?!!?!
::::

Not a very intelligent post here ...
But I came across
Museum of Twits
and it reminded me sooooo much of my conversations with the
Geek Chic
about bimbotic little girls. Very much placed against the context of Singapore, it's enough to crack you up with some mindless chuckles.
My personal favourite:
20 Pose Ideas
How to Do Your Friendster Profile
Have fun!
p/s Serene! Yes I have TRIED to sit down to do the scholarship critique! 2.8k and halfway through *sObzzzZzzz* (in true TWIT fashion)!
::::

Meme!
1) My uncle once: mistook me for my aunt. I resembled her too much. But nothing happened la.
2) Never again in my life: will I take up mathematics or physics or chemistry or biology.
3) When I was five: my mom bribed me with books in order to get me to brush my teeth properly.
4) High School was: the time I realised that I will never ever fit into the cookie cutter world of sciences and money-making careers.
5) I will never forget: the first time I saw Ernie in the nursery.
6) I once met:
Hans Issac
.
7) There's this girl I know who: eats cheese powder (?) when nobody is looking. You know who you are nyek nyek.
8) Once, at a bar: I had my bottom groped. I hope his hands will peel for the rest of his life.
9) By noon I'm usually: at lunch or have just woken up ;)
10) Last night I: had dinner with the girls, bought a dress and had the most productive night ever dissecting an article with Ms. Tan.
11) If I had only: read more.
12) Next time I go to church: I'll be whining to my cellulites (cell members!) about work *again*.
13) What worries me most: is what would Ernie's future be.
15) When I turn my head right, I see: 14 library books, of which one belongs to Justin and at least 5 are completely useless to what I am working on.
16) When I turn my head left: windows overlooking the noisiest block of Temasek Hall.
17) You know I'm lying when: when I go 'uh' a lot.
18) You know what I miss most about the eighties: Saturday morning cartoons and Sunday library trips.
19) If I was a character written by Shakespeare, I'd be: Paulina from
The Winter's Tale
. I probably talk too much for my own good hee.
20) By this time, next year: I hope that the change in NIE would be good for me.
21) A better name for me would be: Bigfoot.
22) I have a hard time understanding: why people are so narrow minded - why people are so blinded - and mathematics and physics and chemistry and biology.
23) If I ever go back to school I'll: do a postgrad course on Special Ed. Oh and heh, something on retail merchandising?
24) You know I like you if: I initiate conversations with you. Then again, it's rare that I NOT like anyone.
25) If I won an award, the first person I'd thank would be: Daddy above :)
26) Darwin, Mozart, Slim Pickens & Geraldine Ferarro are: pioneers.
27) Take my advice, never: walk around with your eyes closed. The memory of my bump on the forehead as a six-year-old still resonated strongly.
28) My ideal breakfast is: the one that is being prepped in the kitchen while I am just waking up :)
29) A song I love, but do not have is: zilch I think. I'm too big a pirate.
30) If you visit my hometown, I suggest: hiring my mom as your food guide.
32) Why won't anyone: come up with a way to knock some sense into the war-people's heads?
33) If you spend the night at my house, DO: ignore the mess *usually generated by me* at the study area.
34) I'd stop my wedding for: Wang Lee Hom. Nah, kidding Justin!
35) The world could do without: arrogance.
36) I'd rather lick the belly of a cockroach than: lick the belly of a frog. UGH.
37) My favorite blonde is: Jennie Garth. The first name that popped up!
38) Paperclips are more useful than: those punched-hole-protective-sticker-thingies.
39) San Diego means: California? and the zoo?
40) And by the way: I am beginning to be a lil paranoid about the whole dengue situation.
::::

Mind-irking Misspelt Word of the Week
I've decided to set up a new item for this blog which is entirely too self-centred IMO.
Hence, every Friday, I will present a
Mind-irking Misspelt Word of the Week
.
(I just realised, since it's the misspelt word that irks ME the most, the self-centred element is still around. Gah)
So, the word this week is:
stuffs(n): colloquial term for 'things' or 'belongings'.
Used in a sentence: I bought new
stuffs
at the Topshop sale today.
Why? Why?
::::

It's a good day because.....
- I woke up for Asia Moderns today!
- Dinner with the girls for lots of girly talk, lots of laughter, lots of food, lots of love :)
- I finally understand how to write the darned scholarly review, thanks to the 1.5 productive hours spent with Serene at Cafe Cartel with free flow bread and butter.
- And
hur hur hur
a little black dress with the sweetest ever Grecian-esque knot-twisted sleeves was waiting for me at Dorothy Perkins at *get this* SGD26! And to add the cherry on top of the icing, it was a size 10! Okay so it was a size 10 that ran really really big but just let me be happy la :)
Now the question is: Should I or should I not go for the Zouk Halloween party next Monday?
The reasons for NOT going:
- I have a planning session for the Ruicheng trip that night from 7pm-don'tknowwhattime.
- Judging from the girls' enthusiasm, I'd probably spend Tuesday recovering from the party - and I have 2 papers due that week!
- Will be having more tuition sessions that week probably and I need all the time and energy I can have!
The reasons for going:
- The girls are going!
- I want to dress up!
I am more towards NOT going though - have a busy weekend lined up *sigh*
But nonetheless, it was a good day today :)
::::

Never thought about it this way heh.

My blog is worth $4,516.32.
How much is your blog worth?
Find out more about the research on the valuation of blogs
here
.
::::

Just a note to self.....
November 2 : Scholarship review (3000-4000 words)
November 4 : 17th century essay (around 2000 words)
November 7 : Hand in ISM form
November 8 : 18th century essay (around 2000 words)
November 11 : Dissertation proposal due
Kill me before ...
November 18 : Asia Moderns finals (I will SO die for this one!)
November 22 : 17th century finals (50%)
November 23 : Marketing finals (40%) and Research workshop finals (35%)
November 24 : 18th century finals (50%)
*wails*
::::

Castles in the air
Nothing quite beats a rainy afternoon indoors, sharing an ice kacang and building castles in the air together :)
~~~~~~~~~~~~~~~~~~~~~~~~~~~~~~~~~~~~~~~~~~~~~~~~~~~~~~~~~~~~~
Tonight is ladies nite with Serene, Rachel and Sarah Anne! Therefore, I've shelved my retail therapy plans and have run ALL my errands, done half of my readings for tomorrow morning, going to start laundry and finish readings by tonight!
I am a good girl, I am :)
::::

Because I like living in good memories
I shall relive the HK break before resuming work *yet again* (almost there Sze!)
Day 2 @ Kowloon and we decided to walk to Tsim Tsa Tsui to conquer the factory outlets. Even the father and the brother tagged along!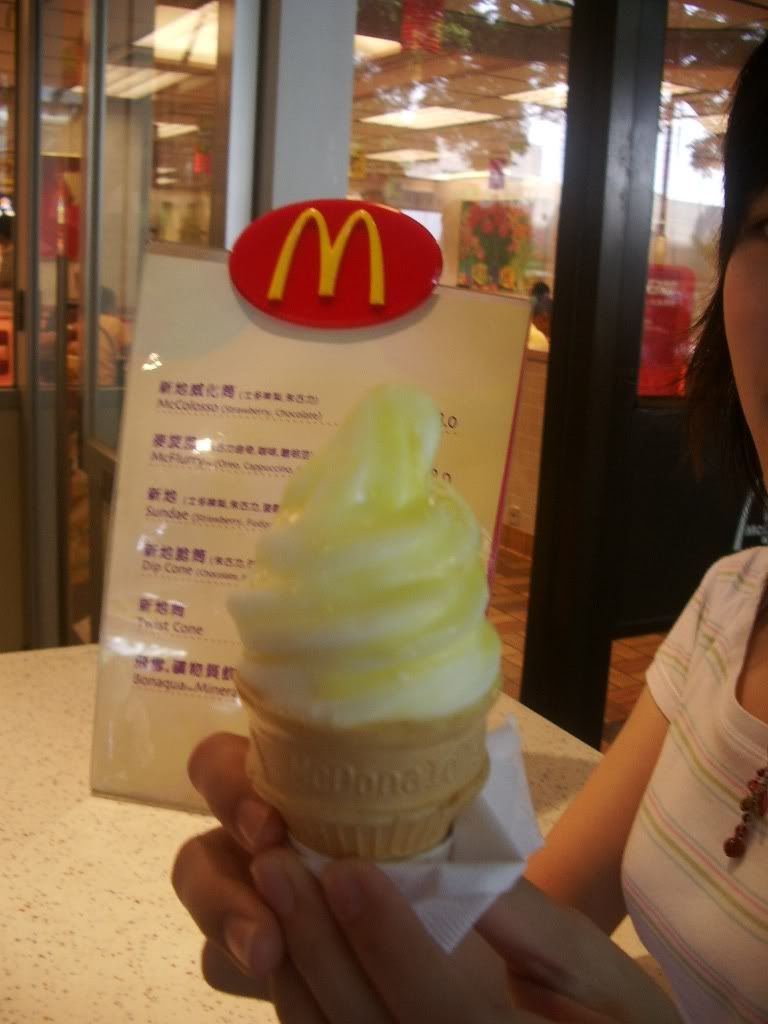 I still can't get over this mango-top icecream from MacDonald's :)
In between this picture and the next, we were too busy with shopping
sampai
my dad and my brother declared that they had enough of us and they'd rather have the comforts of our motel (aircon/tv/bed for the dad and broadband/aircon for the brother). So they left us at Esprit :)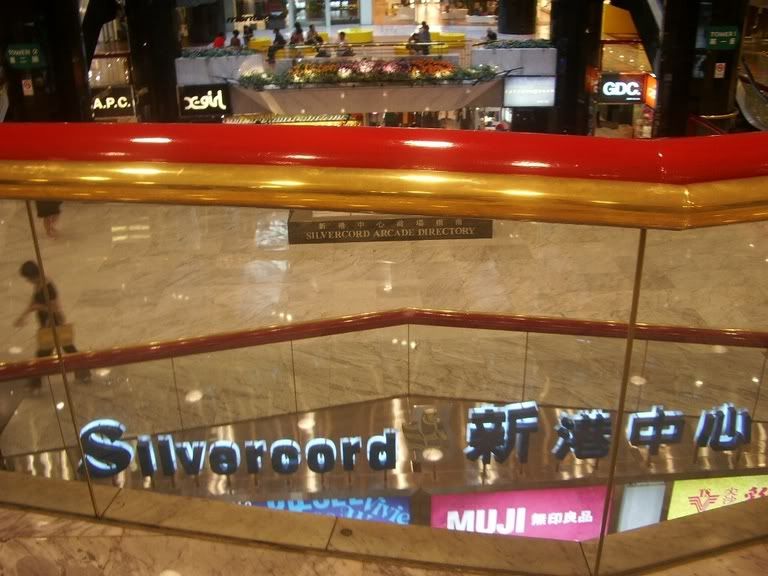 Silvercord Shopping Centre. All shopping centres in HK seem terribly posh to the me the country bumpkin. It's not even affordable stuff like Topshop and don't even think of Giordano and Hang Ten haha. This was the shopping centre opposite Harbour City Shopping Centre, which houses the Guccis and the Chanels and the Pradas and the Diors. We were there just for the aircon haha.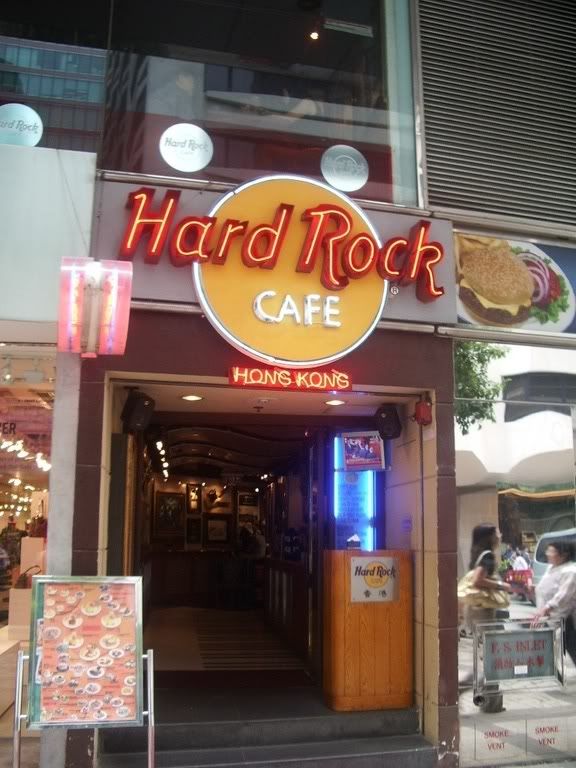 Hard Rock Cafe (I make it a point to TRY to go to one at every place I am at) @ Tsim Tsa Tsui. It's approximately around here that my Pentax died on me. Boo.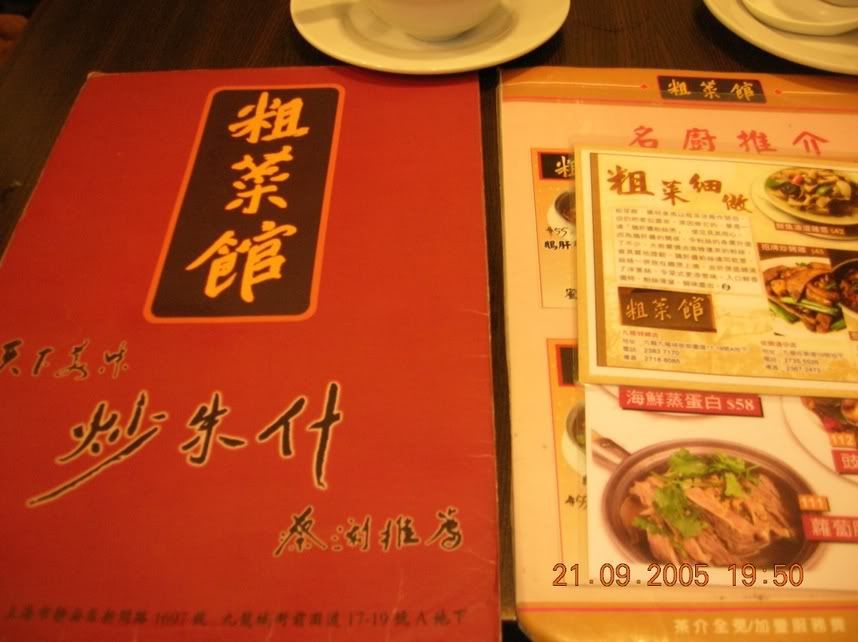 This is the place we had our dinner - one of the restaurants highly recommended by
Chua Lam
, this director turned food critic in HK.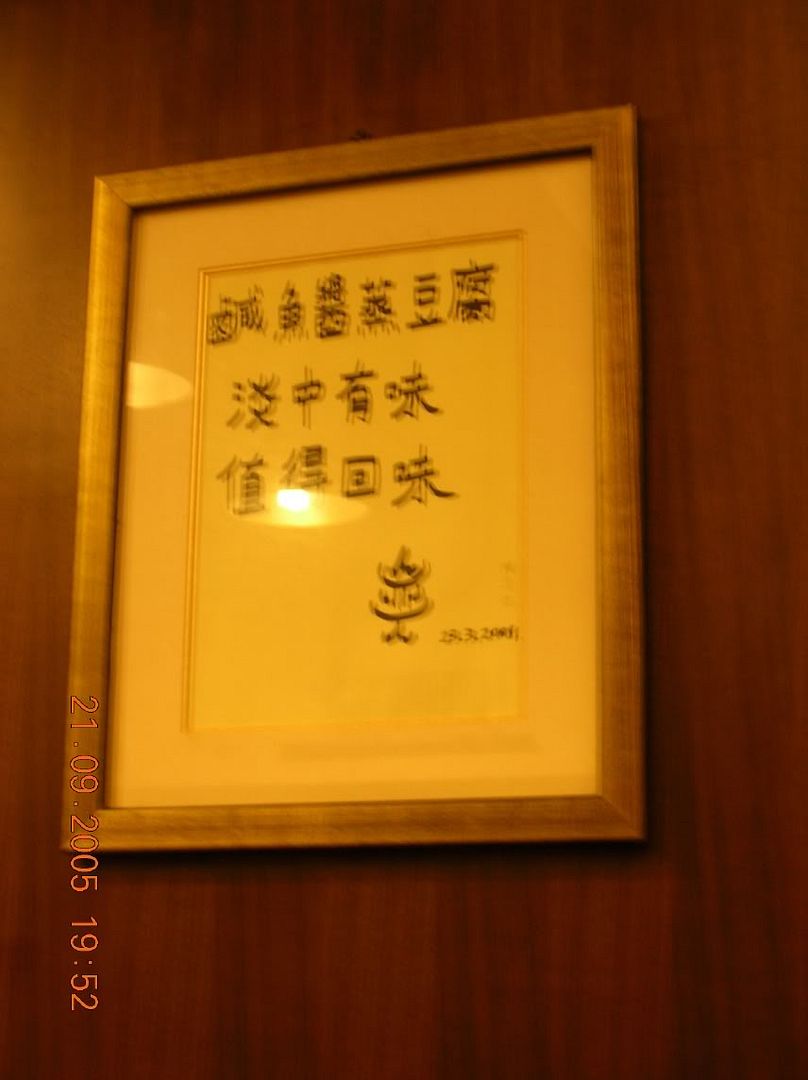 There were framed celebrity autographs all over the place. This particular one is by
Eason Chan
, who rates only second to Andy Hui in my list of top Canto crooners heh. His handwriting wasn't that impressive tho.
The food. Turned out good :)Lazy to upload those I took of the individual dishes :)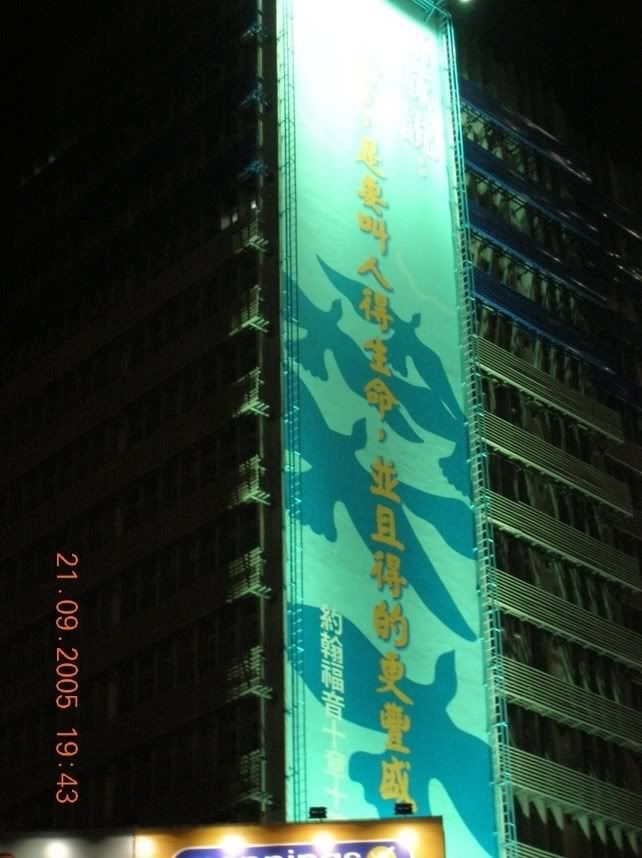 Not too sure what building it was but this is this huge banner of a Bible verse.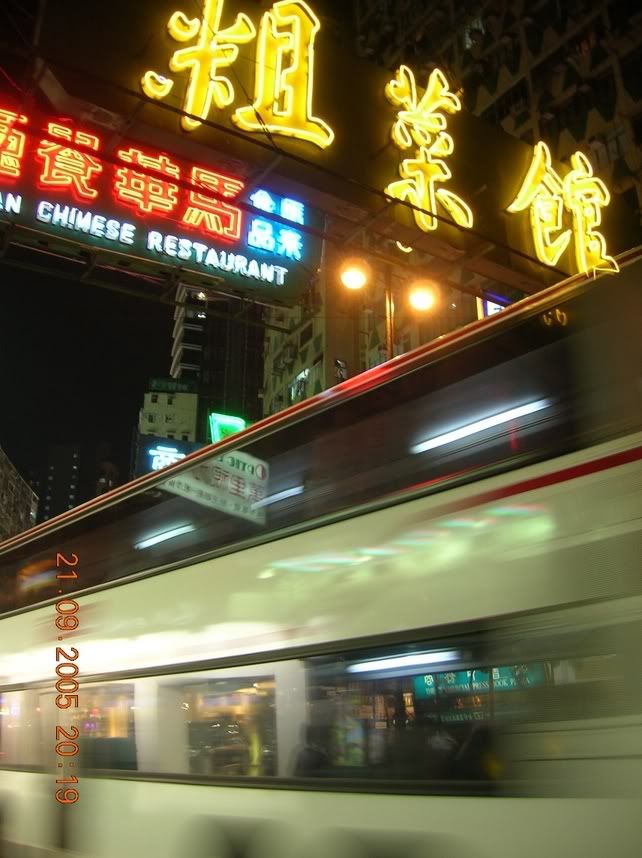 Billboards and a double decker bus. So stereotypically HK huh?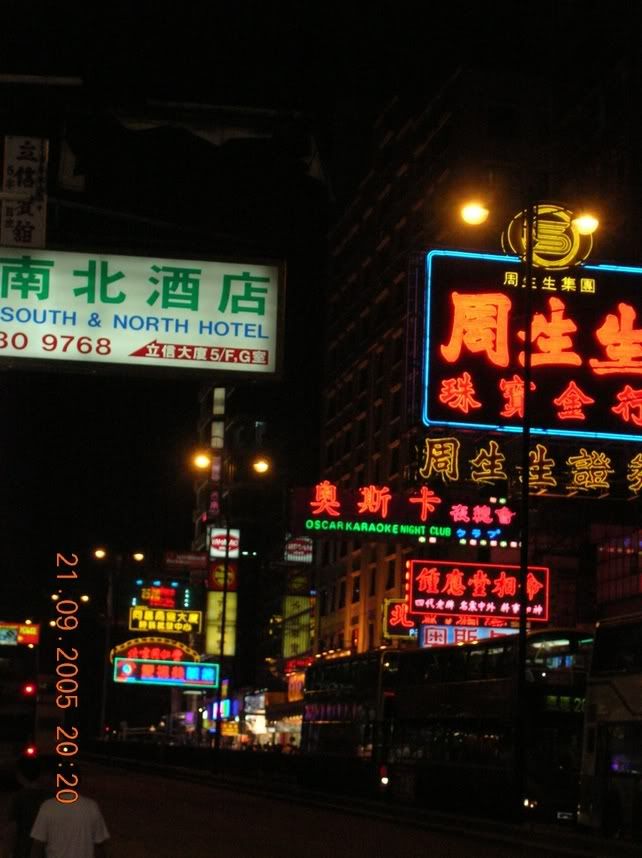 More billboards on Nathan Road.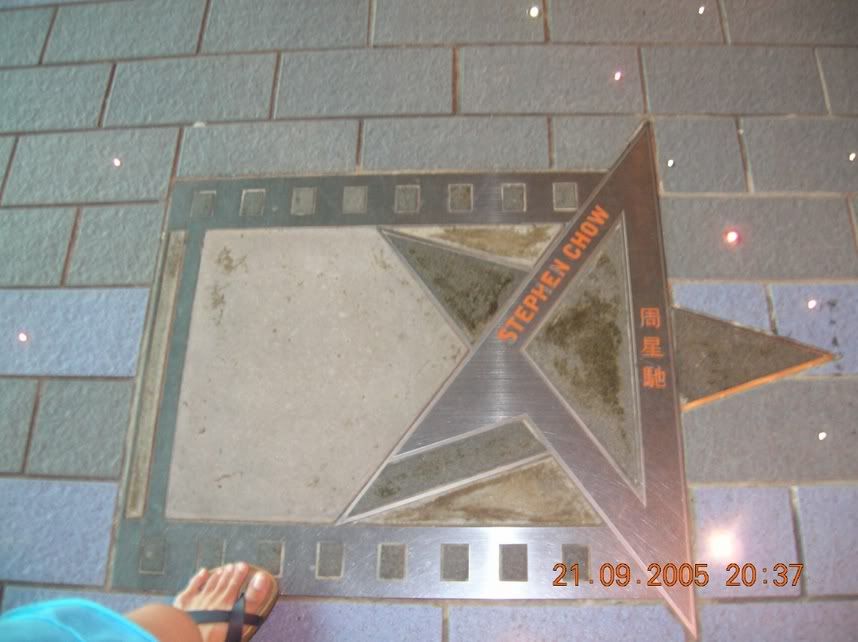 We took a cab to the nearby
Avenue of Stars
, which is basically a site paying tribute to the Hong Kong film industry. For one who has grown up watching *too many* HK films and television series, I felt at HOME haha. It was a windy night and with loads of people everywhere. To add to the whole *movie* feeling, the speakers were playing various classic Cantopop, which I felt was a nice touch ;)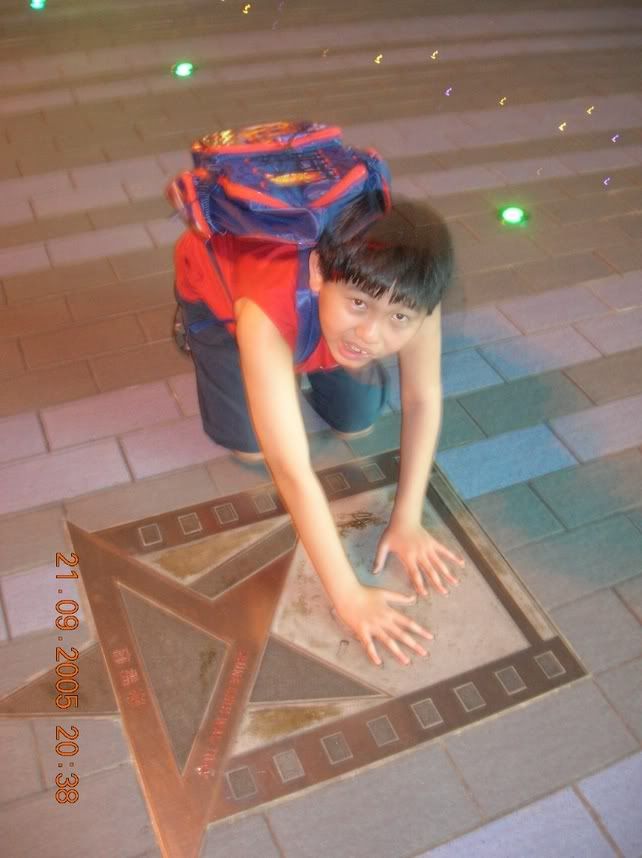 My brother, who is increasingly becoming a camwhore. Who would believe that he was/is hyperactive, patiently waiting in that pose for 5 minutes while I tried to adjust the camera's settings :)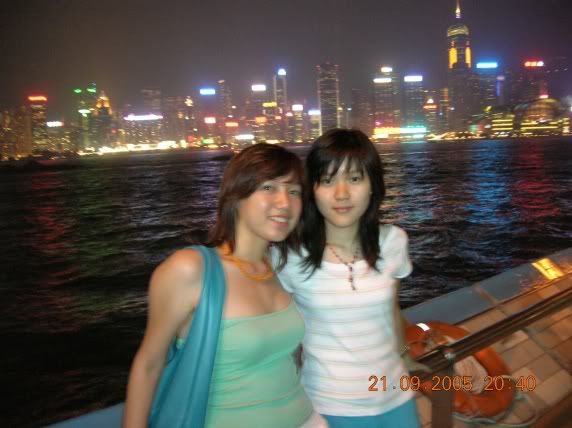 The sister and I. Also known as the big and the small. Can anyone help me to Photoshop myself?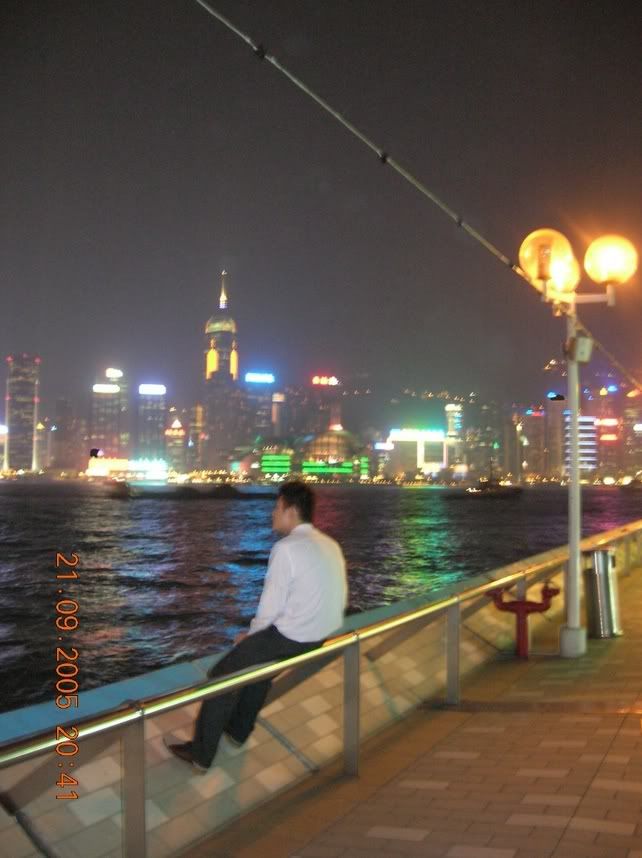 Looks like the typical scene in HK series where a person is contemplating by the sea after a hard day at work?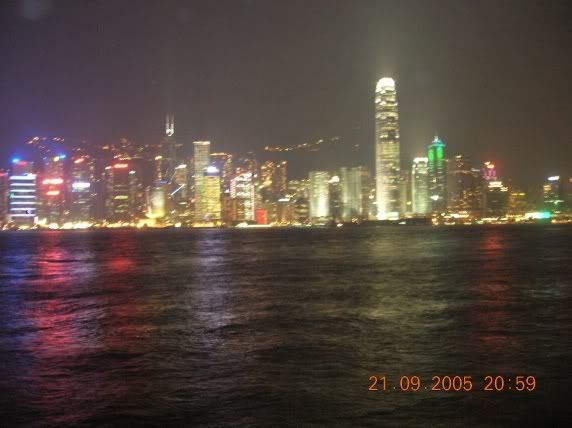 The only somewhat clear picture we had of HK@night.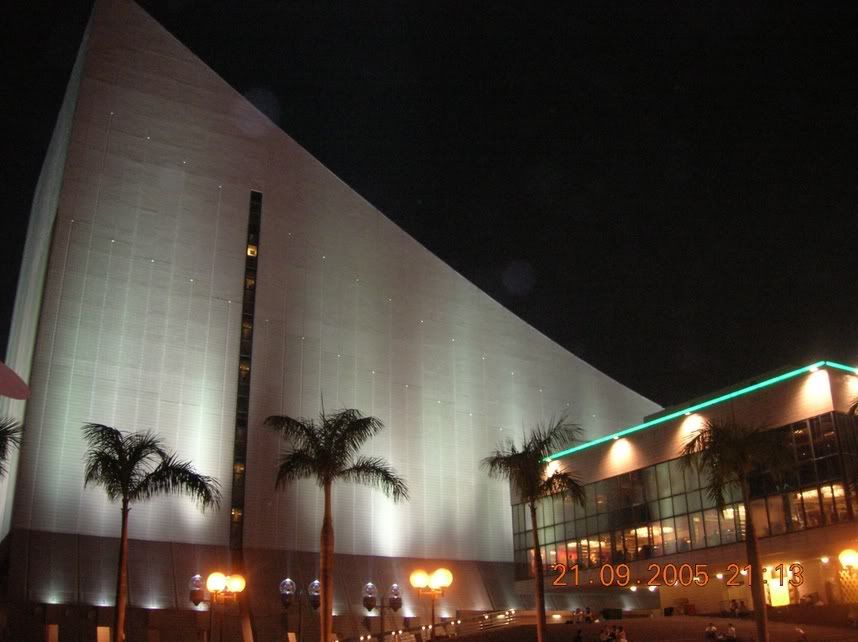 If I remember correctly, this was the HK Cultural Center (All the touristy centers were within the same area).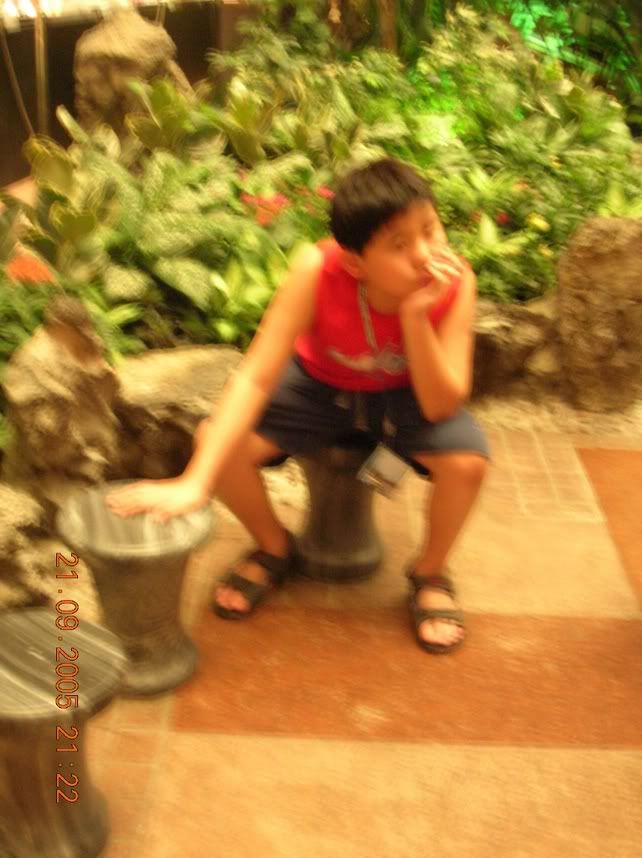 "What's up with my sister and her obsession with pictures?"
I've a feeling that I'd be rich from blackmailing my brother with these pictures when he is about 20.
And it's Disneyland in the next entry :)
::::

I really should be doing my research journal.....
... but I couldn't get over this necklace.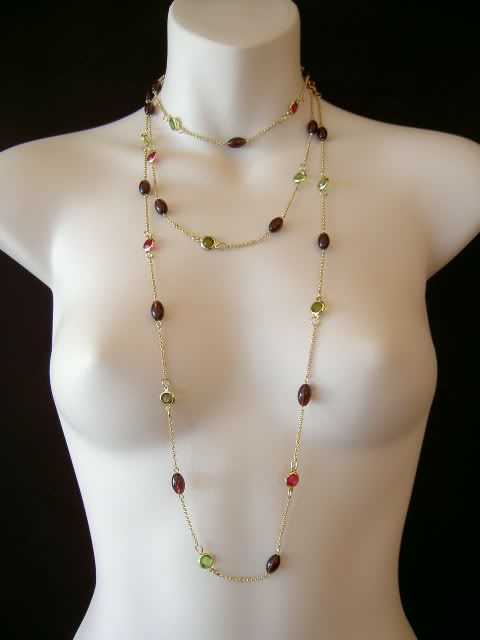 I haven't really been able to find something like this here that is within my budget as well. Or just cos I haven't been out much.
Gah.
Back to research.
::::

Vainpot
I found one good reason why I should pick up running (again?).
The perspiration followed by the shower after the run makes my skin baby smooth. Must be the release of the toxins (or whatever chemical reaction that happens to your body after you exercise).
So, I shall strive to run more. Not to fit into that size 10 dress, but to have smoothie glowing skin!
::::

Something to share from LAST Friday ...
As Guanwen was leading worship at cell last Friday, I was compelled to go to this particular Psalm - Psalm 146.
1 Praise the LORD.
Praise the LORD, O my soul.
2 I will praise the LORD all my life;
I will sing praise to my God as long as I live.
3 Do not put your trust in princes,
in mortal men, who cannot save.
4 When their spirit departs, they return to the ground;
on that very day their plans come to nothing.
5 Blessed is he whose help is the God of Jacob,
whose hope is in the LORD his God,
6 the Maker of heaven and earth,
the sea, and everything in them—
the LORD, who remains faithful forever.
7 He upholds the cause of the oppressed
and gives food to the hungry.
The LORD sets prisoners free,
8 the LORD gives sight to the blind,
the LORD lifts up those who are bowed down,
the LORD loves the righteous.
9 The LORD watches over the alien
and sustains the fatherless and the widow,
but he frustrates the ways of the wicked.
10 The LORD reigns forever,
your God, O Zion, for all generations.
Praise the LORD.
Psalm 146, NIV
It's amazing isn't it - at the point of time when you are just so bogged down with work and even worship is like a chore sometimes simply because you have ceased to put God at the first place - God impresses upon you and reassures you that HE is
faithful forever
! At times when I am reminded of the various things I 'needed' to worry about - God reminded me that he'd
give food to the hungry
and indeed He has never ceased to provide. At times when I am so frustrated with people, when I whine about things that happen - God has never stopped reminding me how much He wants to give to me and how He is the One who reigns over all these things - however big or minute they may seem to be.
He has never stopped reminding.
Maybe I am the one who has stopped listening.
::::

For the Geek Chic
Forget about our Ipoh Neenniee and Ipoh Between la. Someone was faster than us. They have the
Ipod Flea
!
*psst* you'd need the speakers on!
Link courtesy of
Serene
!
::::

Photolog from JB trip!
Yasi captured some great pics and I shall keep the more incriminating ones for our own perusal. Meanwhile, here are some of the better ones.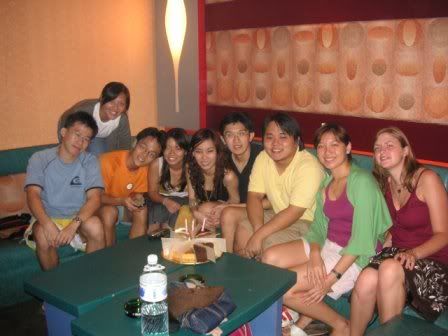 The group of 9 who were there in the karaoke! Rachel was highly amused by the place, saying that it looked like a brothel. Haha.....with the red lights and alcohol and men and small lil rooms - one could hardly blame her!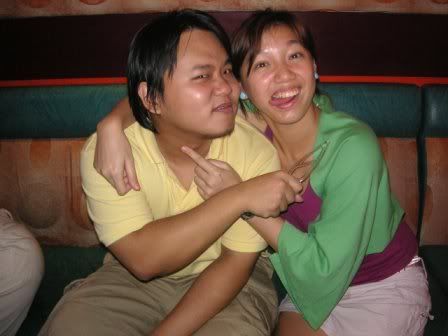 The loving couple.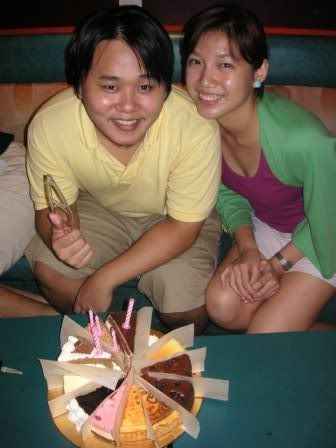 The loving couple in a normal pose, finally.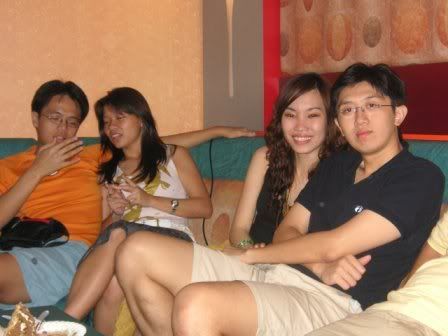 The other REALLY lovey dovey people.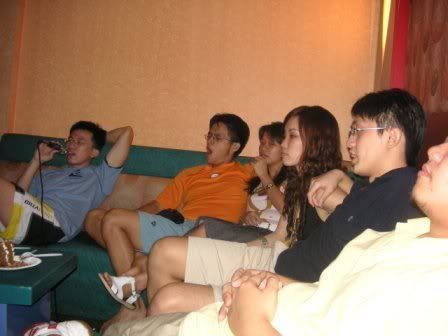 Siang was singing in that position all night. Heh.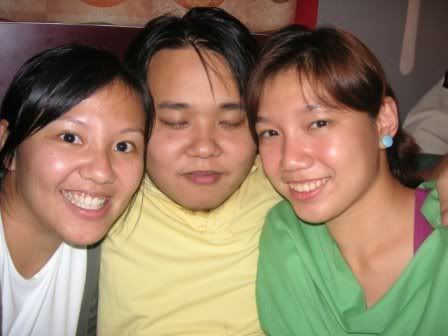 The big (eyed), the closed (eyed) and the cannot-open (eyes).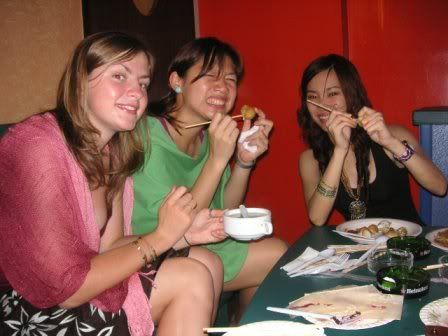 The free (and yummy!) buffet came with some snail-like thingy that Harn Ni, Rachel and myself were trying desperately to eat. With not much success.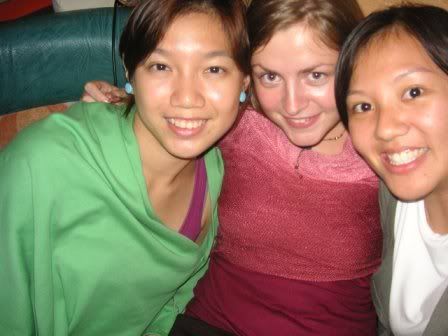 How can an outing be complete without a
zipai
(self-taken) portrait?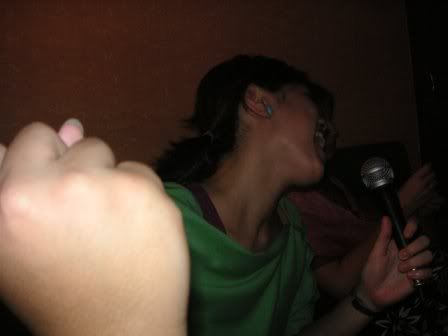 Yasi: (with camera in hand) Sze, show more emotion when you are singing leh.
Sze: Orh, like that ar?
Justin: (shows fist)
What la.
Alrighty. Barbauld should be more interesting than this.
Should
.
::::

Happy 23rd birthday, Justin :)
The boyfriend is 23 today!
As of now, he has had 3 birthday celebrations, 2 cakes, 2 filling and satisfying dinners and lotsa birthday wishes from friends all over.
So fun. I also want. So I was present for all three nyek nyek. Saturday night was dinner at Tebrau market followed by karaoke with the Malaysian gang (including Yasi the 'Malaysian' and Rachel :)). Justin's the kind of person who can smell a surprise before you even plan it and I was so glad that he didn't suspect at all that we had a 12-piece Secret Recipe cake waiting for him at the karaoke's refridgerator!!!
Karaoke with fun-loving people is always good.
Then last night was the brief session with the B4/B3 people, when the chocolate mousse cake melted cos we were waiting for him to get out from the shower. The guys were kind to him this year :)
And so today was spent with the *ahem* beloved girlfriend :) Had a lovely dinner at
Hanabi
at Bukit Timah.
Glad that you've had fun, and thanks for spending the earlier part of your birthday tending to a sick girlfriend too :)
::::

Wicked!
Borrowing a phrase from Rachel, last night was WICKED!!!
I don't remember how much I had, but I do remember that I could walk right, get a cab, tell the cab driver where I wanted to go, gave exact change, went back to my room, got a shower, and PLONKED.
We've gotta do it again girls!!!
::::

Oh, the relentless clutch of societal perceptions!
Excerpt from my mom's daily Ernie report:
So, the brother was scooping rice from the rice cooker for his dinner. My mom decided to tease him by saying, "Ernie, if you eat too much rice you'd become fat. Would you rather be a fat boy or thin boy?"
"Thin boy." And he dropped the rice spatula after two scoops, which consisted of barely one bowl of rice, considering that his usual intake is nearly two bowls.
Poor kid. I feel bad for teasing him about his protruding tummy during the recent HK trip ;) We ARE trying to watch his weight as he is not getting enough physical activity (Damn you TV! Damn you PS!). Thank goodness he still hates carbonated drinks and insists only on water/Yakult/chocolatey drinks which my mom restricts.
But I just can't help but feel a little wistful (and amused) that my little brother who used to be so innocent of societal views is now aware of the norms set by this cruel, thin, world.
Then again, something tells me I should be glad that he is one more step towards "normality". But should I, really?
We don't really starve him la! How to starve a growing boy who demands nearly one whole fish, half a kati of green veggies (my mom's estimation), two bowls of soup and an egg for dinner? If we were around, he'd be watching our plates like a hawk, ready to pounce on any untouched egg or fish, his favourite dishes :)
::::

Congrats :)
Mom just called to tell me that a childhood playmate is getting married in 2 weeks time. Of course complete with all the *necessary* details such as the X number of tables she is having in both KL and Ipoh, where the church ceremony will be, who her mom is inviting, etc.
My first reaction was, "Eh, she is getting married so soon?"
Then my mom was like, "Come to think of it, it's not too soon - she is two years older than you leh....."
"Oh YEAH! *after quick mental calculation* 25? And she graduated from college at a super early age too - practically started to work during my freshman year!"
"Yeah lo"
After I put down the phone (after my mom's reports about YET more bombs at Bali - honestly, who needs the newspaper when you have a mom like mine who watches the news channels religiously? - no doubt hints to tell me NOT to go to Bali) I reminiscienced shortly over this childhood playmate of mine.
We drifted apart when I started sec school cos I moved away from that neighbourhood, though our families still kept in touch. But she was the one who helped me survive my gawky pre-pubescent stage, enlightened me about boys, shed light into what would await me in those evil teenage years, made up silly nicknames for the cute cousins of our neighbour (which consisted of two annoying boys), provided me with the neighbourhood gossip and also was my best buddy when it came to the first guy who had a crush on me *ahem*.
And that all happened during the two years of which I was 10 and 11 years old. Heh.
This is for you
Yuh Jiun
- may your wedding be the day to be remembered fondly and your marriage the opening of the next chapter of your relationship with your hubby (whom I haven't had the chance to meet yet), a closer walk with God and your fulfilling life to come.
::::