Hk Day One!!
Since I am still on my 'break' before I start writing for my take home midterm...here's another batch of photos...
My mom, sister and I basically walked about 6-7 hours that day, which is pretty good considering that we reached HK at about 1pm? Armed with sunnies, water and a map, we found our way to the famed Mongkok for shopping and well, some of you know the story of how my mom used to shop for 12 hours with the unborn us :)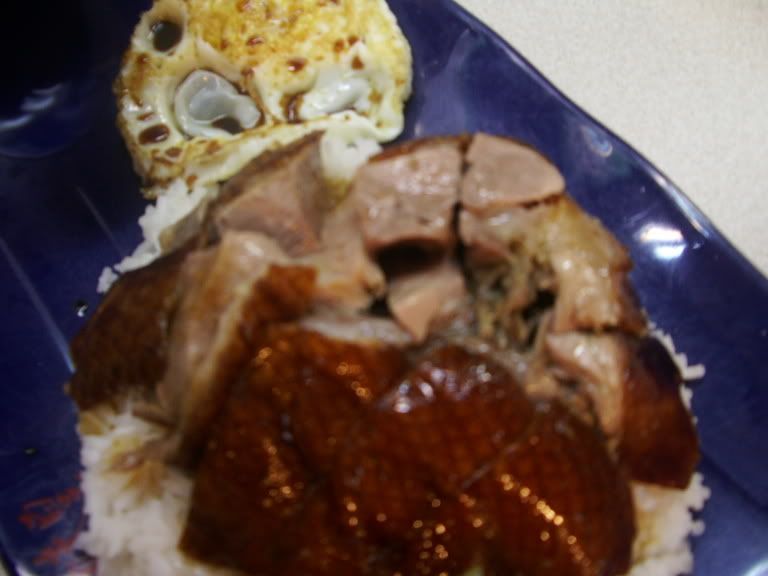 This picture was taken for Justin, who wants to have a plate of roasted goose rice very very much :)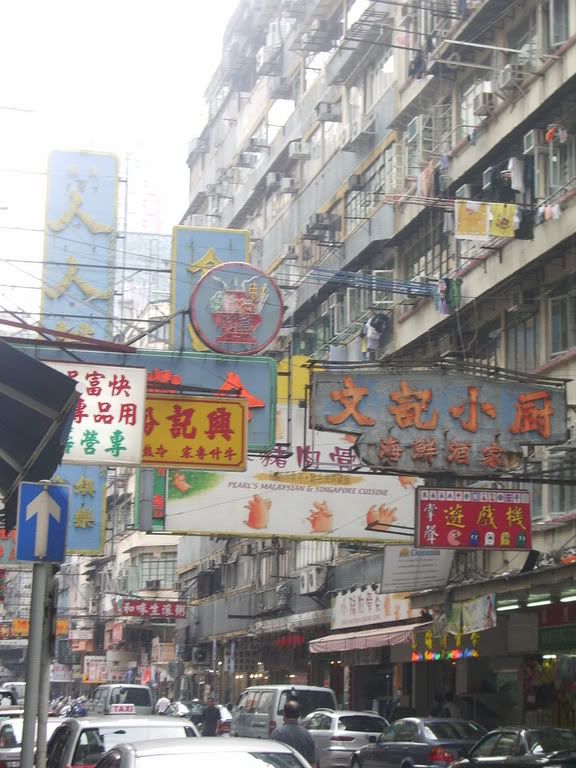 On the street where we stayed (Doesn't this resonate of
My Fair Lady
"On the street where you live"? Never mind me). Not exactly the poshest area around hee but the hotel/motel was clean, comfortable, easily accessible and had free Internet access!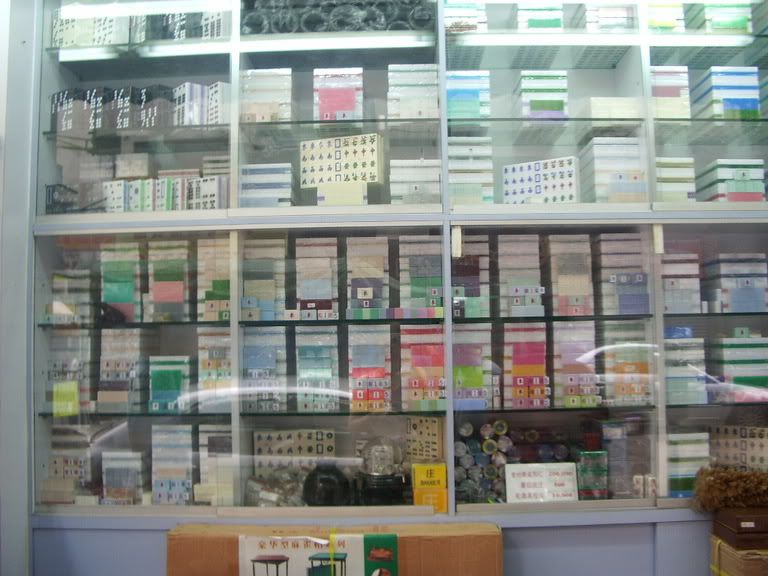 All sorts of mahjong sets! Too bad I don't play :)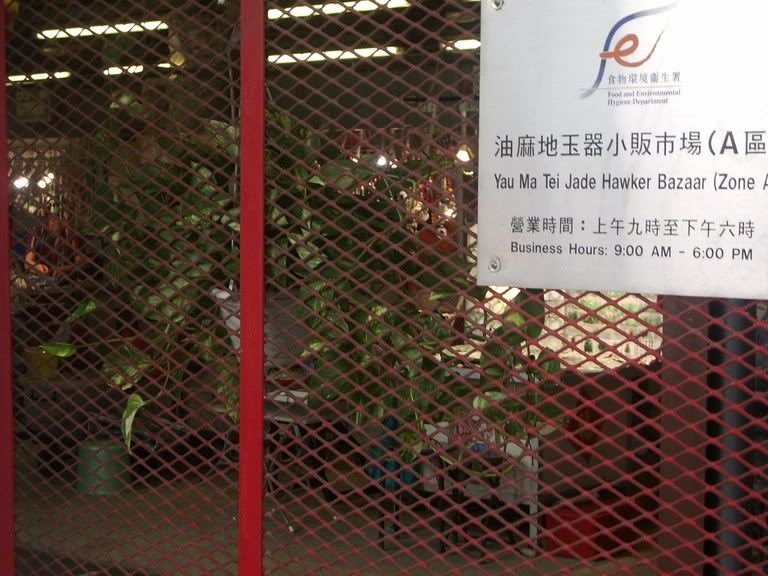 I guess there ain't too many TVB junkies among the people who read this but *waves hand* I am! I am! This was the place they filmed that series about jades, I guess.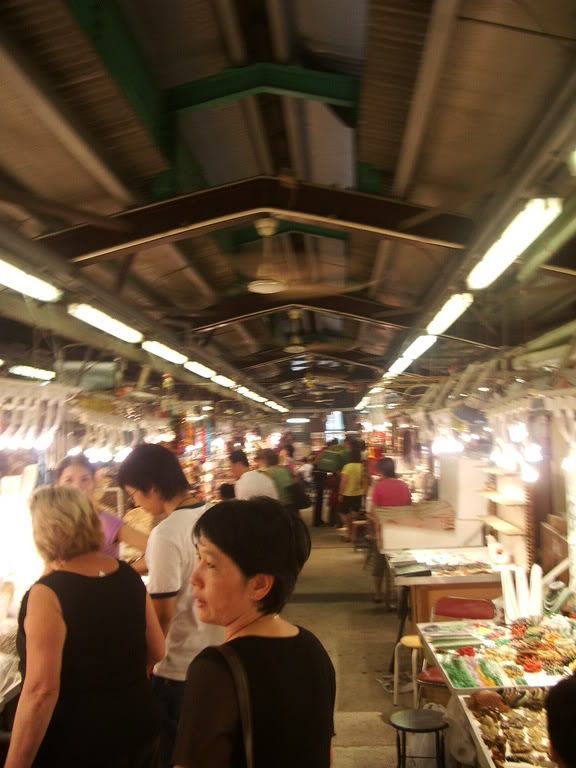 Inside the jade market and you can catch a glimpse of my mom :)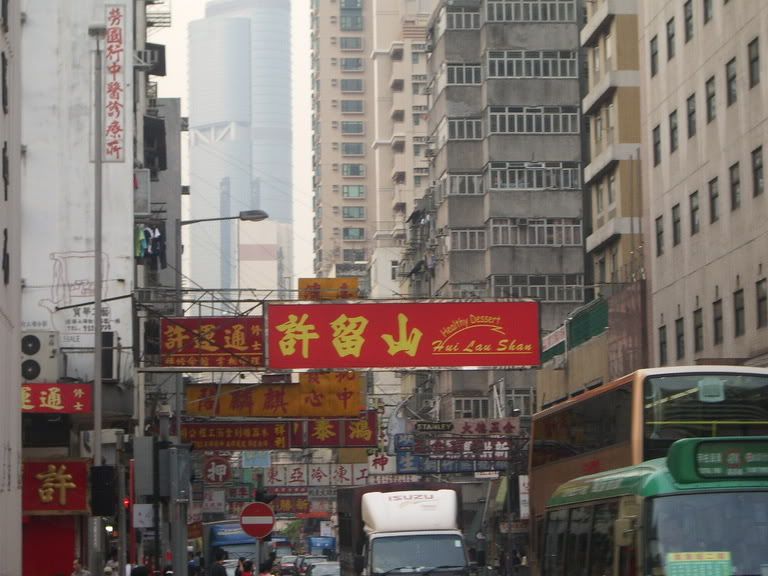 Justin told me die die must try Hui Lau Shan in HK cos the branch at Orchard Road wasn't that impressive. It's everywhere here!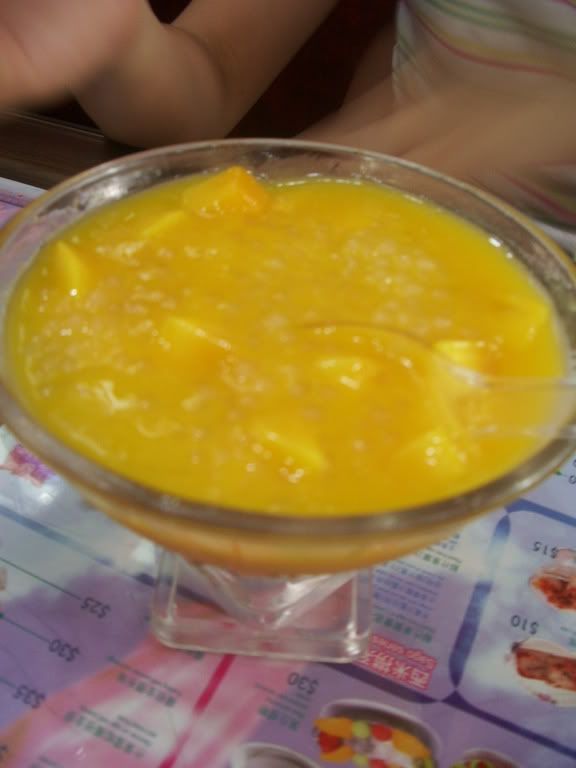 This mango thingy that Phing and I shared. Okay la. It was the mango+aloe vera drink we had at Causeway Bay's Hui Lau Shan that was the woo-hoo! one.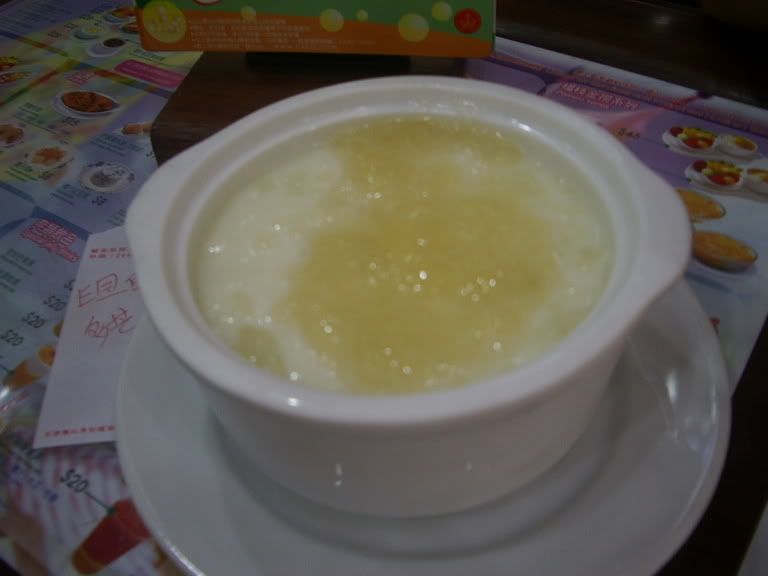 My mom's yummi-licious bird's nest with steamed egg/custard.
I was just intrigued by the sights of spanking new high rise buildings next to super old-going-to-fall-apart buildings everywhere.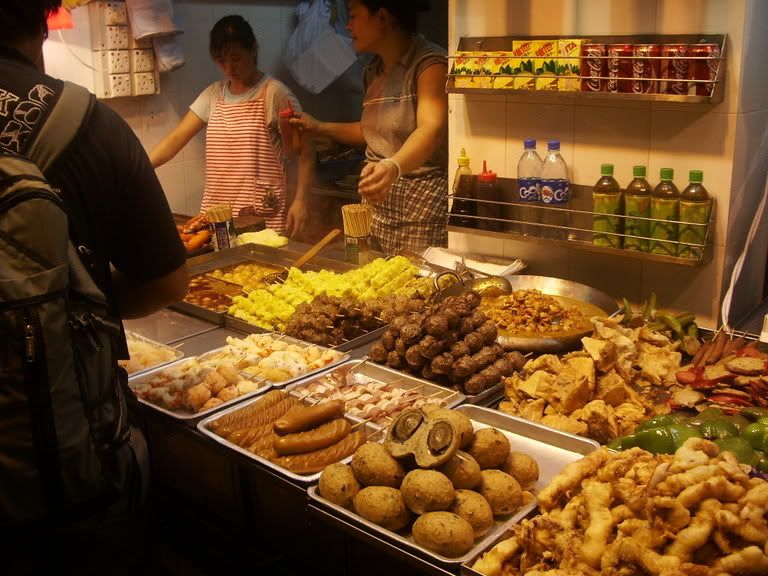 Their version of loklok I guess. With the curry fishballs and all.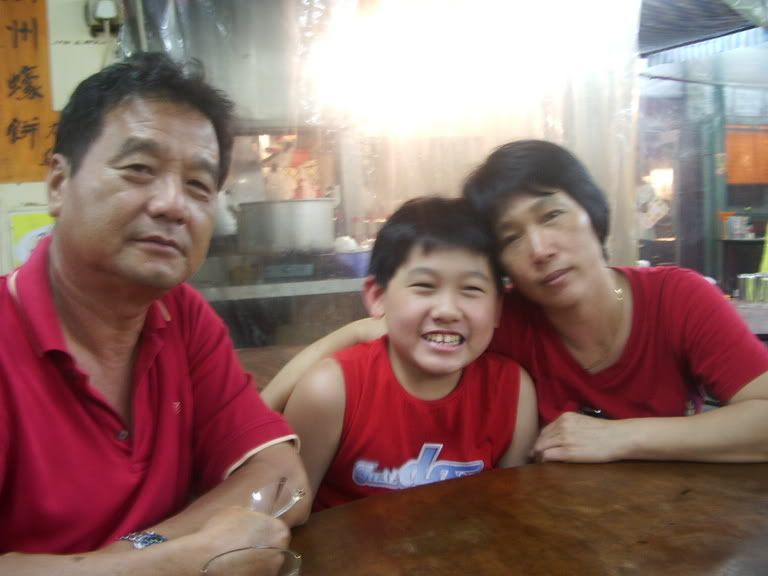 The parents and the brother. Taken at the dai-pai-dong (hawker centre which is nothing like ours). All three of them in red! Was shopping at Flower Street area before that. So excited that we forgot to take the pics. But think Petaling Street I guess.
Ended off the night with what is now one of my favourtes, this papaya dessert thingy. Haha.
More to come. :) Am going to West Coast Park with the Sunday School kids today!
::::

Psssttt!!!
I remember a post I made a very very long time ago about photoshopped pictures. I've just spent like the past 15-20 minutes amusing my perverse self at
this
website.....with celebrities before-and-after pictures...
Hur hur hur ...
Can someone who is really good at photoshop help me airbrush one of my pics? Just want to see the effect! Who needs a professional makeover? Photoshop can even put on your makeup!
Also, had the BEST sleep ever from 7-ish till about 1130pm. Can I say that this is probably the longest sleep I've had since Sunday? I'd been very good with taking catnaps no longer than 20 minutes throughout the week.
Gah. 4 deadlines all down. One more on Monday!
::::

Mayday!
Well, not exactly, but it does feel like it at 3am when nothing is going in and nothing can come out either.
Information, la.
IT's been a horrible, horrible week, with the deadlines - left with 18th century essay due tomorrow and that I haven't begun.
*wails*
By the way
- I've just confirmed (to God, myself, and my team leader) to be on a 2-week mission trip to China this December! Will be at this specialised English school at Ruicheng, Shanxi province.
It took every ounce of faith. Maybe not every ounce but enough faith la, since I've been evading missions trips cos of the money factor. But this time, it was different as I'd never been more drawn to a mission trip announcement. As I told Moses, "Don't care, just going to do it."
So, can include me in your prayer list? Mainly it's for:
- health - stress hasn't been good to me and hope that I'd be able to take the cold weather then.
- faith - while it did take faith to say yes to this trip, this is still my first trip and I foresee tough times as I juggle school work with the trip preparation.
- finances - will be needing SGD1300 for the entire trip....pray for blessings to come my way ... and that I'd be able to contribute a certain amount to it out of my own money too.
And if anyone wants to contribute to the help-sze-go-on-mission-trip-fund hehe....drop me a line! *shameless* Even RM10 is a good amount!!
Okie....gotta go do essay.....*mutters* 2000 words before the morning beckons!
::::

Back from HK!!!
Reached hall at about 1130am yesterday. And was faced with a whole barrage of deadlines:
17th century essay - TODAY 5pm (finally done!)
Consultation with Dr. Goh - Tuesday 945am
Asia Moderns presentation - Thursday
18th century essay - Friday!
Going to be camping in the library for a couple of days.
The journey back was quite good, if not for the rude attitude of the Macau airport staff. Those who have heard me rant about it already know. Those who haven't, well, let's just say that unprofessionalism is an understatement for their arrogance and rudeness.
Took like close to 800 pics throughout the week? Or perhaps more. Not going to upload them all of course but will be doing a photolog of sorts.....this would be the 2 days in Macau: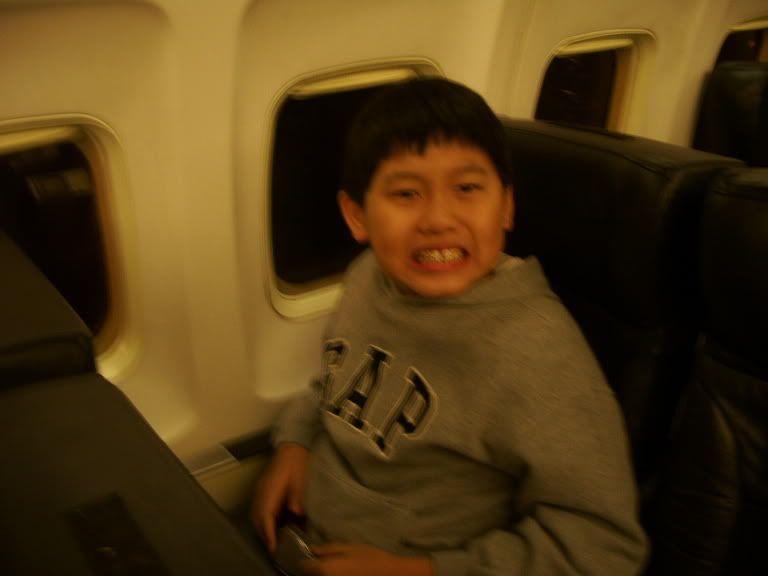 Ernie all excited :)He was exceptionally well-behaved during the plane rides of this trip. And to think I was worried about a repeat of our flight to Sydney eons ago. My parents had to resort to Ritalin.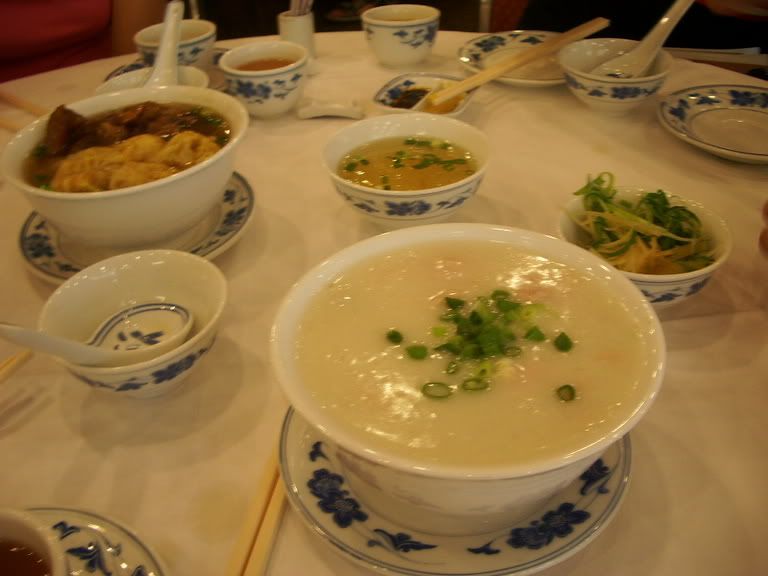 Sample of our breakfast. I love love love the porridge!!! It looks as if they put it through a blender!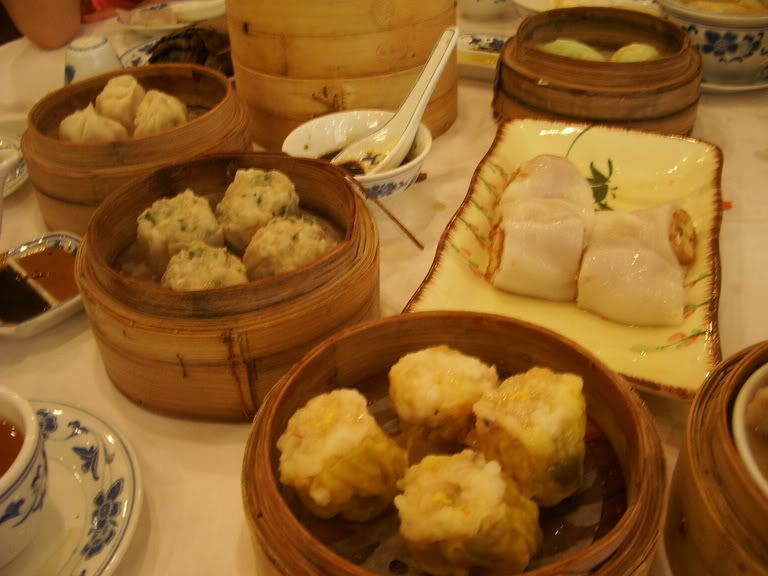 Some dimsum. We didn't have any at HK though - too rushed.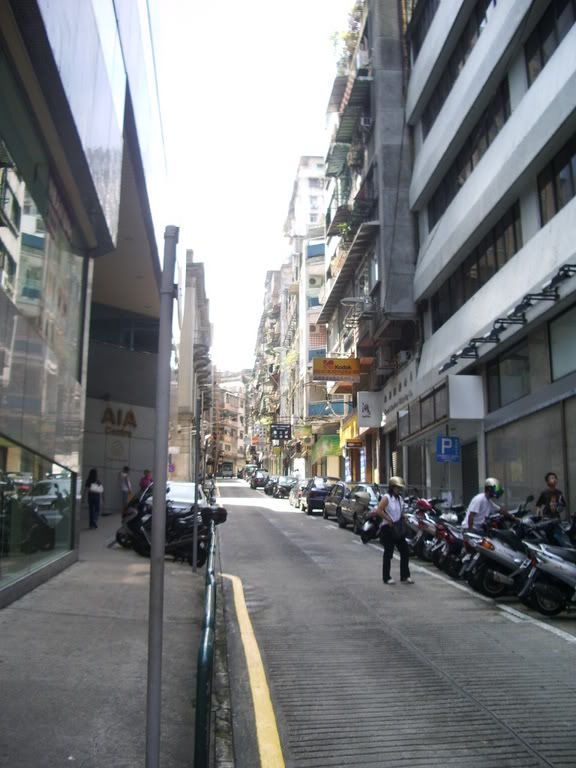 Regular street in Macau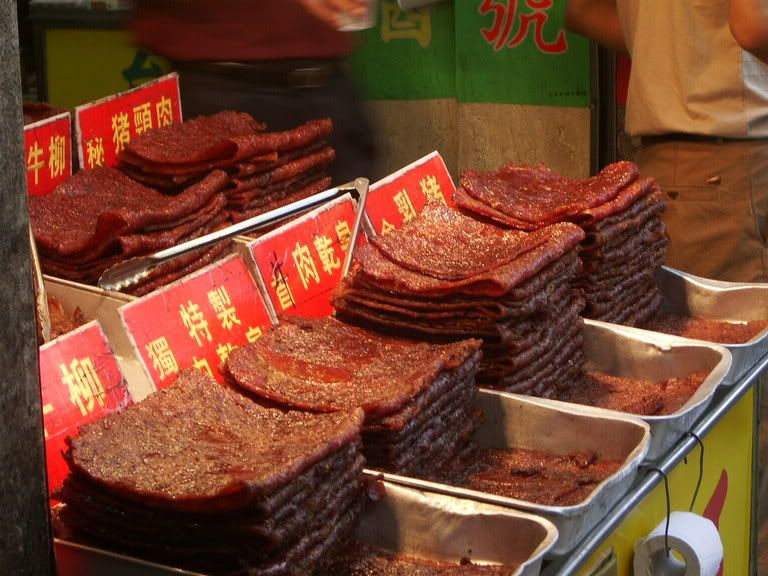 Ba Kwa galore! In every possible flavour! Fish, piglet, pork, beef, black pepper beef....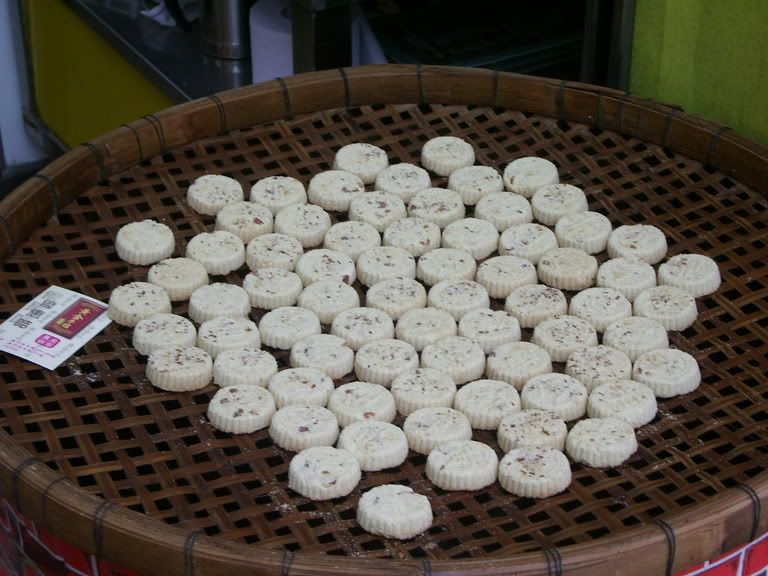 Almond biscuits everywhere too.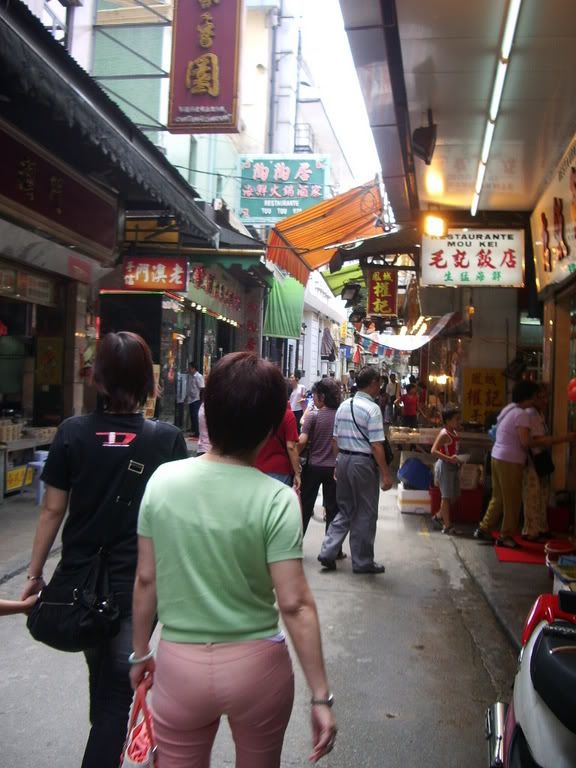 This is the lane where the shopkeepers will literally pull your sleeve and force feed you their dried meat and almond biscuits. One wouldn't even let me cross her way until I took one of the biscuits. Some are rather menacing as they just place themselves in front of you with a large piece of dried meat and a pair of scissors, ready to cut off a chunk for you to sample.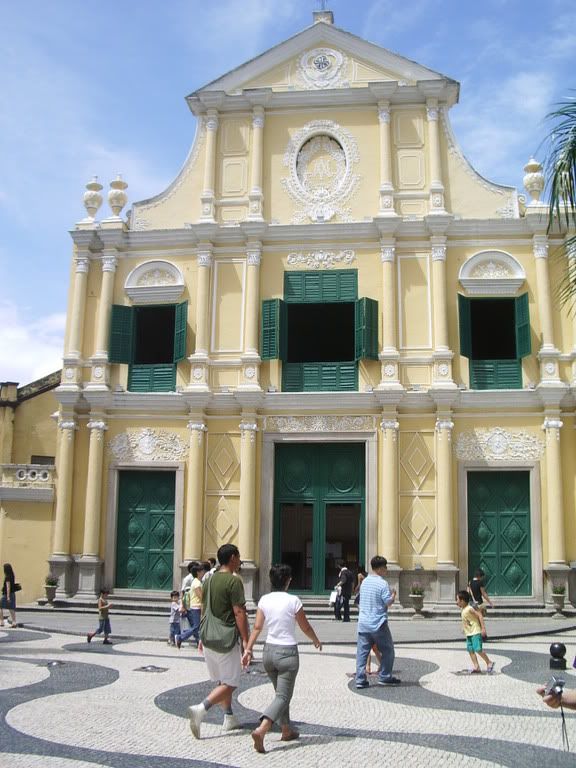 One of the many churches. My memory fails me.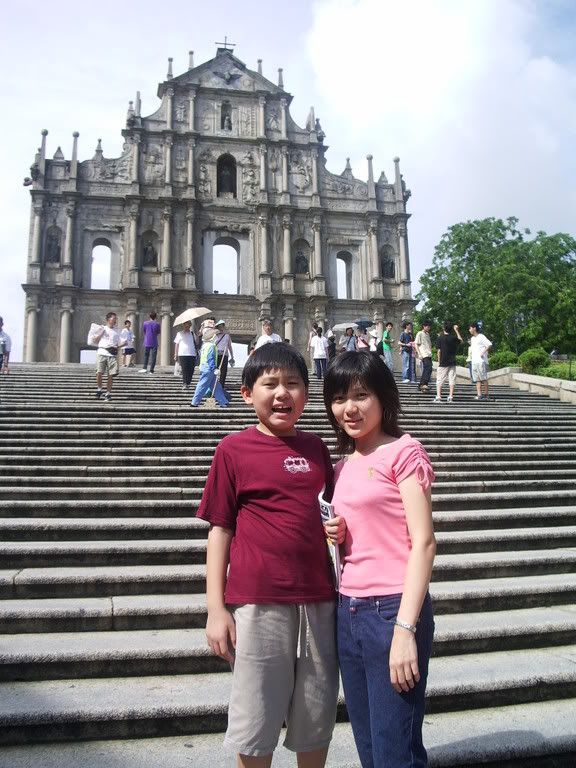 At the famed Ruins of St. Paul's.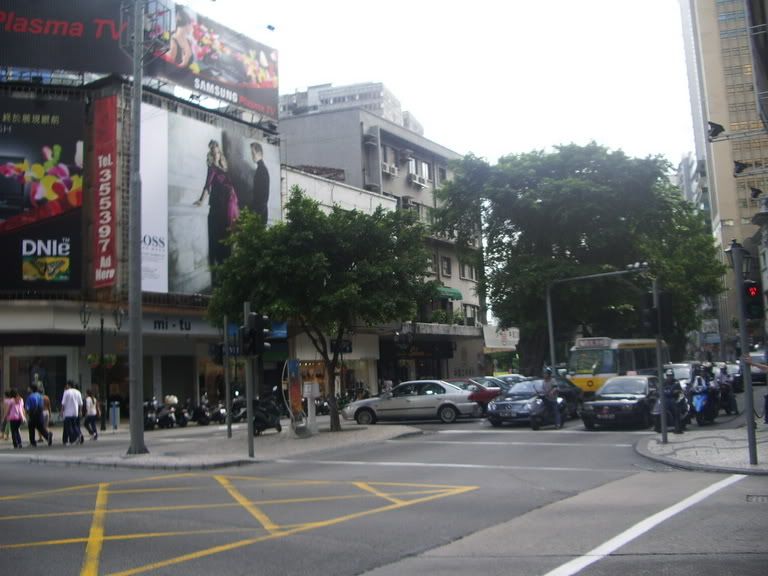 Near our hotel.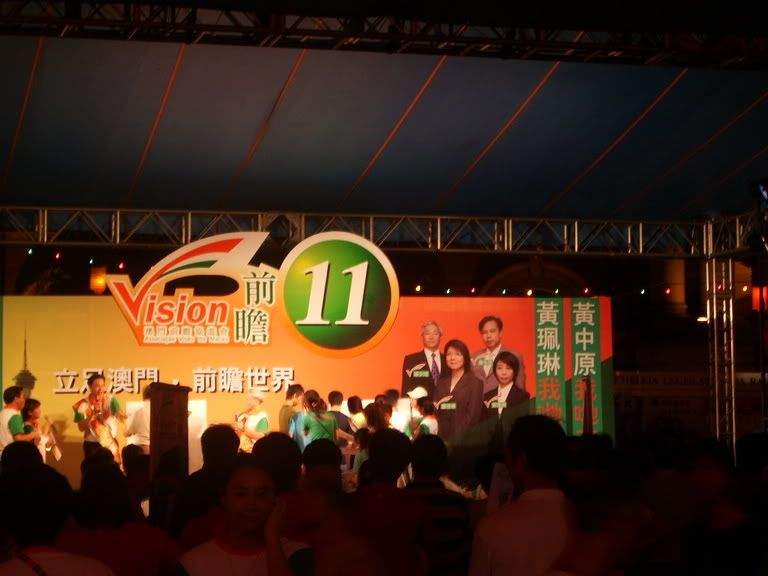 25 September was their voting day and this was one of the political rallies. Quite cool, with games on stage and all haha.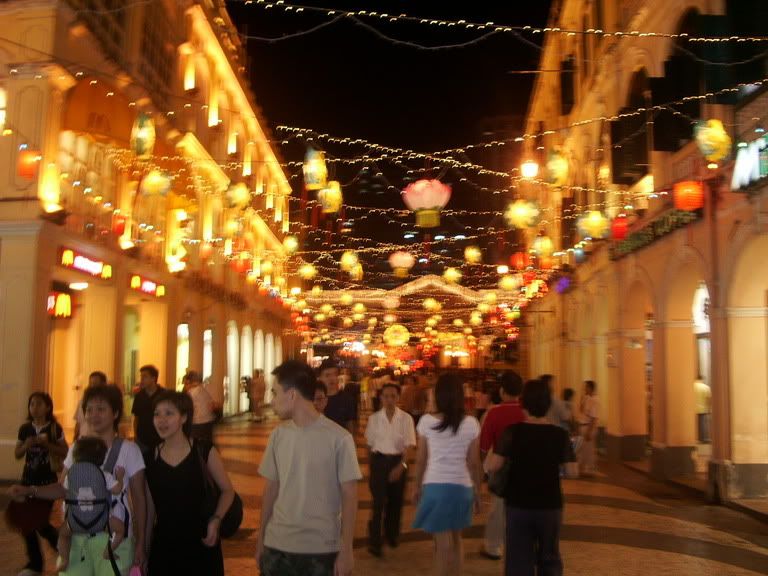 The main tourist spot.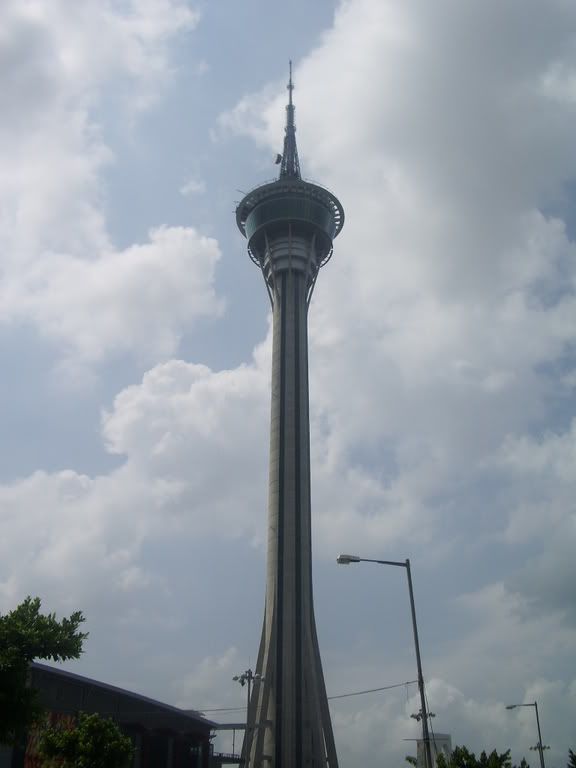 Macau Tower, which we didn't actually go to cos we weren't too interested. Heh.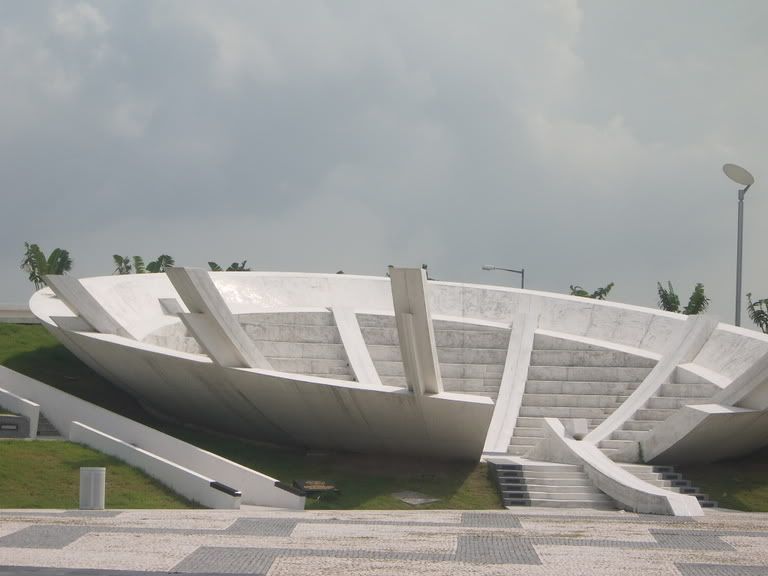 Outside the Macau Tower convention centre.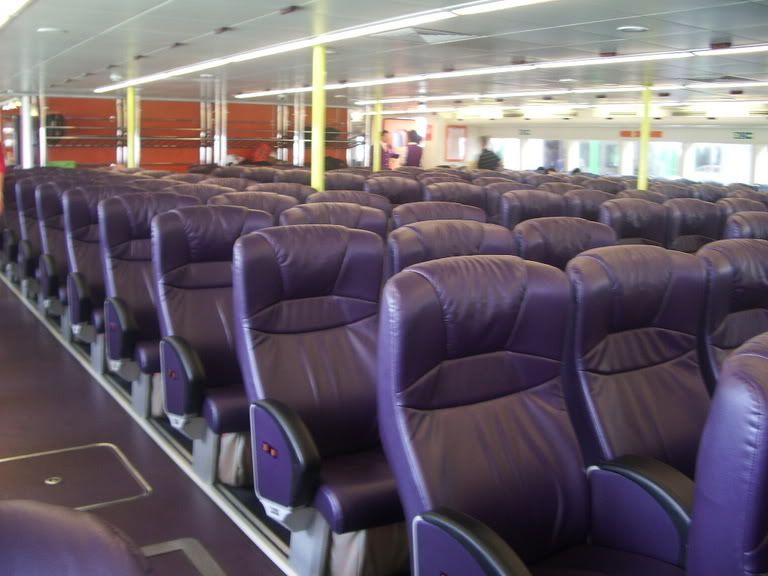 On the way to Hong Kong in the super comfortable First Ferry.
More when I come back from school!
::::

Random stuff that this suaku picked up from HK
Suaku = ignorant woman?
- There is porn everywhere! Like, porn magazines at every little magazine stall; posters at every available wall, people editing porn pics/vcds while you are asking for directions - ARGH!!!! One tagline for this "prostitute agency" cracked me up:
??????????For those who can't read Chinese, it basically means - pay the price of glass noodles (usually used as a substitute for the real sharks' fins) to enjoy the luxury of sharks' fin. Bwahahahah.
- The notes are all of different designs cos they are of different banks.
- It's a norm to talk loudly. Real loudly.
I think this is it so far la. Too tired to think, cos I've spent 10 hours at
Hong Kong Disneyland
today! It was a fantastic day out (who cares about the blazing-more-than-Singapore-sun?) with great shows, amazing rides, and as usual I run out of adjectives all too quickly cos I never plan my entries. Ernie loved it so much that at the end of the Space Mountain ride (this indoor rollercoaster that set me screaming bloody murder) that he asked for "some more!" before the ride ended.
And I know what I want in life now. I want to be a Disney dancer. Will someone finance my dance classes for like the next 3 years?
Nah, kidding.
But I really want to be a Disney dancer.
Took 300+ pics. In dilemma now cos I don't have the cable for my dad's digicam and I am going to HK island tomorrow with an SD card with no more memory while my dad took his SD card to Shantou. How?!?!?!?
::::

WHAT ARE THE ODDS?
Of snapping pictures happily, deciding to continue walking, you try to switch off your digicam, and your cam just goes D-E-A-D? And the lenses won't even retract?
ARRRRGGGHHHHHHH
That is why I am not at Hong Kong island now - decided to stay in Tsim Sa Tsui - and did more damage. Don't ask what we did at Esprit warehouse. Let's just say my dad and my brother (both typical MEN who hate shopping) decided to abandon us for the comforts of our hotel.
::::

Swirled in HK
Just a quick note to say that I've reached Hong Kong this afternoon after a whirlwind 2 days in Macau. Nope didn't get to any of the casinoes there but have plenty of other pics to make up for it!
Have done Flower Street and Temple Street and shockingly - clothes DO fit here!! Shoes still don't though. Heh.
More updates with pics and stuff when I am back in SG!
::::

16 and breakups.
A 16 year old friend is going through a breakup and I was telling her a little about my own experience.
Of being 16 and dumped and not knowing why and how now as I look back everything seems so funny and how I wished everything never happened.
16 seems like an eternity away now.
16 year old boys should be locked up until they are 25 or so to avoid hurting 16 year old girls.
But who is to say that 25 year old supposed-men don't hurt 16 year old girls. I just hope she stops hurting soon.
Going a bit siao. Must be Christopher Marlowe.
Back to work. Such is the life of a 23-year-old.
But what is age anyway?
::::

Thanks, Serene.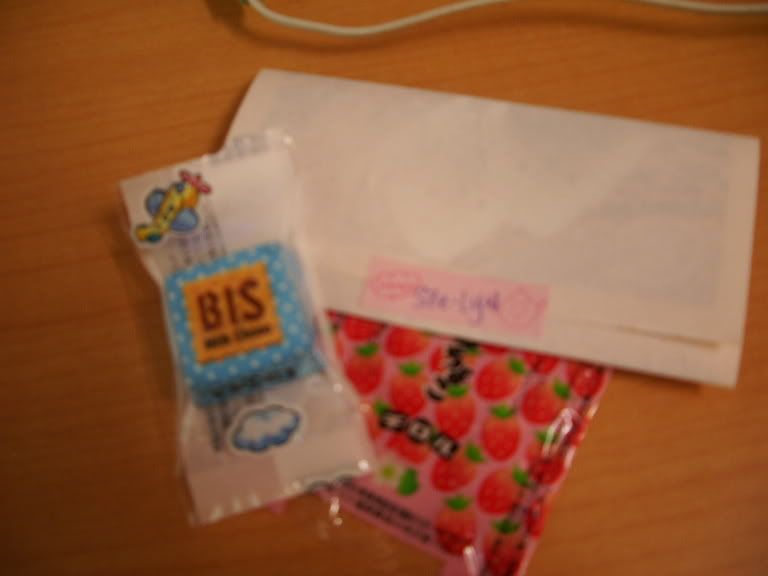 Serene witnessed a highly stressed-out me last night and came back from her room moments later with two prettily-wrapped chocolate cubes (that she bought from Tokyo a couple of weeks ago) and an encouraging note.
Thanks, girl, my fellow sufferer of 4 x Level 4000 lit modules under relentless lecturers. We will make it!!!
::::

Random Stuff
Since receiving pictures from Paula and after I resurrected my battery-dead camera....

Chocolate buffet!!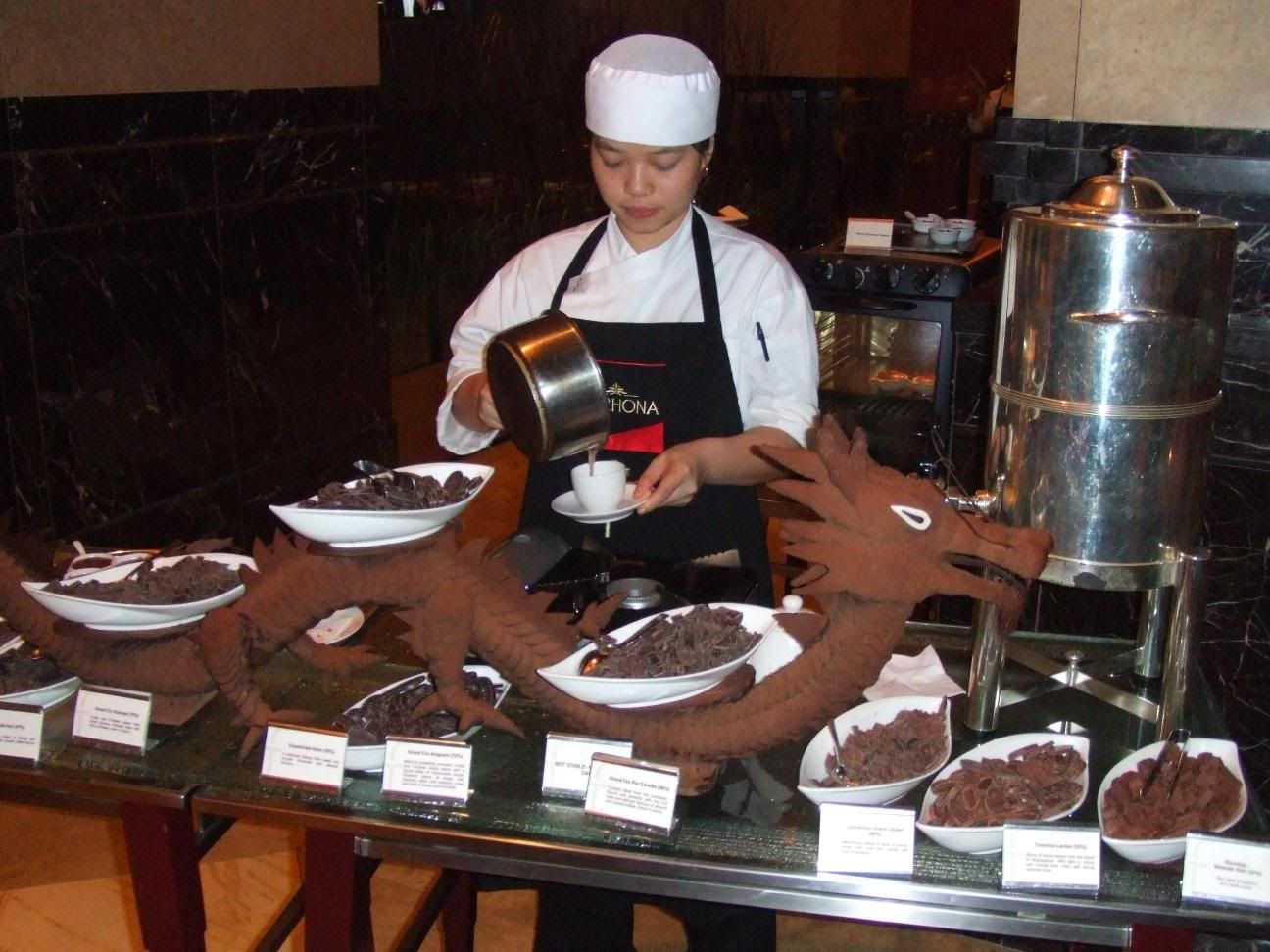 Lovely, lovely hot chocolate!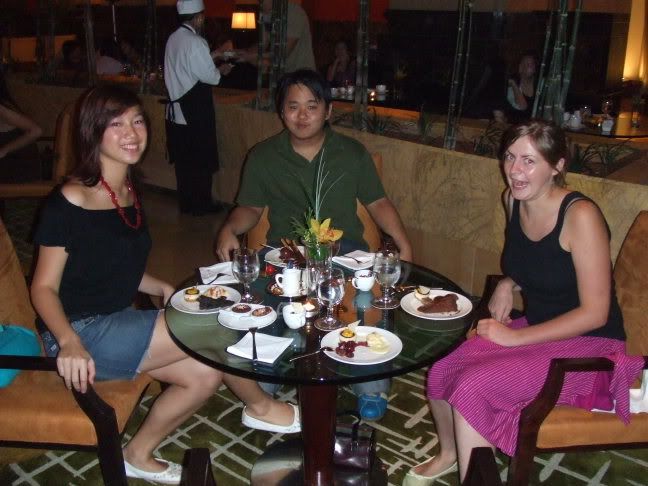 At our table - check out Rachel's excited face!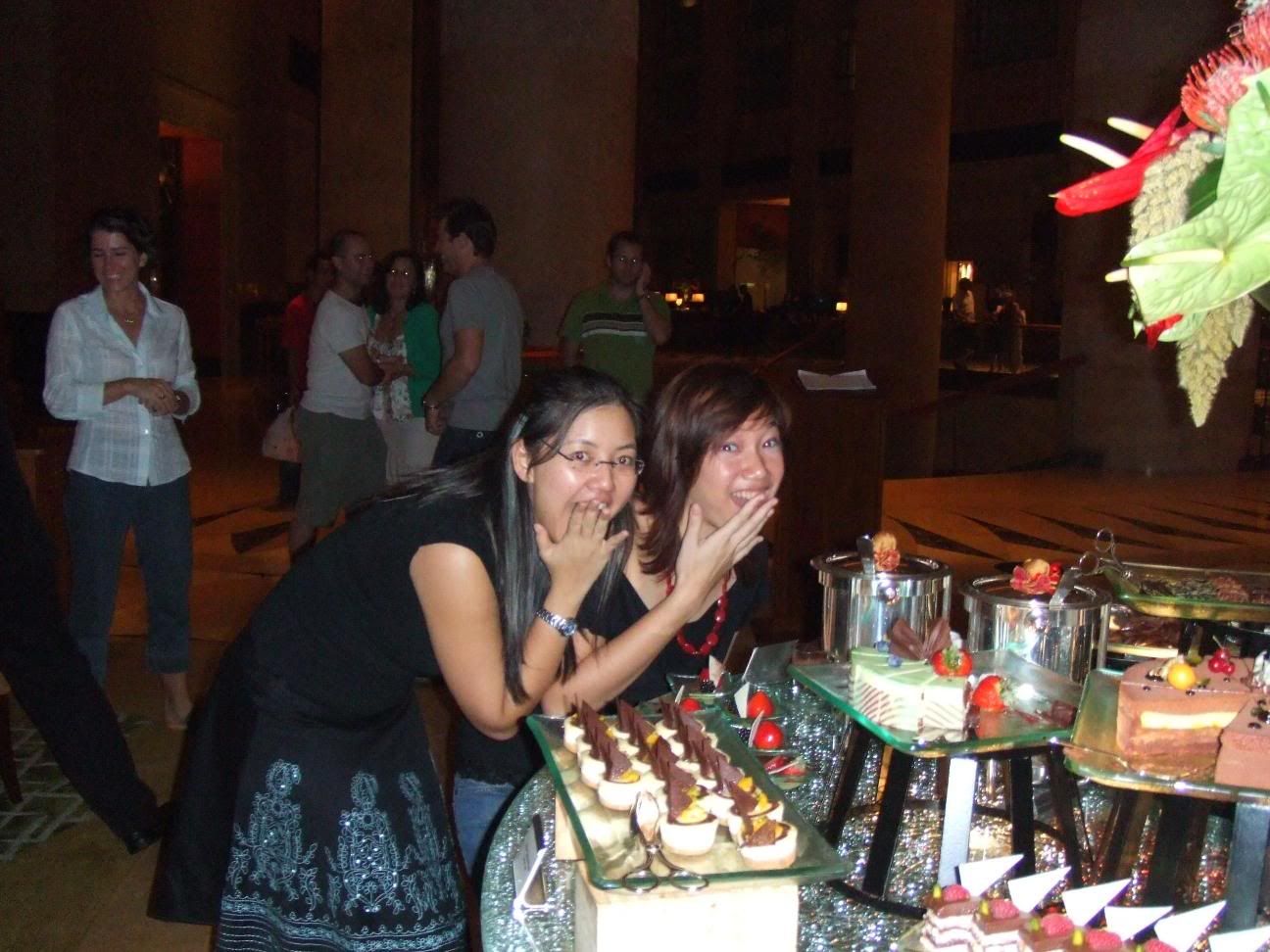 Paula and me looking excited. Haha.
From geekchic some moons ago: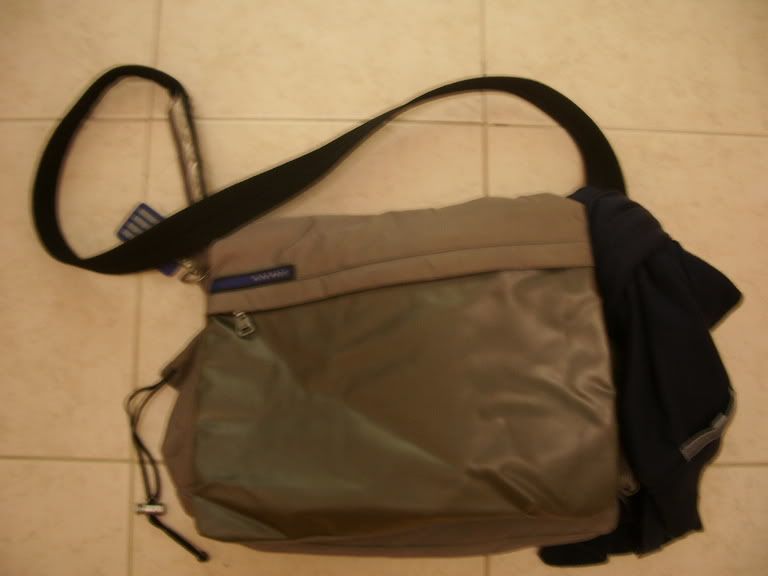 One of my schoolbags. I brought my tatty Nine West satchel to classes that particular day. Loved it to bits when I was in Form 6, hence its tattiness. The navy blue thing you see at the side is my jacket, which is a complete MUST when you are talking about NUS's near-freezing-point indoor temperatures.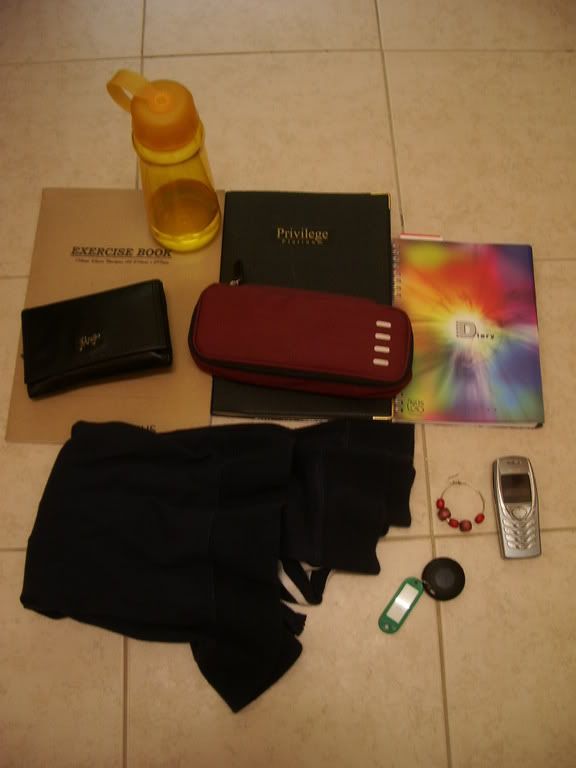 Had only one class that day - didn't even bring any texts haha. So what you get is:
- my notebook for,
duh
, notes. I am an avid note-transcriber.
- MNG wallet courtesy of Justin who bought it for my 22nd birthday to replace the one he bought for me for the Christmas before that. Let's just say that he has a scatter-brained girlfriend.
- Yellow water bottle. Complete must.
- Black organiser in which I write down my daily to-do lists, random stuff to remember, tuition stuff, church stuff - can't quite function without it.
- FILA pencil case. Lotsa rubbish inside while I use like, oh, two pens out of nine?
- NUSSU (NUS Student Union) free organiser that I just got that day. It was just for novelty's sake - I've never gotten a NUSSU organiser in all my few years here.
- Trusty handphone.
- ONE earring. Justin had bought that pair of earrings for me at Sharon's stall after seeing how much I loved it. And I had to lose one side of it the very next day. See, I told you he has a scatter-brained girlfriend. Was depressed for a good part of the day cos I don't JUST buy earrings. I only get those that I REALLY REALLY do like. Not to mention that it was from him too.
- The round thingy - room transponder. We get this nifty thing to open our fireproof doors.
- Ultra comfy Padini cotton jacket.
So yea, my photolog of the day ;)
::::

What do you do when you've only half an hour to get your lunch?
Breakfast food, of course!
Whole wheat flakey biscuits with milk and honey = YUM.
Off to tuition!
::::

If Serene belongs in NYC......I belong in.....
Picture perfect streets sound good. Sounds very good indeed. That's the first thing I notice about every single place I've been to. Well, that few places I've been to. The streets :)
::::

Enjoy your weekend
What is it with lecturers who assign you a whole load of readings and/or a discussion topic to "ponder" over the weekend will inevitably sign off with :
Enjoy your weekend.
Either they really do find it enjoyable or they are just being plain sarcastic.
::::

I've fallen in love with Andy Hui's ballads all over again.
*sigh*
::::

And cos I can't seem to think too coherently these days....
I can't write in proper paragraphs no more.
What am I doing in classes where I have to first decipher the semantics and the syntax of the sentences before even understanding what the actual message is all about?
And what am I doing there when after finally understanding, I can't verbally express what I've understood? And that I can't articulate my opinions about it?
After being frustrated about my apparent lack of brains (must have dropped them somewhere in AMC, when I started becoming slightly stupid-er), I start getting pregnant-like cravings. Like nearly wanting to cry cos I so so wanted KL hokkien noodles at that very point of time. With lots of lard.
Also, I may have just had ENOUGH with communal living, where people throw the remnants of an apple/pasta into the sink, empty instant noodle packets lying around on the kitchen top and soiled pads at the toilets.
Nope, not going to stay in another hall next year.
And the days whizz by so quickly that when you are just rejoicing (yes, I rejoice on Mondays because I tell myself it's the new beginning for me to get some work done!) for a fresh start of the week you find yourself fumbling for more readings at Central Library on a Thursday.
And people are chopping people up and leaving them around Orchard.
::::

In random....
I am finally awake ....after last night's marathon-ish report writing trying to correct horrendous English, making sense of what is needed, and just organising things in general.
In complete horror, have found out that I am indeed *gasp* a stressed binge-r! Was so so stressed out last night that I wanted to pull my hair out from my big and heavy head and what do I do? Open the fridge which is conveniently next to me at my desk, pull out my french onion dip with veggie crackers. And I felt extremely guilty ater polishing off 5 of 'em crackers. At approximately 5am.
Note to self: Keep healthier dips in the fridge.
24 hours a day is simply not enough. Those who have too many hours in a day please donate some to me.
Dreamt about turning every sight into a picture story. Like the simplest thing. Like how the child eagerly peers over mommy's wallet as she is fumbling for money to pay for the meal while daddy sits back with toothpick in place.
Wish I'd brought my digicam along in my dream to take that particular scene.
$4.20 can buy 2 people a very satisfying lunch from Bizad canteen.
There are morons around who apparently finds it perfectly all right to take away the sofa cushions from the comfy lounge sofa.
And the lounge is no longer friendly *wails*.
::::

The Long Haul
MUM and Dad were watching TV when Mum said, "I'm tired,and it's getting late. I think I'll go to bed." She went to the kitchen to make sandwiches for the next day's lunch, rinsed out the popcorn bowls, took meat out of the freezer for supper the following evening, checked the cereal box levels, filled the sugar container, put spoons and bowls on the table and started the coffee pot for brewing the next morning.
She then put some wet clothes in the dryer, put a load of clothes into the washer, ironed a shirt and secured a loose button. She picked up the game pieces left on the table, put the phone back on the charger and the telephone book into the drawer.
Next, she watered the plants, emptied a wastebasket and hung a towel up to dry. She yawned and stretched and headed for the bedroom. But she stopped by the desk and wrote a note to the teacher, counted out some cash for the school excursion and pulled a textbook out from under the chair.
She then signed a birthday card for a friend, addressed and stamped the envelope, wrote a quick note for the grocery store and put both near her bag.
Mum then washed her face, put on some night cream, brushed and flossed her teeth and filed her nails.
Dad called out, "I thought you were going to bed."
"I'm on my way," she said.
She put some water into the dog's dish and put the cat outside, then made sure the doors were locked and the patio light was on. She walked into each of the children's rooms and turned out their bedside lamps and radios, hung up a shirt, threw some dirty socks into the hamper, and had a brief conversation with the kid who was still up and doing his homework.
In her own room, she set the alarm, laid out clothes for the next day and straightened up the shoe rack. She added three items to her six-most-important-things-to-do list. She said her prayers, and visualised the accomplishment of her goals.
About that time, Dad turned off the TV and announced to no one in particular, "I'm going to bed." And he did ... without another thought.
Available on
The Star Online
Sounds like any of your parents? Sure sound like mine, hee.
::::

Tuition
It's funny how when I was desperate for tuition assignments, none came my way. Now that I am happily settled down with my three girls I get job offers about once a week. Today, for instance, I got 2 job offers within a span of half an hour - one was via SMS from my agent and the other was just this guy asking me whether I offer English tutoring. I had to turn both of them down as having 3 kids is already quite taxing for me.
So, those of who know me, drop me a line/leave a comment/just contact me if you are in Singapore, suitably qualified, can teach secondary school English (that's the assignments I get most of the time) and are actively looking for tuition assignments. I'll try to pass them to you if I can cos they are always asking me for other recommendations.
And no-la, I won't collect commission from you. The agent will, though.
::::

I couldn't have said it better
"Now I understand one of the important reasons for going to college and getting an education is to learn that the things you've believed in all your life aren't true, and that nothing is what it appears to be."
Charlie Gordon
in
Flowers for Algernon
Daniel Keyes
*yes I have been naughty and have been reading other stuff instead of, oh,
The Tempest
.....
::::