This should be just enough, I guess.
I think I've had enough slacking and fun by now ;)
Yesterday was a mega long day with two lectures back to back (5 hours in all!) followed by tuition and from there I rushed down to Zouk.
What was I doing at Zouk at 730pm?
Not such a hardcore clubber la - was there for the Body Art Poetry Slam organised by
Word Forward
. It was the first Poetry Slam that I'd ever attended and haha, Rachel and I were picked to be judges. The entire event was certainly something new and refreshing for me having been in SG for so long - that's where all the aspiring (and full fledged, perhaps?)poets gather every month! And I guess it was something new for Rachel as well, considering that it's only her what, 2nd month in Singapore?
But we left halfway as I was getting hungry - a result of not having too much time to eat in between my crazy schedule of a day.
Today is Malaysia's National Day. And I spent it all by myself! Whee....did a bit of shopping at Jurong Point and Holland V, mentally reminding myself that there are more necessities that I require and no, I do not need another pair of chandelier earrings for the time being and yes, it is possible for me to find a better looking belt than that and I don't have to resort to something that I only *like* and not totally *love*.
Smart shopping speak, heh.
But I wound up with:
1 x orchid earrings (Justin would flip if he saw it.)
2 x necklaces (how to resist it when they are both under 10 bucks and of such pretty stone-beads-thingies?)
1 x white skirt (it didn't make me look like Roseanne. 'Nuff said)
Have to 'sou sum yong sing' (behave myself) already. Readings continue to await my touch.
But, wheee.....
::::

I love love love this peekture!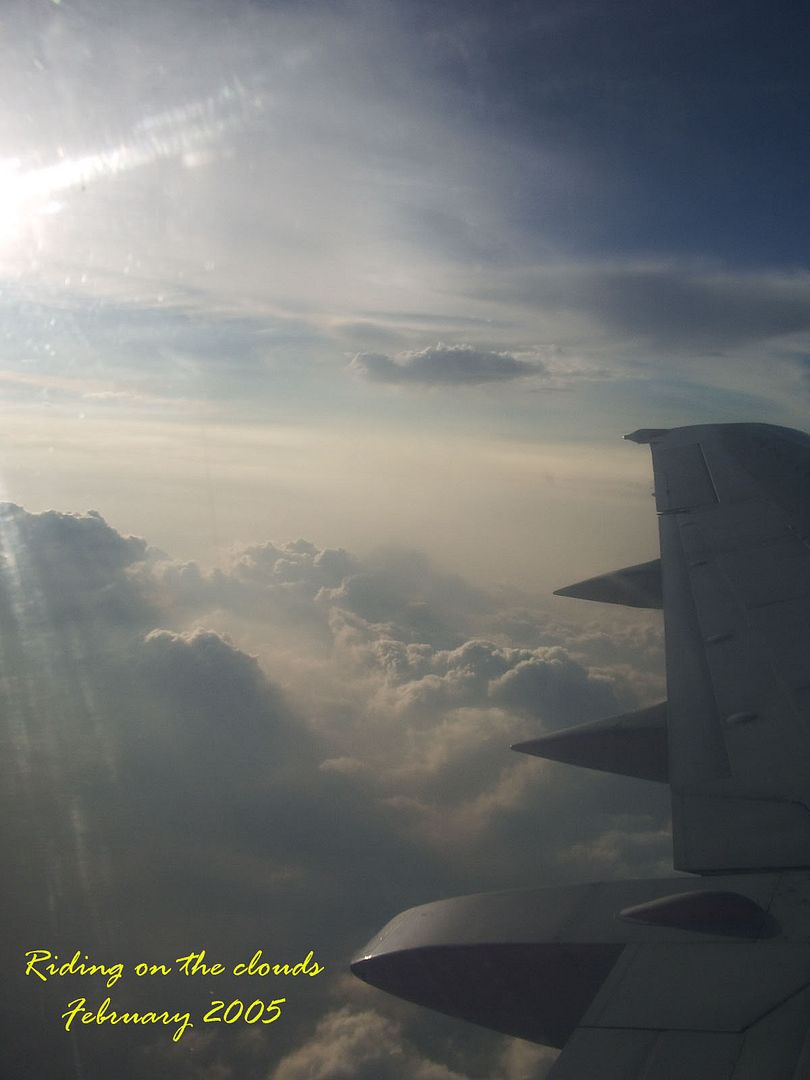 Taken on our flight to Kuching. The conversation which went on prior to this picture was something along the lines of..
"Eh dear the clouds very nice leh"
"Take picture la"
"I scared I not fast enough leh"
"Just take la"
"Orh"
How utterly romantic :P
::::

Th' amusive Arch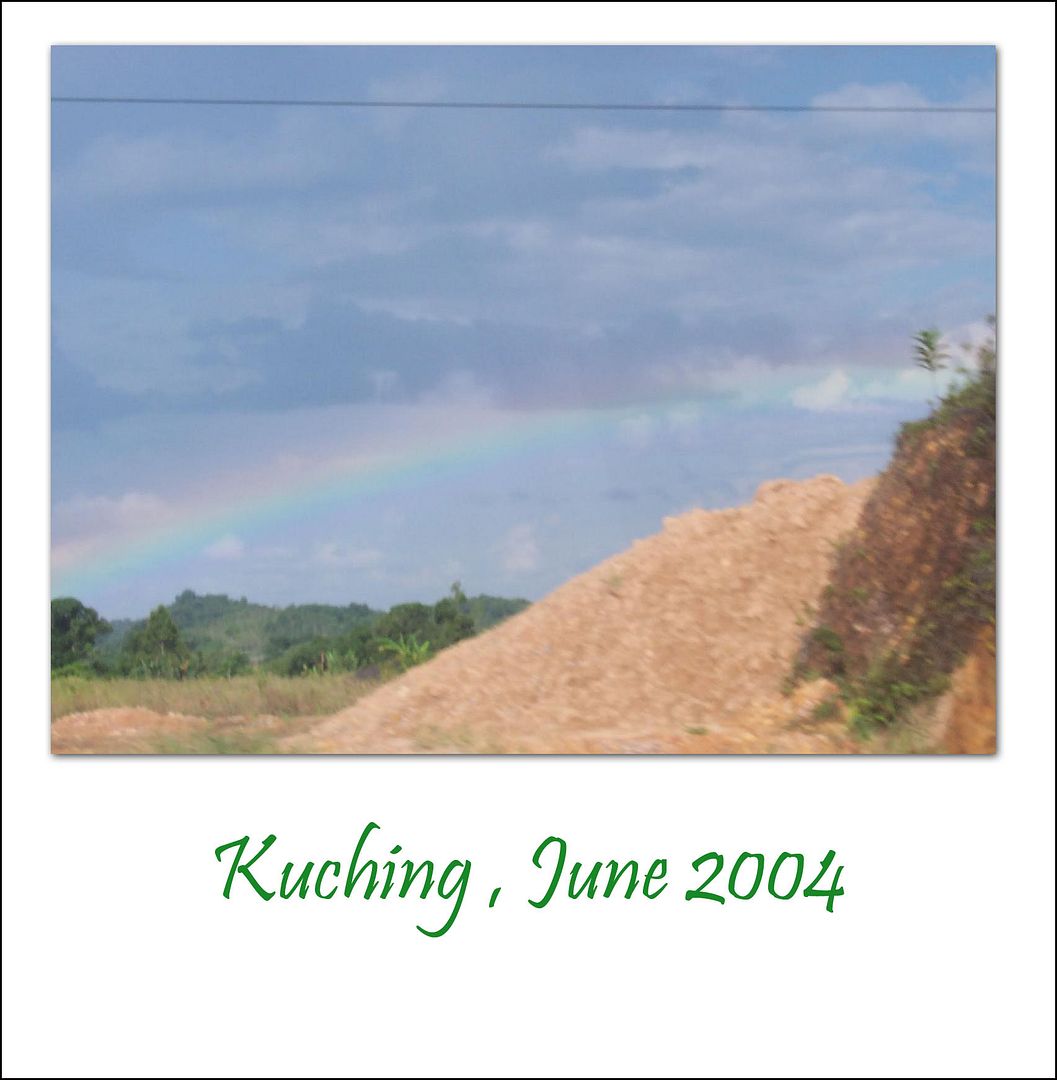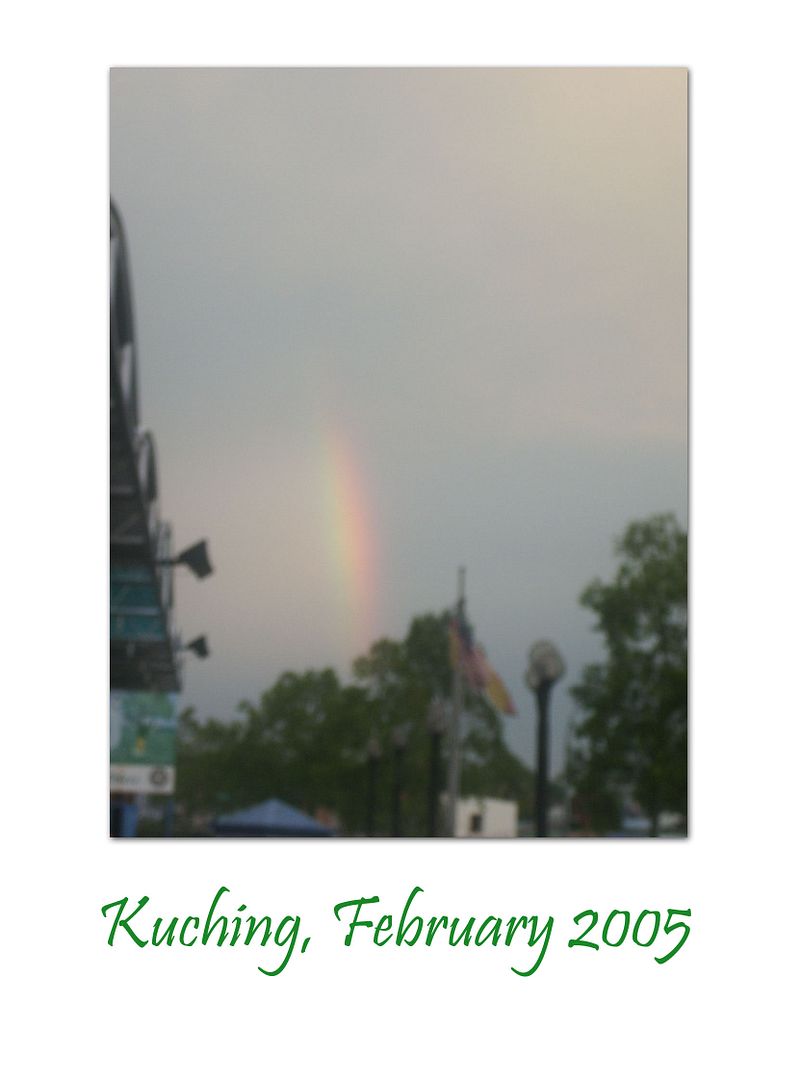 Meantime refracted from yon eastern Cloud
Bestriding Earth, the grand ethereal Bow
Shoots up immense; and every Hue unfolds,
In fair Proportion running from the Red,
To where the Violet fades into the sky.
Spring
(lines 203-207)
James Thomson (1700-1748)
edit: I realised that I've taken a number of pretty good pictures during my trips to Kuching. And I never fail to catch a rainbow when I am there. Not very well taken picture, though :( But thanks to Jerraine, I've managed to polaroid-ize them!!
::::

At the risk of sounding pseudo-mysterious....
Are there any songs that you absolutely love for themselves but you avoid listening to them just because you fear the memories that are attached to them - memories that you have tried desperately to erase a la
Eternal Sunshine
?
Just checking to see if I am the only one.
::::

Man, I'm losing it.
My sense of humour, that is.
Halfway through tuition tonight, my handphone beeped:
"Yo baby...u back in town yet? our meeting is long overdue."
I dismissed it immediately as some guy who sent a wrong message. So I replied:
"I think you've got the wrong number."
3 minutes later...
"Darling, this is your high school sweetheart! the tall and dashing john? remember? we spent everyday together in bliss? the one who's in the flying indistry now?"
For about 2 minutes, I frantically searched through my now-scanty memory of my naive teenage years - no I don't recall dating anyone named John?!?!
"Sorry, but I really think you've gotten the wrong number."
"Haha...that was a big hint d la sze! puy jean a!"
OH MAN.............
"Darling, this is your
high school
sweetheart! the
tall
and dashing
john
? remember? we spent
everyday
together in bliss? the one who's in the
flying indistry
now?"
High school = we were Form 6 classmates. And fellow Interact club office bearers.
Tall = She is taller than I am.
John = Jean=John, our nickname for her.
Every day = we saw each other every single day save weekends. Sometimes even weekends.
Flying industry = this woman is now a flight attendant to-be!
Man....how could I have not picked that up?!?!?! Looking forward to meeting up with this girlfriend now!
::::

Are dress sizes getting smaller?
As I keep on ranting about my inability to find stuff that fit me - something hit me. I can still fit into my old stuff from BritishIndia which are size 5s and 7s. But these days, when I try on something from BritishIndia (or Somerset Bay/East India) - nothing less than a 9 fits.
Topshop sizes remain constant, though.
So it's not just about us getting bigger, girls! The sizes are getting smaller - clothes should be made to fit us - we shouldn't make ourselves fit them instead!
::::

From the bored-and-eng Geekchic
Because I am proud of myself for having finished at least 2 things on my to-do list...
A lifetime:
Is too short to finish learning what you want to learn and too long to actually have to go through the long queue of people that you don't want to meet.
5 years ago:
Lower 6. One of the best years of my life. Tai-dee in class, ponteng-ing with complete permission from the parents, leaving school early in my trusty lil' forest green Kancil, RM2 lunches at dai-shu-giok, falling asleep during Math tuition... and the list goes on...
1 year ago:
Was trying to settle down after all the ho-hum of EHOC 03/04 - which rocked, by the way. Was also newly confirmed with the status of 'future teacher'.
Yesterday:
Lovely night walking through Chinatown, eating stuff from random stalls, settling down with chicken rice, Justin exclaiming with joy over his currywurst, discovering a small cafe with a friendly boss, French coffee, sugar cookies, hippo pies, and hotel lounge music at its quarter price, walking and finding ourselves at Tanjong Pagar and walked some more.
Tomorrow:
9am class. But at least there are no readings for this class *yet*. And tuition. Such is the lifeless existence I lead during weekdays.
5 snacks I enjoy:
1. Chocolate bars. But I can only stomach at the most 3 squares at any one occasion. Unless I am REALLY down.
2. Raisins
3. Fried tofu with beansprouts and the works. Yum!
4. Justin's devilled eggs
5. Crackers with blueberry jam
5 songs I know the words to:
1. Mei Yi Ju Shuo Hua (this really old Canto classic from TaiJi)
2. AMC School Song (Beloved school and mentor, we hold you very dear...) and also Eusoff Anthem la. Never could remember RPS's school song.
3. To Be With You (Mr. Big)
4. Hai Shi Jue De Ni Zui Hao (another Canto song by Jacky Cheung - really old one)
5. And a whole bunch of PnW songs
5 things I would do with $100,000,000:
1. Hire a private tutor to home-school Ernie
2. Buy my parents a holiday-sans-kids to whereever they want. Make that as many holidays as they want.
3. Study a couple of years more.
4. Actually do some travelling of my own.
5. I guess I'd save. Well, not without buying myself a whole new wardrobe from labels that actually has sizes catered for people like me. And shoes!!!
5 locations I'd like to run away to:
1. Ipoh for all the obvious reasons
2. Bermuda - the beaches and the lagoons!
3. London for Sharon to bring me around
4. New York just to know why Puy Jean used to say that she MUST go to NYC at least once in her lifetime. I guess she'd probably go there so many times now till she'd be sick of that place.
5. Prince Edward Island simply because I am an Anne-girl at heart.
5 bad habits I have:
1. Nail-biting.
2. Procrastinating.
3. Crying over movies/books/you-name-it.
4. Giving in too much.
5. Being plain mean when I feel like it.
5 things I like doing:
1. Read.
2. Walking aimlessly around the city on a gorgeous evening and breezy night
3. Trying on clothes (haha - you'd probably think that I'd be sick of it by now since nothing hardly ever fits right?)
4. Eating
5. Lazing in front of the tv in my parents' room with Phing and Ernie.
5 things I would never wear:
1. Platform heels
2. Micro minis
3. Too much makeup
4. Anklets with bells
5. Green hair (I still want pink strips though)
5 TV shows that I like:
1. Sex and the City
2. Desperate Housewives
3. The Apprentice
4. The Family Guy
5. The Simpsons
5 famous people I'd like to meet:
1. None, actually. Never been keen on meeting people. Nah!
5 biggest joys at the moment:
1. Cool parents, a close younger sister and an adoring younger brother
2. The one who calls me a cross breed between a monkey and an elephant.
3. Friends who are always there
4. That I am more secure about myself than I ever was.
5. That God still loves me :)
5 favourite toys:
1. My laptop
2. Justin's desktop
3. My Blue!
4. My hair - fiddle with it all day long
5. Any earring/necklace that I happen to have on cos I fiddle with them all the time too.
5 people to tag:
Anyone who is as bored and eng as Geekchic and me.
::::

Growing up and moving away
I just spent the last 10 mins or so looking through John's wedding pictures (yes, they are out!!!) and cliched as it may be, it seems just like yesterday when John was taking his STPM and I was .... in Form 2? or Form 3?
Everyone's getting married!!! There is a wedding every year for us to attend!!!!
The changes are freaky, aren't they? While I am still very much sheltered here in Singapore, still going about with school life and such, and am still refusing to think of MAJOR changes like these - they ARE creeping up, aren't they? People around me are talking about when they plan to ROM, how they are worried that they can't get a boyfriend, how the corporate world is bitchier than your biggest bitch, the rush for flats yadayada - Just the other day, I was so relieved to find out that I wasn't the only one around here who thought that marriage was the scariest thing ever (thanks to you-know-who-you-are!!!) and yea, maybe I still want to be a nomad after all haha.
the idealistic me (which takes up about 70% of this particular entity) still wants to spend my days rushing from the library to sweet hours reading away in a cosy room and Saturday nights walking hand-in-hand through Chinatown just observing people (I watched my first
ge-tai
(this really LOUD performance thing with flamboyantly-clad singers performing for the 7th month of the Lunar calender. Never saw it in Ipoh) performance too!) and coming across the quaintest places ( Japanese food for SGD4, Sei Yan Gai, Airlines Cafe and their sugar cookie with smooth coffee) and meeting the friendliest people ever.
By the way, has anyone noticed this serene-looking book cafe right at Chinatown? It's right smack in the middle of that busy street where all the touristy hawker stalls are. If I don't get to be a nomad I'd settle for the book cafe :) And oh the cafe only has Chinese books I think. It might even be a Buddhist book cafe. Not too sure. Passed by several times but never really stopped to take a closer look.
I thank God I still have about a year or so to continue to lose myself in the idyllic bliss of pre-REAL-adulthood.
Which also involves lots of lit readings. Heh.
::::

How we unwind.
Lazy Tuesday evening. We were just lounging around waiting for dinner. Then,
"Knock knock," said Justin.
"Who's th---" I said before he cut in with a "MOOOOOOOOOOOO....."
I was confused.
"Try again!!" I said.
"Knock knock," said Justin.
"Who's ---" and he went "MOOOOOOOOOO...." again.
We went through the process for another 2 times. I gave up. Then he told me.
"Interrupting cow"
?!?!!?!!?!!?
I was laughing so hard that I couldn't even make up a funny knock knock joke after that.
And there you have it. The boyfriend, fan of lame jokes.
*pengsan*
::::

An awesome girls' night out .... and Ernie
What began as a "let's take a look at the synchonised dancers at
Zouk
on Mambo night" for Rachel and Paula, 2 exchange students from Manchester and Melbourne turned into an awesome girls' night out for about 9 of us last night!!!
I personally was never a big fan of Mambo nights (In Singapore, Mambo nights mean cheesy retro remixes at Zouk and there are die-hard Mambo fans who will reign the podium and demonstrate the proper synchronised movements for each song. It's hillarious, really) but last night was really an exception. I invited more people to join us and in the end, there were nine very happy girls - me, Rachel, Paula, Serene, Yasi, Sharon, Sarah Anne and 2 of Rachel's friends whose European names are beyond me in terms of their spelling. Hee.
For once, Phuture wasn't the as jam-packed as it usually was and Zouk was playing the more 'fun' songs to dance to. Oh, I had this post back in January 2004 saying that I'd never club in Ipoh again cos the deejay was playing some sappy sentimental Canto song in the middle of nowhere? Last night, the deejay at Zouk spun this National Day song which all Singaporeans would have learnt in primary school and I felt like I was in some NDP event. Beat that! Ha!
I haven't had such fun in such a long time! And we were good, too. Left at about 1:15am as Serene, Paula and I were due to have lessons at 9am this morning.
We'd have to do it again!
Anyway, was talking to my mom just now and she was telling me how my brother was missing Phing and me. Last night, he went up to my mom and asked, "Where is ta-cheh and er-cheh?" Then, he did a fake sob thing and answered his own question quietly, "In Singapore." And he continued the fake sobbing thingy which is the only way he knows how to express how much he misses us.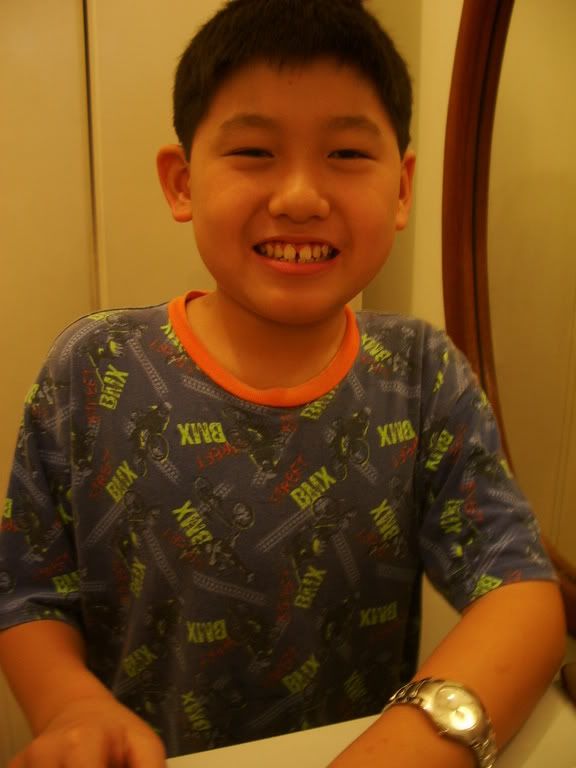 This is him showing off his new Rolex that we bought for him when we were in KL for
Emily
. Fake one la, obviously. My brother has got to be the most brand conscious kid his age. He has a penchant for Rolex and Nike apparel. How he became brand conscious, I have no idea. It's not like my sister and I are particularly so. Damn commercials.
Poor kid. We lurve you too. Although we gang up against you so much. But I am sure you know that.
::::

Photolog from Commencement Dinner 05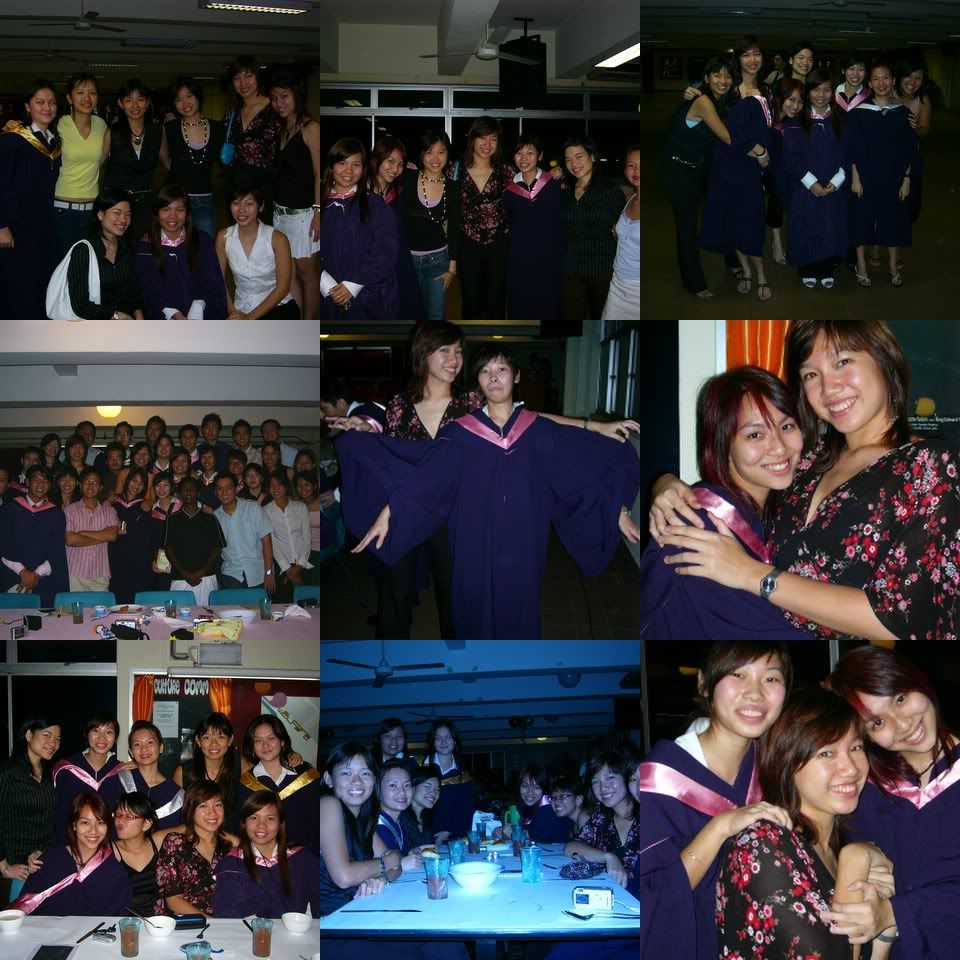 After the dinner we caught up over chocolate fondue, calamari, fries, mudpies and cakes at Coffee Club.
I miss having these girls around so so much!
::::

4th time people, 4th time.
And so today I joined in the sea of Eusoffians as a 'regular senior' for the first time.
I was telling Boon and Jerraine that I don't quite know what to feel for Rag and Flag this year as I am not in EHOC this year and hence I did not have a complete grasp of what is happening and how much to be (or not to be) confident. Rumours were everywhere but nothing could be certain until the emcee announced the results.
Nothing much to do at that point except to pray for the best, for we know the people who have worked hard.
As the Eusoff float was slowly driven into the performance area, memories of previous Rag Days flooded me - literally - and having that conflict inside you where you are both confident of a win and at the same time am trying to prepare yourself for the situation should we lose - it's killing.
The results this year was totally surprising for most of us, especially for the faculty and clubs category. While Bizad has had a strong history of sweeping every single title available - this year everything was given to SDE/Science, with Science eventually scooping up the much coveted Vice-Chancellor Shield.
Are we going to lose our *usual* barrage of victories?
It struck me how much we have been taking winning for granted. It's not a *usual* thing for Eusoff to win everything. Victory is not something that just comes to us.
And so they announced the winner for *some award that couldn't be heard cos of the damn muffled sound system*. And it's Eusoff Hall!!!!!
Boon and I were screaming alongside other people with no freakin' idea of what we'd just won. And when we found out that it was for Least Cost Float, we resumed the joyous screaming as we have never won this, at least for the 4 years that we have been in hall.
Next up was for the Most Environmentally Friendly Float. We first won this in Rag Day 2003/04 which came as a complete surprise and continued winning it last year. This year, it belonged to Kent Ridge. My heart dropped a little, but was still looking to the other subsidiary awards.
Best Float Design. Sheares. Hopeful faces began to fall.
Best Float Presentation, our pet award which had been ours for at least 5 years running. Heads were bowed, eyes were shut, everyone huddled close to each other.
And Sheares won that too. Together with Best Float.
I couldn't cry then, compared to when I was watching the presentation. 4 out of 7 awards had just vanished in front of us. But there was no time to mourn - yet. They were announcing Best Flag Collection. It was down to us and KR as we were both winners of the Gold Award for Flag Day collection earlier.
Despite the rumours, I still believed. But it went to KR. 6 years in a row and now it's in KR's hands.
Was it sheer complacency that cost the loss?
At that point, the immediate thought that ran through my head was that: We need to win the Overall Vice-Chancellor Shield (read: Overall champion for the Rag and Flag competition). We couldn't just walk away with the Least Cost Float award. The freshmen this year were so enthusiastic about Rag and Flag and how we have been winning multiple shields over the years.
We weren't sure, but we were praying hard for it to come true.
As they emcees tried to create some form of suspense before announcing the winner, Eusoff was unusually sombre, half expecting the shield to go to another hall, half expecting some form of miracle. Then someone started whispering "Eusoff, Eusoff".
AND IT WAS US!!!
I don't remember screaming nor crying so hard in the past 3 years. Like what Janus said, it's not about how good we are, how much we deserve the shield - but it boils down to how badly we wanted it. We needed it desperately - and it's us again - for the 4th time.
Eusoff will keep a second Overall Vice-Chancellor shield.
I actually wrote the above at about 9pm. 4:09 - back from the Victory Bash. Considerable amount of drunk people while I couldn't take the hip hop overkill. And it was a mini foam party as well. Fun while it lasted, it was filthy!
And it's back to school on Monday boys and girls :)
::::

What's in your bathroom/dressing table?
Geek Chic
tagged me for this but seriously, asking me about my skincare/cosmetic regime is like asking a monk for a comb (there's this Chinese saying!!). Yeah I'd probably be damn-ing myself in about 3 years time.
Skincare:
1. ZA Cleanser - I have no idea what's the exact name but I've been using it for some time and I like the fresh, clean feeling that it gives. And I think I wash my face a tad too many times a day.
2. Nivea moisturiser - again, no idea of the exact product but I've changed from one Nivea moisturiser to another Nivea moisturiser (aqua something...). Works fine for me. Though can I honestly say that I don't really see the difference between moisturising and not moisturising?
3. St. Ives Eye Stress Gel - my eye bags are the bane of my life. This thingie gives a wonderful cooling effect to my often-tired-out eyes.
That's all. Very boring huh? I've often been told by friends that I should make more effort in my skincare regime but honestly, I lazy la. Heh. I was pretty proud of myself when I first started with moisturiser earlier this year ok?
Then the little voice in my head says: Don't take your God-given (and wonderful mother cared) skin for granted, lest you cry in 3-4 years time.
Later la. Hee.
::::

Blogging has just been taken to another level altogether
This is probably the least tasteful thing that I've ever (and probably will ever?) post here but (thanks to Kenny Sia's insightful
entry
), I present to you China's #1 blogger:
Sister Fu Rong Jie Jie
Can you blame me when all I could do/say while scrolling down the webpage was OMG?
You don't even need to be a Lit major to tell that the poetry is........check it out yourself.
My day is ruined. Head hurts.
::::