Whirlwind weekend
Where's the weekend gone?!?!?
After 2 weeks, I guess I've finally accustomed myself to the Singaporean life that I've been leading for the past 3 years. It took some adjusting initially (to quote Justin: "Even my own computer feels foreign") but with orientation and sucky hall food, yup, things are back to normal.
Friday night's confrontation went well - the seniors were amazing and the freshmen were, well, what we hoped for. It was indeed heartwarming to see how they could pull themselves together as a cohort and eventually completing the Eusoff Challenge together as a hall (or, rather, as a bunch of people who actually does stuff for hall). Naturally, things ended on a high note with
Fighter
.
I am sure that Eusoffians would have their first Challenge etched in their minds forever. Cars honking, headlights flashing, some strange senior barking at you, puzzled thoughts, 50-60 seniors cheering stuff against you, suddenly told that you are to complete a 5km run, seniors running along with you, stopping midway for others to catch up, the flag leading the way eventually (cos the guys will ALWAYS overtake the girls), reaching another point where everyone would get ready for the final sprint, reaching Eusoff where the Starlight Banner with a glowing "You've Made It!" is waiting (last year there were 2 Starlight banners cos the then programme head couldn't find the old one and decided to get the programers to make another one), running through the hand-bridge-thingy, cheering the last few on, and finally singing
Fighter
together. And Master speaks. Oops.
And the B4 barbecue that night was GOOD. Trust those guys to whip up a mean party anytime! Though the Green Man was persistently on B4 that night, forcing the open bar to be pushed to *another place* and the softest drinking game to ever take place.
That was not enough fun before school started though. Heh. Saturday saw Justin, me, Su Leen, Eric and Harn Ni trooping to JB to meet up with Chen Fei and Hui Siang. Put 7 Malaysians who have been staying in Singapore for a little too long and what do you get? A scrumptious dinner (hall food really did suck for the past week), a movie (Tsui Hark did overdo a little on the fight scenes this time in
Seven Swords
, eh?), and a KTV session where I saw the other side of Hui Siang that I'd never seen before.
Thoroughly, thoroughly fun.
Now I am just praying hard for my eyes to feel better before Flag Day on Tuesday. Grar.
::::

These 3am sessions
As I was relaxing at home the past two months, it didn't occur to me how much I missed these 3am sessions. Those get-togethers in someone's room....where it'd begin with just 2-3 people, then when another person or two walks past, he/she would join in, and we'd just talk about anything until a ungodly hour as such.
It was Yasi, Janus, Chris, Justin and me tonight in Yasi's room. Watching old EHOC videos, lots of "do you remember"s and "I still remember"s, laughin hysterically over something that happened a long time ago which we wouldn't have otherwise known...the feeling is weird. I feel detached from this year's EHOC whilst EHOC as a whole is still something very close to my heart.
Why does it feel like I am leaving hall soon when the semester hasn't even started?
D3 is still freakin' quiet.
Maybe everything will be better when school actually starts.
::::

That's how packed the car was
::::

Nice one of me and Jan
::::

Keon's birthday
::::

Keon's birthday
::::

Malaysian Idol 2
::::

Beyonce in Ipoh?
It was actually the Malaysian Idol finalists at Ipoh Parade.
::::

Peach Crumble!
::::

Yuan yuan
::::

Cross Stitch
::::

A journey to remember
::::

Rock Climbing
::::

Kai See Hor Fun
::::

Caramel Custard
::::

Engrish
::::

Remnants
::::

Phing and me
::::

See where his eyes are?
::::

Picture-intensive posts ahead
And I've decided to try out the Flickr photo blogging function.
You can title the next posts either as
"How to not miss Ipoh?!?!"
or
"What Sze did (not) the past 2 months)"
or, boring-ly,
"Random Pictures from May/June 2005".
::::

Flickr
This is a test post from
, a fancy photo sharing thing.
::::

Boo Hoo.
Was on the phone with Jan a while ago and she was like.....
hey I'll miss you la....we've been seeing each other almost every day these 2 months
.....
Boo. I'll miss these 2 months of movie nights, aimless traipsing through all the tai tai boutiques, trying on the most ridiculous stuff at lala shops, DVD shopping, eating, gossiping and that one particular night of clubbing/pubbing.
It's back to SG tomorrow. The new (yippee) car is filled to the brim. Don't believe? Wait for the pictures. My mom is GOOD I tell you.
Then again, she is the only woman I know who peels grapes, deshells (sucha word?) longans, durians, slices up oranges, apples, pears, guavas, nangka -- just to put them into nifty little Tupperware boxes for the royal family members.
Wahhhhhhhhhhhhhhhhhhh..........
But at least I am going back with my family la. And there's September to look forward to :)
::::

My new email address is....[stolen from HZ]
swirlytwirlygirlybutactuallyallthesearejustbalderdash
@abcdefghijklmnopqrstuvwxyzabcdefghijklmnopqrstuvwxyzabcdefghijk.com
Just joking.
But seriously - how to handle an email address that is this long? And when the
email service provider
is so proud to present the longest email address in the world to you?
The next thing we know, someone would have come up with something like
xyz@a.a
!
Or does that exist already?
::::

Peach crumble, anyone?
To celebrate my extra few days at home, I made a peach crumble today.
Echoing the SMS I sent to Justin after it was ready, piping hot from the oven, it's "crumbly and yummy".
Come to think of it, I just was not ready to go back to school yesterday. While I'd usually give myself some prep time - I was too laidback this time around. July seemed eons away when I came back in May.
But I guess I am ready now.
But guess what? Instead of being surrounded by boxes and stand fans and more boxes, I have just stepped out from a gloriously HOT shower and am now sitting comfortably at the study area :)
Yeah, I really am ready.
::::

Longest stay at home in 3 years
I've been home for 2 months!! 2 WHOLE months! Was supposed to be packing this afternoon as my mom had booked Tuesday 9am for me to go back to Singapore.
Then it hit me:
- I'd be all alone in my vacation room a.k.a. store room
- The girls are all busy working and I'd be the only one waiting for them outside UCC
- I'd be all alone!
- Going to help out with EHOC would make me quite extra too
Have since decided to go back to SG with my family this weekend instead. But it's MOVING DAY the day I get back.
Please, God, make the day short and sweet for me. *envisions the boxes of books/clothes/toys*
And I still can't decide on which Hong Kong hotel.
::::

Anyone wants to share with me?
Upcoming Event: Flea Carnival @ Timberlux Centre!
Date: 23rd July & 24th July 2005 (Sat&Sun)
Rental Fee: $30 for 1 day / $50 for 2 days
For Booking of Stalls: @ BrosProducts, Far East
Plaza #04-133, or contact 97698387.
Hurry! While stalls last! Perfect opportunity for
great buys, great bargains, superb atmosphere,
booze, eye candies! Be there or be square!
Proudly organised by BROSproducts
I'll probably be calling the PIC when I am back in SG next week - anyone interested to share with me?
::::

A preview of what awaits me this August....
TOPICS IN THE 17TH CENTURY
Compulsory Reading
William Shakespeare, Antony and Cleopatra, ed. John Wilders, The Arden Shakespeare (1995).
William Shakespeare, Julius Caesar, ed. David Daniell, The Arden Shakespeare (1998).
William Shakespeare, Henry V, ed. T. W. Craik, The Arden Shakespeare (1995)
William Shakespeare, Richard III, ed. Antony Hammond, The Arden Shakespeare (1981).
Christopher Marlowe, Doctor Faustus, ed. Roman Gill, New Mermaids Edition (1990).
Thomas Middleton/William Rowley, The Changeling, ed. Joost Daalder, New Mermaids Edition (1991).
Ben Jonson, Epicoene, ed. R. V. Holdsworth, New Mermaids Edition (1979).
Thomas Middleton, Women Beware Women, ed. William Carroll, New Mermaids Edition (1997).
TOPICS IN THE 18TH CENTURY
Compulsory Reading
Jonathan Swift, Gulliver's Travels (1726).
Selected poems from Blackwell's Eighteenth-Century Poetry: An Annotated Anthology, ed. David Fairer and Christine Gerrard, 2nd ed. (2004).
William Vaughan, British Painting: The Golden Age (1999).
NARRATIVE, NARRATION, AUTEUR
I hope I can get this module!
Part 1: The classical Hollywood director as Auteur—Alfred Hitchcock
Rear Window
North by Northwest
Psycho
Part 2: Auteurship outside the mainstream—Wong Kar Wai
Days of Being Wild
In the mood for love
2046
Part 3: Politics and change—Zhang Yimou
Raise the Red Lantern
The Road Home
Hero
Part 4: Assessing the Auteur in New Hollywood—Steven Soderbergh
sex, lies and videotape
Erin Brokovich
Traffic
And that's not counting the supplementary readings and papers and presentations and finals! To take or not to take 17th and 18th? Cos there are a couple of other modules as well.
Note to self: Declare S/U for ALL BREADTH MODULES!
Goodbye, life. Hello, nerd-dom.
::::

Since maomao's not letting anyone comment.....
Good job, Siang! Only he could have pulled off something like that.
Wahahahaha.
Did anyone catch 8TV's airing of the Desperate Housewives pilot last night? Despite having practically gone through the entire season, I settled myself down in front of the TV to watch it, expected lots of censoring. What I wasn't quite prepared for, was stuff like...
"He touches my *blank*!"
"He says it's only *blank*"
"He is *blank* another woman"
Thank you very much. And I suppose that's why the parliament was talking about excessive sex scenes in Astro programmes which offends the majority of the television-viewing population. I am sure that 8TV showed a perfect example of what should be done.
*spoiler ahead*
I wish I could be here to see what they'd do with the scene where Bree's son (what's his name again) "experiments" with another guy in Paul's pool.
Anyone offering to tape that episode for me?
::::

KL hates me too.
Before I get to that, let me announce that my laptop was officially pronounced dead by my very computer-savvy-calls-his-house-the-comp-hospital uncle. He transferred my beloved pictures from my laptop to the current new one (which belongs to the sister anyway) and tried to reformat my comp.
Nope. Nothing at all. A few more attempts at resuscitation failed miserably as the familiar whirling sound emerged barely seconds after every try.
So now it's between crossing my fingers for another laptop at dealer's price from the uncle and a lovely romantic date at Sim Lim with Justin in a couple of weeks' time. Actually I don't mind the latter. I mean, what could be more romantic than having your boyfriend handpick the the different compartments of your desktop for techie-idiot you, since he knows what you'd need/don't need and can wreck/won't wreck?
Never mind me and my occasional
xiao nu ren
behaviour.
The thing about KL is....the haze. Oh I know it's in Penang and Ipoh as well. In fact, it was so bad in Ipoh last week or so that I didn't have the guts to go for a swim. Call it coincidental, but this is my 3rd trip to KL in about 4 weeks and this is the second time I've gotten an eye infection in KL.
The first time was during the last trip when Phing and I took a day trip to watch
Emily
. I felt discomfort as we were having dinner at Nando's while waiting for our bus back to Ipoh and promptly had horrible painfully swollen eyes for about a week. This time, it was after a brief shopping trip at Bukit Bintang and Meng (the angel of the day!) picked us up for lunch and more shopping at Midvalley. I had to remove my contacts and put on my geek glasses which shrinks my eyes immediately.
Ugh.
By the way, I hate it when my mom is right. Again. She couldn't understand my frenzy over the MNG sale since I never ever actually like stuff from there. I guess it was the dratted four letter word that set me off. So, as expected, I didn't get anything from there cos again, nothing caught my eye. Apart from this really cute cotton dress which I'd probably never wear since it ain't exactly fashionable to have a teeny tummy bulge. And the chiffon dresses (which girly girl does NOT like chiffon?)which I know I'd never wear more than twice in the near future. So, the stingy me was screaming (inside my head) "Since when have you blown more than RM50 on that thin piece of fabric you call a tank?" (Okay so maybe I have done so in my ignorant youthful days but oh, shut up.)
And I was looking through the precious pictures and guess what I found?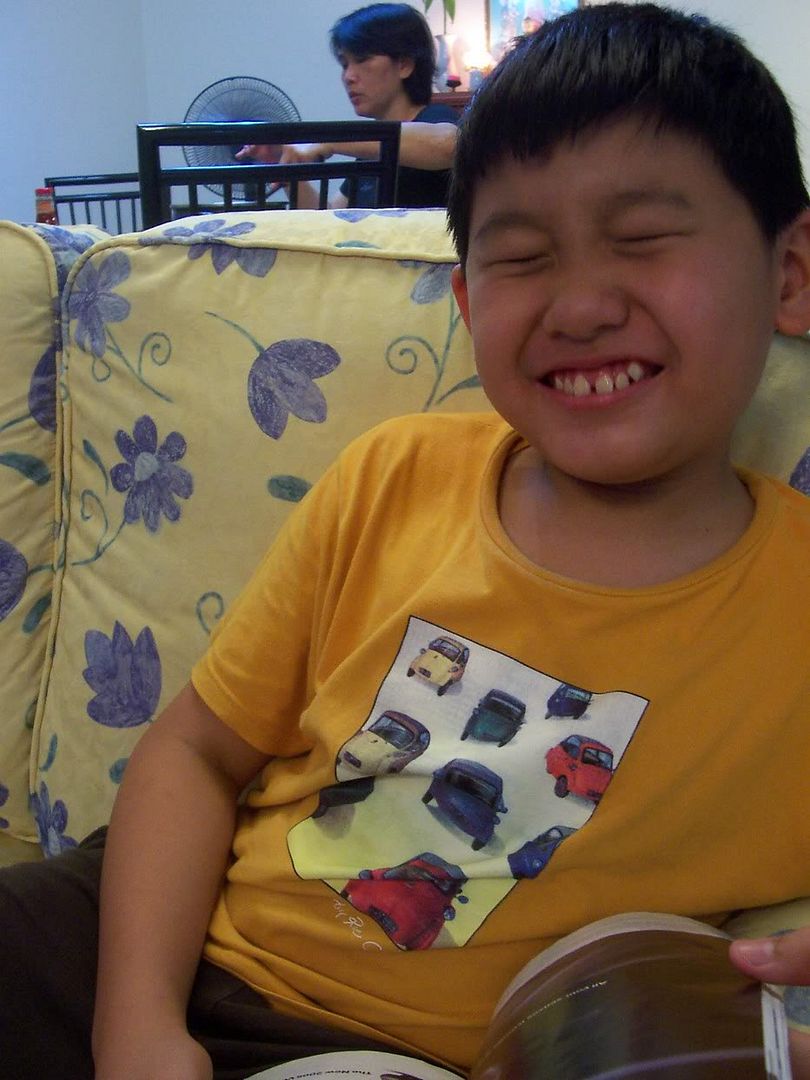 Not a very recent picture but I like how it reflects him as a person. Mischevious, car-crazed and with a very patient and loving mom at the background. I do worry about the fact that my mom and Ernie are going to be alone at home most of the time come August. So those who are in Ipoh and know my mom, can drop by sometimes to say hi?
Silly boy was looking for Phing and me throughout yesterday while we were in KL. And he told me that
er-cheh
(Phing) "cannot go to university in Singapore". Poor thing. Can't believe this is the same kid who used to refuse to go to school if we were still sleeping (we did play our fair share of hooky back then) while my mom made him get up for school. He'd only go to school if the two of us were going to school.
This is also the same kid who was obsessed with arranging my trophies and his Barney videotapes; running away from the repeated offers of carbonated drinks (evil me, I know); despite his lack of speech then, stood up firmly for himself when he was accused of doing something that he didn't do; and the kid who is into driving us crazy right now with his rendition of The Rembrandts' "I'll Be There For You".
Let's hope that the assessment in September will give us a clearer direction as to where to lead him :)
::::

I swear technology hates me.
It's true. My laptop dies down on me within 10 seconds. I don't care if it's already 3 years old. 3-year-old laptops are not supposed to die within 10 seconds. And it has been virus-ed at least twice in its short span of life. And it's not like I never installed anti virus schmathingies.
New comp within this week, *fingers crossed*, hopefully.
But that was just my supporting argument. My home PC hates me to the max! For the past week, we haven't been able to surf the web and we simply thought that it was sucky Streamyx's fault.
The Poh siblings are Internet addicts (yes, even Ernie. He leaves websites like
www.toyota.ca
and
www.mercuryvehicles.com
in the History folder). We couldn't take it any longer and I arranged for a TMNet technician to come and take a look. After half an hour of fiddling around the modem, our PC and his laptop, he proclaimed that the problem was not with the line but with our computer, possibly the network card.
But you know what the 'cheh' (Canto word for jinxed) thing is?
The connection works perfectly well when either Phing or Ernie log onto their respective user accounts but it dies and
just stays put when I log onto my account
!
I refused to 'sun cheh' (Canto for believing in the jinx) and logged onto my account every single time Phing loudly proclaimed that the connection was good while SHE was using it. But it'd just die once I touched the mouse.
So now I am logged onto Phing's user account. The PC is probably tricked into thinking that it's Phing using the comp and not me. *shhhh don't tell it!* (IT does not even deserve to be personified and be given a gender. No such affection for THINGS that practise such blatant favouritism. If IT is so snobbish, IT'd probably be happy that IT is not identified by ITs supposed gender and sexuality but is instead recognised for ITs strength and attributes).
I think I am going cuckoo. KL in 7 hours time(again)!! Seeing WyeMeng tomorrow (yayers!)!!
I apologise for the extremely bimbotic outburst. But I swear, all these thingamingies hate me.
By the way, geekchic, you'd love
this -- Popgadget: Personal Tech for Women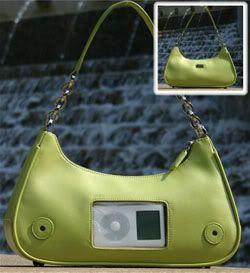 This picture should be enough to tempt you (and the other techie-closet/blatantly-shopaholic girls out there). Though my personal favourite is the
Ice Cream Lock
. Extremely useful in Eusoff's common fridges, I'd say.
::::