It's down to the final THREE
I won't say who, but let's just say the newest episode of The Apprentice 3 gave me such a heart attack pre-boardroom that I had to run to Meng's room where they were playing mahjong to calm my nerves.
It sure feels good to be able to watch TV without guilt :)
::::

School's out......for now...
Hopefully. Man - I just need to stay on next semester.
Resolved not to think of the horrible disaster this morning.
Shall just think ahead of the lovely warehouse sale later.
::::

Yang Gui Fei?
For those who have no inkling as to who Yang Gui Fei is, in short, she is known as one of the Four Ancient Chinese Beauties. She is also known to be fat.
So here I am watching this Taiwanese variety programme who is doing a segment on "Modern-day Yang Gui Fei". I was expecting really obese girls to be walking out. Think pre-slimmed Oprah. Think Roseanne. But no.
The first girl that comes out is really good looking and is NOT FAT AT ALL. And guess what? She is 63kg. And is about 163cm tall. But I do not see how she is fat at all. Probably a size 10-12. And she has lovely, lovely features. She has an extremely well defined waist, a perfect hour glass figure. But the hosts were asking her, "Have you always been this fat?"
Man, if I weren't already okay with myself (as opposed to maybe 1 year earlier), I'd be resolving not to eat for the next week or so.
But how can I not eat? Exams end tomorrow at 11am and Justin and I are trooping down to Expo for TIMES warehouse sale. Yayers.
::::

Elated
Though fairly dejected after yesterday's paper, this morning's email inbox brought good tidings :) A very good friend is going to be based in Singapore for at least 1-2 years. I am so happy!!!
::::

How apt.
I spent today's lunch hour watching a
Russell Peters
video.
The paper that I am supposed to study for, is, get this, "Representations of Asians in the US Public Imagination".
Geddit, geddit, geddit?
Wahahhahaha. Though he is Canadian.
::::

How many of you identify with this?
Why we don't like coming online anymore
It's so real. Wahahhaha.
Check out the other strips...
::::

The most unexpected...
So here I am in my room, being very irritated cos of a sore back and a heavy head while the sweltering heat at 11pm is not helping my revision for tomorrow's EL paper at all.
It's an Honours class with 25 other very brilliant people in it. I am so dead.
But then out of the blue, 2 cell members messaged me on MSN, bearing their gifts of well wishes for tomorrow, at the same time - Simin even said a prayer for me over, erm, MSN...haha....my cellulites (Simin's term!! not mine!!) are so sweet :)
And I am a little more perky right now! Thanks Simin and Janice!!
::::

I know I should be studying...
...but after watching the 13th episode of The Apprentice 3 - my itchy fingers went to Google up what some forums had to say about the final 4. And guess what I found....
Erin's official website
and what more, the cili padi here who was so good in arguing her way through in the boardroom while emphasising that she didn't like it that people valued and liked her for not for her intelligence but for her looks - has left the practice of law!! She has "moved on to more exciting endeavours like hosting her own TV show and working as a professional model"....
But, but, she once said "I would like to make male chauvinist pigs realize that they're wrong, and women can be sexy and powerful and smart." Wait a minute. Why must women be sexy? "Can be" powerful, "can be" smart?
Hmm....I've always rooted for
Tana
anyway. The bitchy side of me couldn't stand Erin's Bambi eyes and incessant bitching.And how she manages to weasel her way out from getting fired each week. Oops. Well okay she dresses really well.
And can I say that I really liked the desk organiser Magna created for Staples?
Okay, okay, it's time to go back to Lydia Kwa.
Edit: It wasn't Erin who made the comment that she didn't like it when people valued her for her looks and not for her intelligence. It was Audrey. Oops.
::::

These 2-3 weeks of surviving on less than 5 (sometimes 3, sometimes 4) hours of sleep daily had finally taken its toll on me. I conked out at 1030pm last night and did not wake up until 7am this morning.
Something tells me that I'd have to go to NIE this June.
Please, no, not yet.
::::

NEWSFLASH!!!!
The world's biggest Borders is
in Berjaya Times Square, KL
!!!
::::

Random
We were discussing how some good looking people seem to have only good looking friends and how they must have only chosen good looking people to be posted on their blogs
I teased Boon and said "Okay I won't put your picture on my blog already."
I take it back. Boon, as we told you, you are cute! :)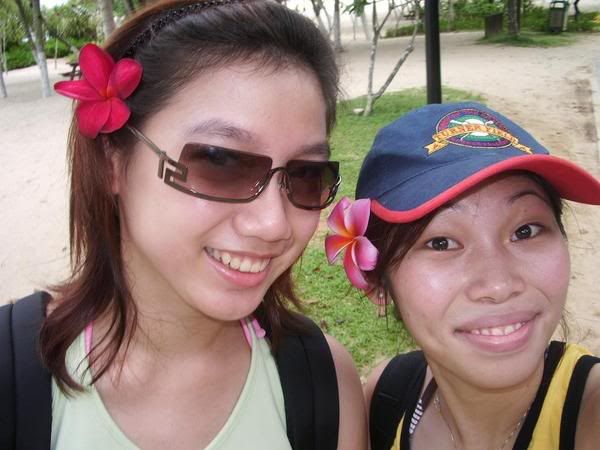 ::::

Eventful, indeed.
Date: 16 April 2005
Time: 8:20pm
Venue: E-zone (The video arcade at West Mall)
Characters: Justin, Sze-lyn
Justin: I think there is a guy here who is trying to film your underwear.
Sze-lyn: Har? [looks down to beige corduroy mini]
We turn around and see the suspect walking closely behind several teenage girls, all clad in minis. Then, he stands next to their game kiosk and watches them play. He wore a backpack and had a paper bag in his hand.
Justin: I think he has a videocam in the bag. I tried looking and I saw something black inside.
Sze-lyn: I think you should go and tell the PIC of the arcade.
So we did. Though we told them this was just an unconfirmed suspicion, all it took was one phone call and about 5 minutes for the building's security personnel to come up to the 4th level arcade. Minutes later, they found the camera in the boy's bag. So we had to follow them to the security room. While the boy was interrogated (I suppose) in another room, we sat at the security control room while the security manager explained to us that he'd need our particulars and also that he needed us to stick around should the police were called in.
Apparently they needed the police. After checking the boy's camera, they found quite a lot of video clips of girls' undies - he has been doing that all night I suppose. So the police came, checked the evidence (the camera and the laptop from the boy's backpack) and took our statement.
Justin and I were actually worried for the boy cos he looked about 15 or so. We figured that he could have been just been employed by other people to do the, literally, dirty job. Turned out the boy was a 22 year old undergraduate in a local uni. Wow. According to the police officer, he is going to be charged for sure.
In case you were wondering, I didn't really get caught in the clips haha. My mini clings quite well to my legs and he didn't get a 'good view'. So I decided not to press charges of my own and be a witness in court - he is going to be charged anyway.
Oh and the statement of the evening?
"Wah, this is big case la!" ~ one of the security officers of West Mall.
I guess we made their night a little more exciting :)
On another note......
HAPPY BIRTHDAY BOOOOOOOOOOOOOOOOOOOOOONNNNNNNNNNNN!!!!
::::

But what I really want is to go to Sentosa...
when I have half a music composition and a term paper left undone.
But the girlies and me will be going to Sentosa...soon....pre-exam trip....RIGHT?
*waddles (see how big my ass has become) off to do work*
::::

Simply fabulous, dah-link!
I picked up a copy of SimplyHer tonight at 7-11 and Justin commented: "Sandra Bullock looks quite fake on the cover." We compared the cover picture and the one of her on the content page and indeed, bad Photoshop skills has left Ms. Bullock with wide set eyes in one picture and eyes which are rather close to each other in another.
Anyway, I came across this link tonight:
Greg's Digital Retouching Portfolio
. I know we all know (right? RIGHT?) that pictures in magazines have all gone through air brushing and various funky picture editing tools. But this is for your eyes - to see the truth!!!
Here's
a picture of a smiley blonde and another one of a
very toned and glowing swimsuit model
.
Move your mouse over the picture to see the 'before' effect.
Someone should put these 'before' and 'after' pictures up at ridiculously overpriced skincare counters and girls' schools where everyone is competing to see who eats the least and barfs the most.
::::

Sidai nyawa time...
When you are slaving over an essay which even you don't agree with while cursing yourself for your own procrastination late on a cold night - the best thing that could happen would be someone showing up at your door with tau foo fah and yau char kuai from Geylang.
*burp*
Motivated once again!
(sidai nyawa= 'sai meng'=showing off in Cantonese. Don't blame me. I think I learnt it from a certain girlfriend by the name of Meng....nyehnyehnyeh)
::::

This certainly brought a smile to my face
Amidst the papers, irritation and not too healthy body - this certainly made me smile:
Sesame Street: 25 of My Favourite Memories
I remember loads of them! Especially the one about Grover at the restaurant....used to crack me up.....and the TYPEWRITER!!.....the Martians...and oh the pinball thingy (though I used to find them rather irritating)...and...
Read this page and put whatever theories people (remember the big hooha about Ernie and Bert being gay?) have of Sesame Street behind you.
::::

Taking a deep breath.....
I had an impulse to take a cab to Changi, purchase an airticket to nowhere and just fly.
Then I realised I don't earn enough to buy myself an airticket at every whim and my credit card belongs to my dad.
Darn.
It's back to the essays then.
::::