New Game!!
Touted to be
the hardest riddle available on the Internet
. Justin and I started last night and we are stuck at Level 16. And there are many, many more levels to go.
Warning: This game is suitable for those with no essays to write, no bosses hovering over their shoulders, no work to do, basically.
::::

And so I no longer will have seniors in hall....
Except for the aki students, that is..
My 4th year in Eusoff has just been confirmed.
Me, a 4th year senior. I definitely did not see it coming as a freshie. It still feels weird now.
And it's going to be so different next semester when most of my girls are not around.
::::

1:45am...
Justin: I feel like going to Mac's.
Sze: Okay...whose bikes can we borrow?
Justin: Phong's and TzeChong's.
Sze: Let's go.
Justin: Okay.
So we cycled to West Coast Park McDonald's - a mere 5-10 minute cycling journey away - but it was fun!
::::

Which one can it be?
I hear a guy moaning (go imagine 'ahhh' 'ahhh' sounds)in intervals of about 2-3 seconds at approximately 2pm. It can either come from upstairs, downstairs or TH. What I am certain of is that it was extremely loud. So I run to Su Leen's room and tell Su Leen and Serene to listen as well. Laughter erupts. You can pretty much guess what we were thinking of.
But the moans had a sort of 'funny' element to it. Like it was just for fun.
So Su Leen came to a conclusion:
He probably hurt some part of his body and someone was urut-ing/massaging the pain for him, resulting in his moans of suffering.
I think so too.
But the moans were really quite funny.
::::

Don't worry la...not Justin
Bad - a man who cheats.
Despicable beyond words - a man who cheats but denies it in the face of evidence.
::::

My best long weekend so far
Okay, apart from LAST weekend when I sneaked up to KL to meet my family, this weekend was awesome.
Just awesome, la. :)
(Damn, I had promised myself that I'd never be one of those cryptic people. Next thing you'd know, I'll be posting song lyrics!! *gasp*)
::::

"Sir, are you serious?"
That's what I said to this guy who gave me SGD250 when I approached him to make a small donation for our Grant A Wish event.
See? There are still nice people around :)
Surfing through some blogs in the wee hours (woke up at 5am and couldn't sleep again) and found a blog by a current MYFer at CGMC (MYF = Methodist Youth Fellowship; CGMC = Canning Garden Methodist Church). She was talking about MYF Fellowship Night where the MYFers would dress up nicely, the guys would ask the girls to be their dates for the night and sit down for a nice dinner together. I *think* this event started during my time at MYF when Elaine first came as youth worker.....don't recall taking part cos I was probably organising it :)
Though much of MYF times remains hazy in my mind, this led me to memories of youth concerts, youth camps (remember how back in Form 3/4, Mike and I and Elaine organised this 2D1N thingy in church itself which turned out to be quite fun and of course there is the campus youth Camerons camp, and of course the last youth camp I had a part in organising/attended back in 2000), Family camps, galah panjang, basketball, water fights, good friends made....MYF times were the best times of my teenage life ;)
It's kind of weird now when I am back in CGMC and realise that I do not know the youth who are sitting at the courts, behind the sanctuary, running in and out - because those were the exact places where we were some 8-9 years ago.
Ah well...*trotters off to breakfast*
::::

Salsalah - Eusoff Hall DnD 2005
Some of my choice pictures (I sound like I am choosing steak or something...but never mind...) and the link below brings you to more which exhibits my double chin and shiny complexion oh-so clearly.
Something tells me that I should start exercising real soon...haha.....
D3-ers reunited at table 16 - yes, even Sarah Anne!!
D3 and B3
No, Justin did not turn to Raj a la The Apprentice 2 overnight - the dress code for his table was nerd but they turned out to be more like rather perverse nerds....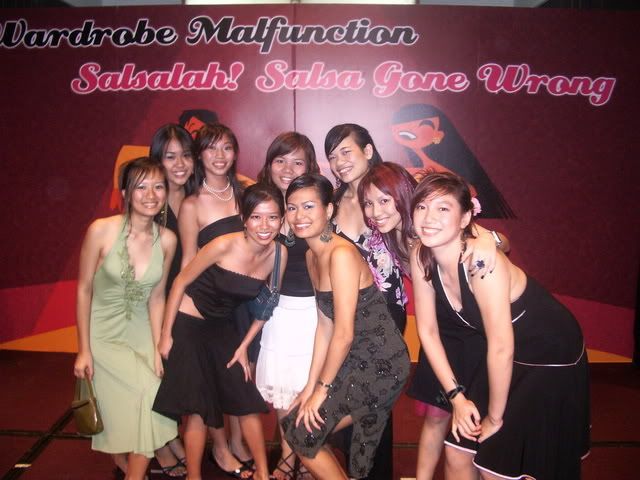 My favourite picture for the night :)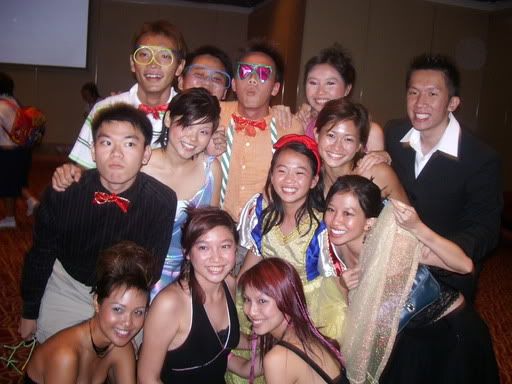 EHOC Programme 04/05 - go EHOC!!
The only picture taken at Madam Wong's that did not feature a closed-eye me ;)
For the rest....
click here
!
::::

Good job!!
Good job to the DND organisers!! It was possibly the best DND of my three years here :) Pictures will be up later and man don't even get me started on the topic of my fat face. But it doesn't matter - I had fun :)
Good job also goes to
SMJK Nan Hwa
- this band used to beat us all the time - but they ARE good!
::::

Blessed Birthday to Meself !!
To Justin, Boon, Serene, Sharon, Sujin, Su Leen, Andrea, Jer, Bin Bin, Janice, Siew Yee, JX, Nisha, Mich, Alvin tailou, Nips (and the other guys from Teenage service for the most creative SMS birthday message ever), Phing, my Dad who called all the way from Lahad Datu, Steph, Margie, Xuewei, Naj, Rhun Chia, Sarah, Choon Seng, Yan Hsing and the few others that I must have forgotten along the very much overwhelmed way.....Thanks for all the well wishes, be it via SMS (many global SMSes yea), email, e-cards, face-to-face, MSN messages ..... that's technology for you!!
Just as I've gotten used to filling in '22' at the AGE field, it's time to change to '23' now. Ah well.
::::

Who would have thought of this?
To those who were fervently trying to get into the 'top' schools back in F6 - maybe this would be living proof that you don't necessarily need to be in a 'top' school in order to 'succeed' eh? (No offence to those who were in Sam Tet and the likes la :))
I know it's just one off case la...but it's just a little comeback to those who gave me weird looks when I mentioned that I'd be staying on at RPS then :)
My sister did pretty well btw - ask her on your own la ;)
::::

As I've said before, I've lovable tuition kids. I really do. Their parents are fantastic too. But I was slightly irritated at my P6 kid's mother today - cos this is my 5/6th week with her and every single week she has something new for me...
What she has wanted me to do so far was to
- read with her
- and that there was no need for her to write essays
- but to read with her and give her vocabulary words.
Last week, it was that I should give her 30-50 vocabulary words each week. We have one lesson a week. Each lessons lasts 90 minutes. How is that even remotely possible?
This week, I was told that I should not get her to check the words on the dictionary as it was not very necessary.
So to sum up, I suppose what I need to do is to:
Come equipped with 50 words complete with synonyms/definitions and hand it to her.
Gah. Just gives me flashbacks of horrible English lessons back in primary school where we were made to MEMORISE and MEMORISE essays/vocabulary words and definitions which must not be a single word out of place and the particular teacher who hated me for being the smart ass to correct his spelling on the board.
But I was only eleven!
On another note....my cell group birthday ICs are the greatest! Haha...our cell group had a birthday celebration for all us March babies and we had a great time eating, cracking jokes which could insult the engineers at the same time, playing this treasure hunt thingy and just generally having a good time. My first birthday cake for this birthday was this yummy Swensen's ice cream cake which we devoured (which is actually an understatement) in no time. And haha, they've indulged my thing for blank books and bought me a really really pretty candy swirled cover blank book with lovely lovely white/pink/red/yellow/other candy colours pages inside. Love it! And Mich gave me a book (honestly, I could fill up a bookcase soon with the great books this woman gives me),
The Remarkable Women of the Bible
. Incidentally, my KIDS Church group back home gave me a similar book before I left for NUS too!
Ah well, I was just telling Justin today that I didn't think that I'd be like what I am now at the age of 23. Okay la not quite 23 YET but soon enough la. I didn't think I'd still be the kid-like big girl in tank tops, cropped jeans and embroidered flats. (Digression: Bata's size 10 ballet flats actually fit me perfectly!) However, as he responded, it would be better for us to focus on what we have now instead of thinking of the 'I wanted's and the 'What ifs'.Of course I agree. That's why I loved the entire year of being 22!
::::

Maybe I should actually decide soon....
For May and June, should I...
- work at the before/after school care centre where my sister is working at?
- approach Ms. Foong about relief teaching in AMC?
- finish reading the unread books on my shelf and get more wonderful books and watch more DVDs?
Seriously? Option 3 sounds the best. It IS my last holidays before I graduate, anyway...
Although a teeny part of me wants to stay in Singapore to look for an oh-so-cool internship, the bigger part of me wants to go back to oh-so-exciting-but-it's-still-home Ipoh. SY - Langkawi in June ... can ar?
::::

Sight of the day
As I was walking towards the staircase at AS3 to go back to hall after Rep of Asians lecture (well, we spent the whole time watching
My Geisha
), I spotted two girls sitting side by side on one of the benches, both with their backs facing me.
Low rise jeans are the culprits again.
One showed me half of her cotton undies while the other gave me a quite sufficient view of her butt crack.
Right. The perfect inspiration for me to resume my paper.
::::

Sepet
Justin and I saw
Sepet
banners at KL, we didn't give it much thought. Just thought it would be like another Puteri Gunung Ledang (which I heard later, was actually quite good) kinda film and dismissed it. However, after reading this
review
by TV Smith - I want to watch it!!
Anyone? Anyone at all? Before it gets banned?!?!
::::