Back from....
...a week flitting between KL and Kuching. Between shopping for T shirts with funky lines, lots of food and a very very sore infected left foot, Justin and I had a relatively good time.
We got T shirts that says "Ting, you leng chai/leng lui" (Stop, there is a handsome guy/pretty girl).
Shameless, we are.
Oh and I got a T shirt that has a male stick figure in pink and a female stick figure in blue, with a line that says: "Don't impose your gender stereotypes on me"
We went a tad crazy over T shirts this time :)
Back and somewhat ready to tackle the humongous amount of work I've neglected due to silly down period and DP and this trip :)
::::

Back in Singapore - CNY update
It took me a friggin' one hour plus just to get a cab to come back to hall this morning, after an almost 9-hour jouney. Bleh.
Anyway, it was good to meet Jacqueline (AMC senior, which later became hall senior) and her sister Melissa (AMC schoolmate) who were seated just next to me on the bus !
And it was good meeting up with the few people that I managed to catch over CNY, what with travelling to KL and all that - here ya go...
As it is with every CNY,
Ipoh
is horribly jammed up with fancy out-of-town cars. Grrr. According to Yuan, it took her one hour to get out from Jusco carpark to reach Heritage, which is usually a leisurely 10-15 minute drive. But it is always good to be
home
and
here's
my usual bumming spot at home ;)
On our journey to KL on the first day of CNY, I snapped this picture of my siblings (Phing will probably kill me for this but she'd have to travel about 8 hours first).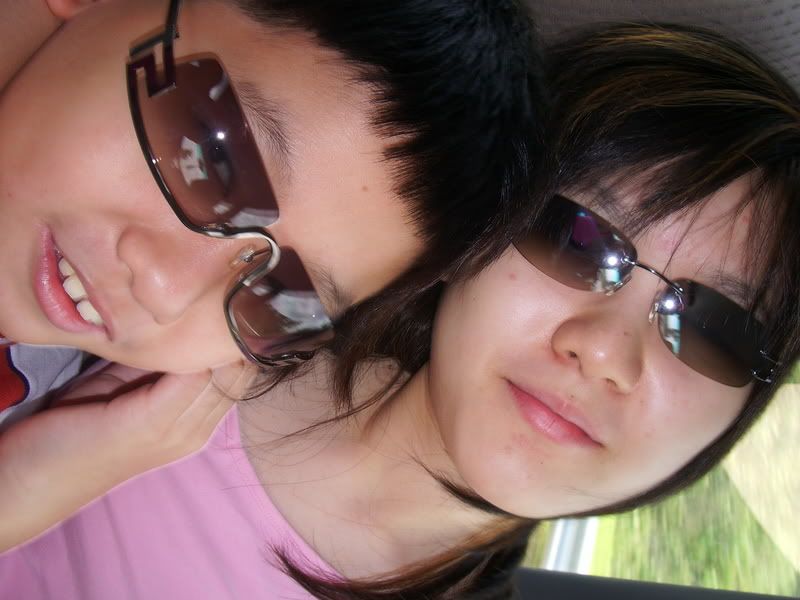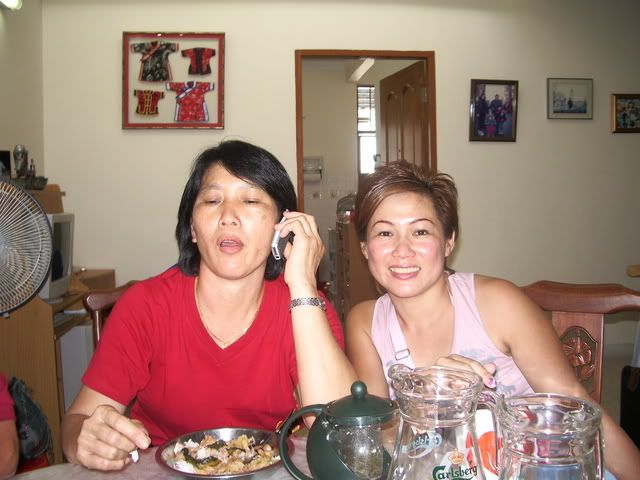 My mom and my aunt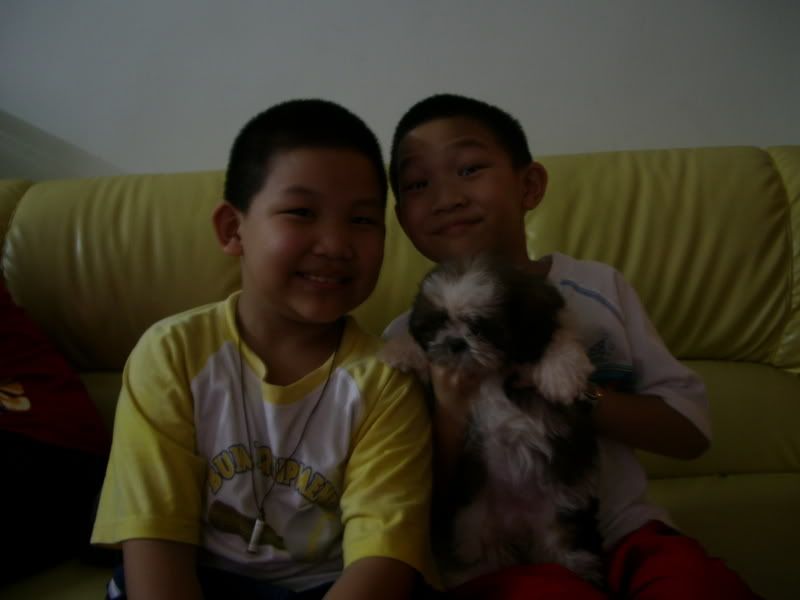 My two extremely precocious nephews, Jonathan and Justin, with their little shihtzu, Mimi.
Doesn't
she
look like a
toy
?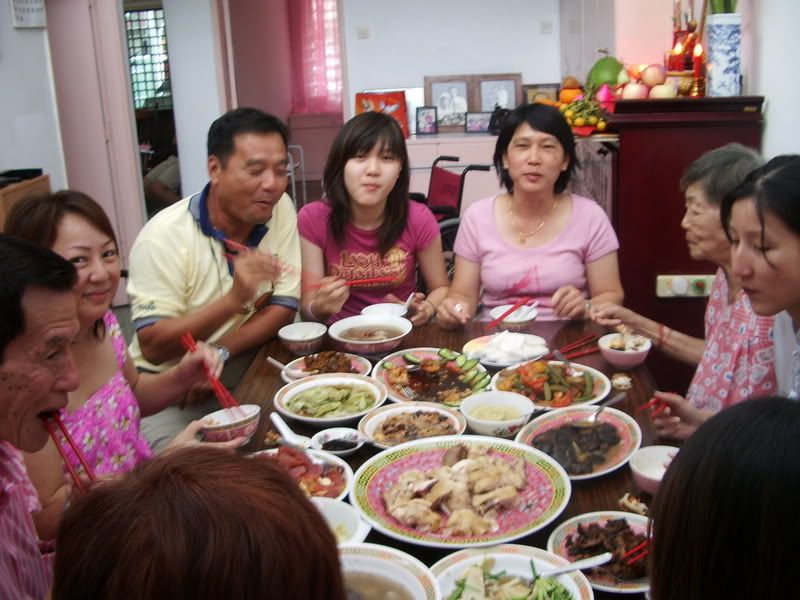 2nd day of CNY - the traditional (Cantonese?) 'hoi nin fan' - literally meaning 'open year rice', where the family members on my mom's side sit together for a lunch. A
huge
lunch.
Met up with a few friends on the 3rd day, which is usually reserved for friends :)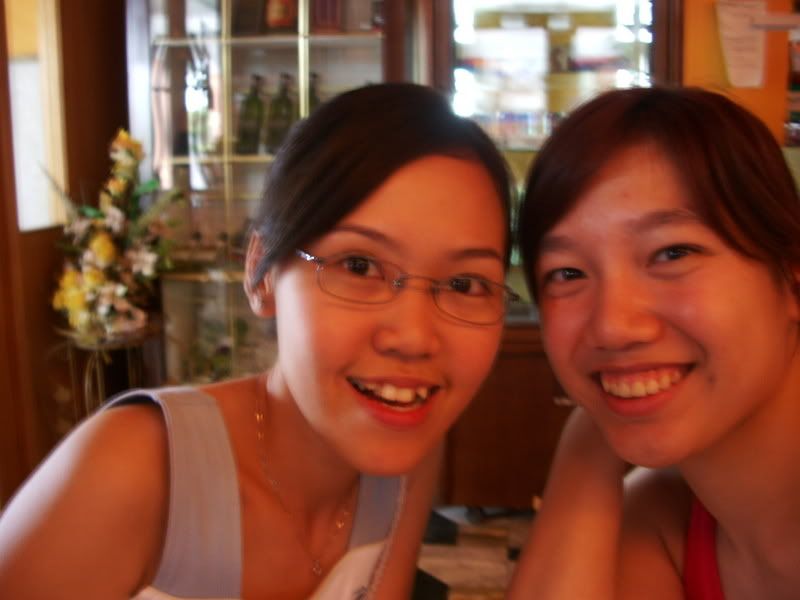 Ling and I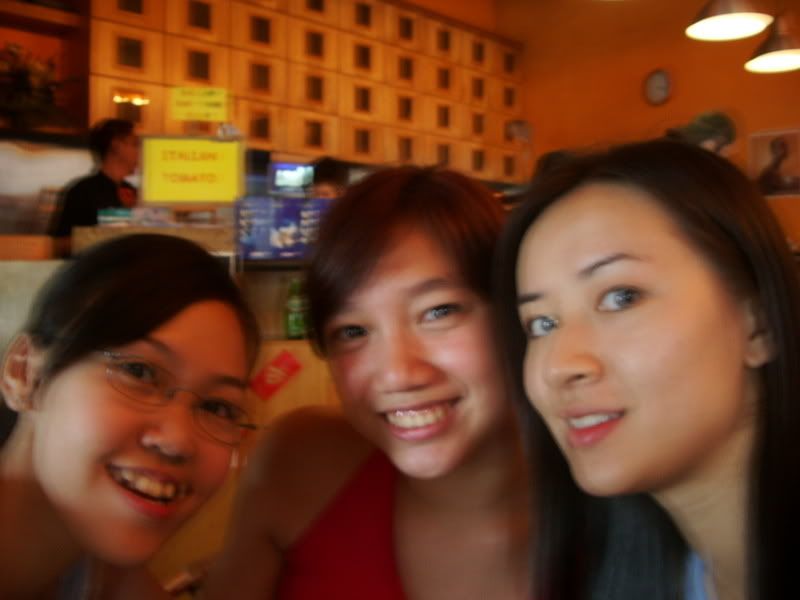 Ling, me and Puy Jean. Love it how we can meet up and just blah about anything, picking up just where we'd left off. Love these girls!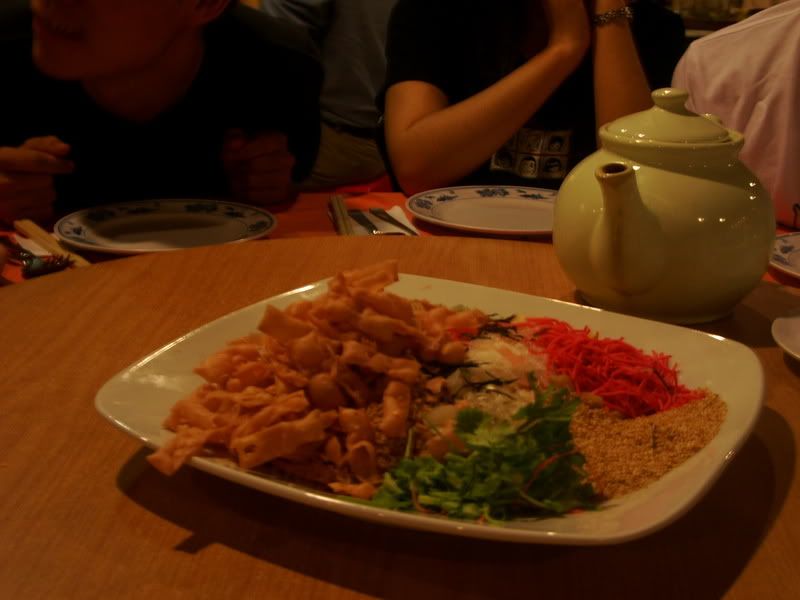 This picture of yee sang was the only picture I could snap of
our
annual CNY dinner, this year at 1919 (1919 is a restaurant la). There were plenty other dishes, but let's just say the turnover rate was quite high :)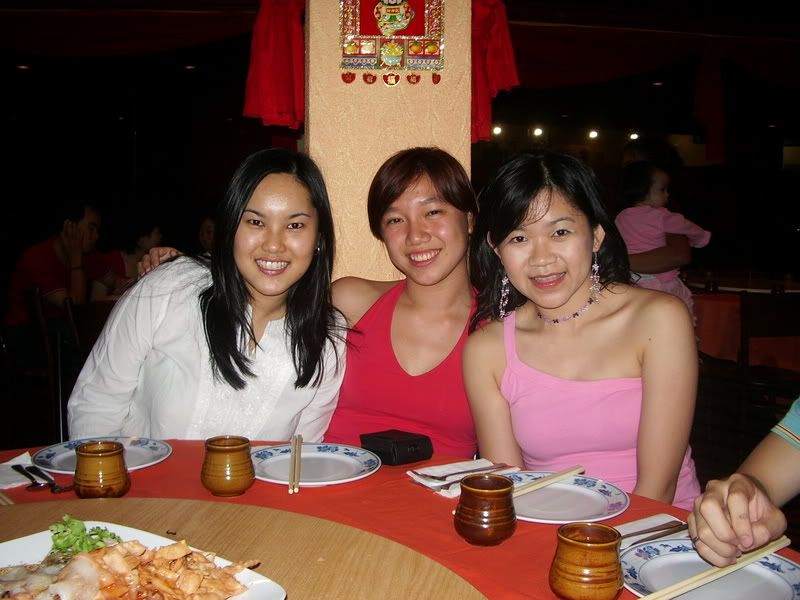 Jan, me and Siew Yee. It was so warm inside the restaurant that SY and I were glad for our sleeveless tops. Heh.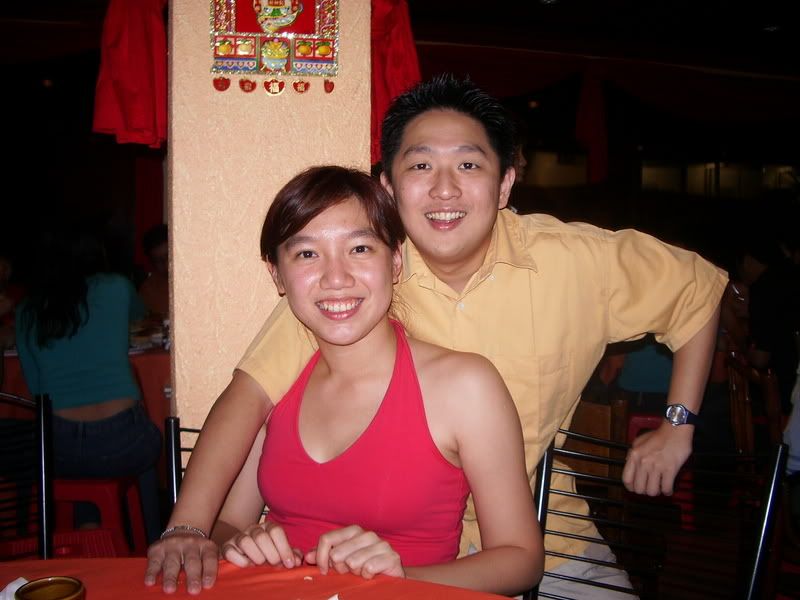 Tailou Alvin and I.
And right before I left for Singapore last night, it was tea at Indulgence (where else?) with Jia-yi and
Yuan Yuan
.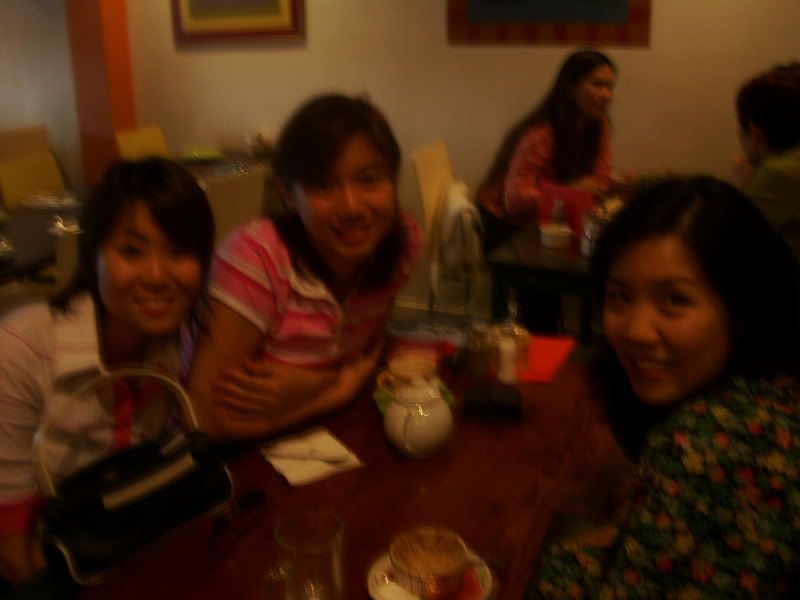 Yuan, me and Jia-yi. It's been so long since AMC days!
This week is going to be a hectic one, what with assignment deadlines coming up and bump-in (or is it bunk-in? I've always thought it to be the latter) for DP. Pray that I'd have enough sanity to tide me through all these.
::::

Photobucket
This is a test post from
Photobucket.com
::::

Death of a great writer
::::

I did not come back to be snapped at, nor to be insulted. Especially not when I am not that close to you in the first place.
However, it is good that one of my principles in life is to NOT stoop down to other people's levels.
Bleh.
::::

Bad, bad, cynical me...
But has anyone noticed the Ribena ad that's constantly on Astro? Wah Loi Toi, at least? The one with the kid on top of the water slide, takes a sip of Ribena, starts seeing cartoony blueberries and is transported into a magical world of dancing blueberries?
Doesn't that just tell you that Ribena gives you a high?
Buahaha. Was just telling it to Alvin that day.
::::

So it's Chinese New Year again...
It's been pretty hectic so far (yes, even in the short 2-3 days) so I've chosen to stay at home tonight in front of the TV with Sally Yeh's concert, some typical Miriam Yeung film and American Idol instead of yum-cha-ing....
Arrived at Ipoh at 4am Tuesday morning and proceeded to the whole ceremonious breakfast that I must have everytime I come home haha - just any noodles. With the hoohaa - had a reunion lunch, shopped a bit with the family and had a pleasant few hours that night at Alvin's place. Though I didn't know many people there, it was fun catching up with Kevin and meeting up with people like Cynthia whom I haven't seen in ages - since Lower 6!! Also met Kim whom I haven't seen since MYF days, probably.
CNY is indeed a season for meetups.
Spent the first and second day of CNY at KL - a lot a lot of visiting - finally I am deemed old enough to be invited to the gambling sessions initiated by my second cousins -ha! They are all at least 4-5 years older than I am and I have always sat at the 'kids' table. But I didn't join in any sessions - heh.
Am indeed looking forward to tomorrow - meeting up with Puy Jean and Ling before the usual dinner organised every 3rd day of CNY. Hope to meet up with more people before I leave on Saturday night....though I'd really like to spend more time at home.
This trip home has been good for me emotionally and mentally - and I am *sort of* looking forward to going back and start concentrating and prioritising. Jia you!
::::

I have been multi-tasking - packing and cleaning up my room at the same time. Felt the familiar sense of nostalgia when I came upon my secondary school photo album - opened it for the first time in 2 years or so I think. We've all grown so much - it's been at least 6-7 years since. There was a VBS picture amongst the multitude of pictures of a 14 year old me and 7 year old Natalie, Wenny, Ai Ling, Kurt, Chrys and other who are 15 going on 16 now.
As I flipped to the page of our Form 5 History trip to Kellie's Castle and this history museum (which I've forgotten the name of) - I chanced upon Pei Gee in one of the group pictures. I flipped back to the class pictures to find other pictures of her - and there she was - the demure, sweet smiling girl.
Pei Gee passed away a couple of weeks after our SPM results were released and I remember Gaik Lee telling me about it via ICQ and I thought she was joking with me. But it was the truth and we were all in a state of shock.
I was never really close to her but cliched as it may be - it just made me think of the fragility of life and just the fact that until now, I can't picture her absence. She is always the smiley girl who wanted to study PR. I remember the email Yen Yee sent out to 5Sc3 about a year after Pei Gee's death - despite not being close to her, I couldn't help but feel teary.
I am looking forward to going home, to seeing my classmates again (if they turn up this time haha). There is this need to reconnect to something and I can't quite place it.
::::

Gmail invites
I have a grand total of
49
Gmail invites sitting prettily by my mailbox. Anyone needs one? Drop me a line at
szelynpoh@gmail.com
with your email address.
And no, I do not need you to tell me why you need an account or other sob stories as such.
::::

Maybe we should start to take a leaf out of the American education system...
I wonder when will the Malaysian Education Ministry wake up and smell the roses, that special children are different in their own way and that is completely senseless to dump them together as they do now. I wonder when will teachers stop calling these children 'crazy' or 'stupid'.
The Star
has regular features on special children and how their (rich) parents engage wonderful therapists, send them to foreign schools and get the best home based study programmes for them. Reading
these
articles almost puts me to shame to see the state of special education, or even education as a whole is like in Malaysia. I suppose I was one of the lucky few who could somewhat adapt to the system (though I still admit that I chose triple science purely out of peer pressure) - but not everyone is so 'blessed' I suppose.
When will they realise that education is not about obtaining straight As, producing geniuses and annual glossing over the increasing percentage of well-tutored children passing English or Science? When even the parents of special children (and I am not even talking about the regular kids here) are pressured into sending their kids to multiple tutors, only to be told that their child is useless and all that - what is education?
I thank God that my parents did not succumb to these pressure when it came to Ernie. But I still wish he had more opportunities. I dare say that my concern for special kids can be selfish at times - but I see kids with more needs and I wonder - what can be done??
On a happier note,
this boy
is certainly an inspiration. Though not every special kid may have this kind of ability, I know that he still brings an amount of hope to his parents. My brother is not autistic but has previously been diagnosed with ADHD and he has somewhat outgrown most of the characteristics exhibited by this boy. His special talent? Fiddling with the computer/Internet and a fantastic photographic memory. No joke about that...heh.
::::

Some shameless plugging....
Check out
f o o d f r e a k
if you are free - a little food blog that Justin and I decided to come up with after being inspired by many other Malaysian food bloggers.
It's CNY soon and we are taking a trip to KL and Kuching during end of February. It's the 2 epicures on the loose!!
::::

Me and my kids
Wanted to blog about this on Sunday but forgot about it -- that I love love love my students!!
Granted, sometimes it's a bit tough that I have to earn my allowance by:
- giving up my Sundays and working long hours
- no/minimal shopping in Singapore
- no major purchases (though my comp's giving me probs and the keyboard at Carrefour was super tempting among other things)
- actually having to make financial plans (ok, so I am just beginning)
- having less money than others all the time
It's all worth it when I have students like mine!
Jolene
I tutor Jolene in Sec 3 Literature and Math. We've come a long way! We started during her Sec 1 year with her proclaiming that she 'hates literature'. Half a year later, she showed me the journal she had to keep for her Literature classes in school, in which she wrote something to the effect that "her literature tutor told her that literature is actually fun and now she doesn't find it boring anymore".
What can be more gratifying than that?
That she chose to take up Literature for O Levels as well :) And that she is now a Christian? I don't think I had much to do with it cos she has a lot of Christian friends but it was indeed good to see so :)
Sekaran
We have our sessions at a very interesting place - a Burger King restaurant. Surprisingly, I am not the only tutor there. I see other tutors with like 3-4 students at one go! Having tutored him since last April/May, I tutor him in Sec 4 (O Levels) English and though I don't really see much marked improvement YET, I see his efforts and how he tries to improve himself. Now that's what I call learning.
Yunshu
My newest student, Yunshe is in P6 this year and we've had 2 lessons so far. I was rather apprehensive in the beginning because she is Chinese and was painfully timid. However, it took just half an hour for me to realise that
#1
Her English results are better than my other students - with 85% (Band 1) the previous semester
#2
Her spoken/written English is practically flawless with minor mistakes like will/shall and stuff that WE generally err in
#3
She has read a great deal in English (another Judy Blume fan, yay!) despite having only been in Singapore for 5 years.
Though her voice is so soft that I have to speak as soft as she does too. But she is actually very bubbly and ready to share about herself. By the second lesson, she was asking me about how to read the Bible and asking me to recommend an easier version for her.
I have another student, who is a cell member's sister. Will be tutoring her in Sec 3 English starting this Thursday. She sounds quite friendly and bubbly so far and according to my cell leader who brought her along for a short mission trip to India last December, she is really so :) I am looking forward to it.
And I mustn't forget my 4 boys at the Singapore Boys Hostel where I volunteer at every Wednesday night. The boys that I teach are changed constantly whern the boys are discharged and all that but currently, I have four 17-year-olds in my class - Sham, Kendrick, Weijie and Eric. The latter is currently studying in a hospitality school in preparation to be a chef while the other three are studying in ITE (for the non-Singaporeans, ITE= Institute of Technical Education). I am supposed to take them for guided reading but what we usually do is to discuss a news article about current affairs/people who have made it big before launching on just about half an hour of pure chatting where they offer me advice about relationships/dating (ha) and I tell them what a bore I am and keep nagging them to be good boys haha.
Perhaps I am 'lucky' in the sense that I get teachable students but I do cherish this tutoring experience that I have throughout my undergrad years. They may not be top students but their attitude and the fun hours that we spend together is indeed something that is not easily found elsewhere ;)
::::