Quote of the day:
"I died so badly I don't even know where to begin." SMS from Sze-Lyn to Justin, 11:05am.
It was my last paper but it was one paper that I truly DIED in it. I foresee Cs again. I foresee me having to pack my bags and graduate next semester as MOE will evidently order me to.
Argh. It was your freakin' last paper Sze. Now shoo, go have fun and look forward to going home!!
Salam, await my return!!
::::

If I weren't a teacher....
I'd definitely be somewhat in the fashion industry. An earlier youthful ambition was to be a fashion buyer. It's not about shopping. It's about looking at the fabrics and the cuts and the touch and the LOOK. I am pretty much detered from shopping in local stores due to my size but I like to think that I have an eye to spy on good fashion.
And I've found a to-die-for website for me to satisfy my cravings to LOOK at pretty dresses -- www.verawang.com. This is what defines what I find as style. For me, at least (sees some of my more funky friends rolling eyes).
And did I mention I have one more paper to do? Bleugh.
::::

I want one of these!!!
I have just watched the latest episode of
The Apprentice 2
and I want
THIS
!! Not that I am particularly a Pepsi fan (don't even fancy carbonated drinks too much) but I want this bottle!! *bimbotic* Check out the ads too -- the merchandise ad and the Apprentice ad.
Dang. I can't wait to go home (Thursday 5pm, expect to see this certain tall girl with unruly copper hair haunting Tambun and Ipoh Garden East area. Further spotting can be done later that night at either Ipoh Garden East or Greentown Salam.) but the thought of one month without my regular feed of TV - fine, downloaded TV series - is a little sad. The Apprentice 2, Desperate Housewives, Drawn Together, Joey (yes I actually watch it before it gets axed. It does look like it'd get axed eh?). The only comfort is that AXN is showing The Amazing Race 6.
I sound like a TV junkie. No, really, I am not.
But one of the best things about being home is being able to slouch around and flip channels, no?
In case you are wondering, I am rooting for Kevin. ;)
::::

Quotable quotes of The Amazing Race 6, Episode 2
"If we take Accuracy, we'd have to be accurate"
Lori tells Bolo, while deciding on the Detour.
"You! Apologise now! Apologise to me now! ... *jumps around* I am so proud of myself!!"
Jonathan, upon reaching the Viking Village, realising he is third, jumps around gleefully and makes his wife apologise to him.
"If you tell me to take off my glasses one more time I swear I'd never talk to you again for the rest of my life"
Adam, to his former girlfriend Rebecca.
"This isn't our car!"
Mary Jean to Don, while driving to the pit stop.
Man, I am sure there were more. There is so much more drama contained within the second episode alone compared to the entire TAR 5. Reality indeed. Anyone has anymore to add to this list?
::::

Sze is truly gonna flit around this December!
Well, not as much and as far as I'd like it to be....
Plan A:
2nd Dec - morning bus back to Ipoh
5th Dec - night bus to KLIA
6th Dec - morning flight to Kuching
6th-12th Dec - Kuching
12th Dec - morning flight to JB - sister arrives in Singapore on the same day
13th-18th Dec - the Poh sisters gallavant around the island
19th Dec - bus from JB to KL
19th-22nd Dec - KL with family
22nd-8th/9th Jan - Ipoh
Plan B:
2nd Dec - morning bus back to Ipoh
5th Dec - night bus back to Singapore with sister
6th-12th Dec - the Poh sisters gallavant around the island
13th Dec - sister goes back to Ipoh - Sze flies to Kuching
13th-18th Dec - Kuching
19th Dec - Fly from Kuching to KLIA
19th-22nd Dec - KL with family
22nd-8th/9th Jan - Ipoh
Hoping to get everything settled by this weekend. No Sydney, no Europe. But shall make use of this time on the little projects that I have laid out for myself :)
::::

Zoukout?
I'm a self-professed not much of a clubber but I wouldn't mind going for
Zoukout
this December -- sounds like fun. It'd be really fun if I could get the D3 girls to go together (complete with Jerraine and Serene, of course) -- we haven't gone clubbing together for so long!!! 28 buckeroos ain't too bad :)
But it coincides with KK's wedding which I absolutely must go for :)
Plus Jer and Ser won't be back by then.
So no Zoukout for Szelyn this year.
Let's go for it next year (early plans, eh? I
suakoo
la -- never been before
marrrr
)
::::

The Ashley Madison Agency - Romantic Rendezvous' for Attached Adults
This has got to be a joke.
I suppose not. It's just the world getting a tad mad.
Why bother getting married at all? Why bother staying in a relationship at all,
when monogamy becomes monotony
is even a registered trademark for this agency for "Attached Adults"?
An excerpt from their FAQ section...
Q: Are there any 'Singles' on Ashley Madison?

A: There are many single people on Ashley Madison that wish to meet attached people for various reasons.

If you are single and wish to meet an attached person, you're probably going to have to try a little harder. Single people don't have as much to risk and you may find some attached people unwilling to take a risk with you.

People in relationships may feel that you have an upper-hand and that you may not be sympathetic to their circumstances. Take your time to build an additional level of trust with attached people you wish to meet.

Alternatively, single people have more flexibility with their schedule & are usually more available. Singles are more apt to work within your limitations since they have few boundaries. Single people can also be more fun to be with - their guard is down & they don't care who sees them.
Man....
::::

Lee Hui Siang is 21!!
Hui Siang: Eh, after cut cake got programme or not ar?
Justin: No la (in reality - NO -- the guys had no plan to do anything to our birthday boy at all)
Phong: Wah we have so many people here you think we won't do anything to you?
[some idle chatter for approximately 2 minutes]
Hui Siang: (lies down on his own on the C4 bench) Aiya come la!
(those of you who know who Hui Siang is, please imagine him lying down and giving that invitation)
As of now, 11:50pm, approximately 12 guys are armed with pails and ice and rope and hair gel and I dare not think what else in the C4 toilet, accompanied with much painful shrieks.
Asking for it la.
*twiddles off to some more Romanticism notes*
::::

The Ups and Downs of the Bittersweet Student Life
Hastily completing 2 potentially grade C exam essays for a module that you like-- BAD
Feeling down only to receive an A- for a pessimistically handed-in term paper -- GOOD
Feeling happy only to remember that there is Romanticism paper at 9am the next morning -- BAD
Realising that it's one down, only four more to go -- GOOD!
Dang.
I loved the module but I did horrible today. Positively getting negative grades.
Gah. And I used to pride myself for being the first one to walk away while my competitive classmates compared papers.
Gear up Sze!!
::::

For those who are overseas....
Check this out:
Malaysian Idol Viewer Site - The Show & The Videos
. A wonderful site with all the clips!!
My personal favourites:
- the one with the Barbie girl and the yellow shorts guy (Ep 4)
- Jac's "Sweet Child of Mine" clip
The site is quite enjoyable for one to just click and watch the clips - some are so good (and so bad) till it makes my hair stand :)
::::

Rambling
As I was talking to Yuan last night, a thought came to my mind amidst our conversation which I brought up to her: It's easy for us to say that we want this and that for our future simply because we are of the 'elite' group. Though it may seem that EVERYONE has a degree these days, face it -- with every person holding a degree there are probably at least 8 more out there who have dropped out of primary school or secondary school.
My American Law lecturer insists that we are in the elite group as we are the intellectuals who have made it to uni and I believe so-- most of us went through the whole system of top schools and later on, the best university that we can afford to go to. Hence, what I see is that we have been programmed to think in a certain way that a lot of times, we expect the whole world to revolve around us and us alone.
How many times have we heard someone grumble: I can't stand it here! The system sucks!! And some of us are lucky enough to have the resources to be AWAY from the system. And some of us look back to those who are still in the system and shake their heads and think, why are these people so stubborn and unwilling to make a change for themselves? This, I claim guilty to that. Like it or not, being in this 'group' we do have more resources compared to others-- we can afford to change and break out - so many others can't.
I am not too sure where I am getting at -- was discussing this with Justin on our way back from Orchard just now. He had an HRM paper this morning which asked something about working within our given circumstances. Interesting point that he brought up was that (according to George Bernard Shaw) circumstances are not given to us. It's either we go and look for them or create them. Our conclusion was that we should stop complaining about circumstances and whine that things cannot be done because of the situation we are in -- if we have the resources, we can jolly well go out and look for new circumstances in the way that we want them to; and if we don't have as much resources as the other person, we would need to create it so that we can live in it.
Not making much sense eh? But it was a pretty interesting conversation that Justin and I had. Another thing that we were talking about was also the way we treat others or view others. So many times we are like .... eh how come that guy acts like that? or how can she think like that? .... when other people choose to do things differently (not necessarily the bad way -- then again, who are we to judge?). I think a lot of times we fall into the trap where we are so used to the mindset of the friends that we have, that we can't exactly accept/comprehend the actions of those who are slightly deviant. Just because we spend money in a certain way does not mean that others would have to do the same. We are so accustomed to being with people of the same background that many times we fail to see the big picture and realise that the world does not revolve around us alone.
Sidepoint but Justin and I were also discussing how many of the people I know back home have mainly 3 purposes in life:
#1 Make lots and lots of moolah
#2 Get married (preferably to a rich guy)
#3 Get thinner (ha!)
So we were saying, there is so much more in life. Maybe that is where the academics come in in this present society. To do the thinking and analysing for the common person who are too busy fulfilling the above 3 purposes. I don't think I am anywhere near that group of intellectuals. Not 'there' yet, as the Singaporeans would say. But I'd like to think that I can actually work towards that.
Allan Luke, a linguist (and educationist (sucha word?) I believe) came to speak to us at CDA lecture a couple of weeks ago and he said:
"You will leave university with more questions that you started off with, I hope."
Which is precisely what I feel right now, halfway through university life. I suppose I entered uni thinking that I knew quite a bit and came in trying to learn more and KNOW and be certain about more things. Maybe it's due to the fact that I am an Arts student but I feel that I will walk away with more questions and less certainties. Previously formed assumptions have been broken down. I tend to question more and more.
One thing for sure though: I want to walk away from this all, seeing the bigger picture, seeing that there is more to life.
::::

Ha.....I knew it!!!!
You're Anne of Green Gables! Spirited, imaginative
and kind-hearted, you love everyone and
everyone loves you.
Read more about Anne Shirley in L.M. Montgomery's
ANNE OF GREEN GABLES, ANNE OF AVONLEA, and ANNE
OF THE ISLAND.
Which L.M. Montgomery Heroine are You?
brought to you by
Quizilla
I've loved the
Anne
series ever since I was about 10 and there you go, told ya I am Anne Shirley ;)
::::

An hour plus well spent...
in MSN conversation with Sharon otherwise known as Yuan Yuan, Ah Yuan...whatever. This is one woman who made me so glad when she returned from UK - one of the few girls from AMC whom I am still in such close contact with. Talking to her on MSN, reminiscing our good ol' singing in the middle of the class days, coming to the realisation that we are women and no longer schoolgirls, talking about people and viewpoints and relationships, etc.
Sharon Cheng, we must meet up in December. Ha don't even know if the woman remembers this site.
::::

Britney lookalike
Look ma, I
look just like Britney
!!!
Read the accompanying text. Carefully. Don't say I didn't warn ya.
::::

Anybody remember this? Or know of this for the matter?
Now, this is
a set of VCDs
that I've wanted for a super long time. Took a break from Keats and watched a bit of Young and Dangerous 3. The only Cantonese one that Justin could find. Ah, the cheena-ness within me is all out. Haha. I saw this boxed set at JB going for a couple of hundred ringgit. Ah well.
This makes me confused at times. While I am more comfortable with the whole English-y scene and all that, I've grown up with much HK influence. That, coupled with my Chinese school background, leaves me somewhat in between.
I am an English-Canto-speaking Literature in English major who relishes in her Canto-pop, Hong Kong films and series, was addicted to Meteor Garden *blush* but yet is always ready for a good English (oh all right, American) film in the theatres.
Anything to distract me from studying, really.
::::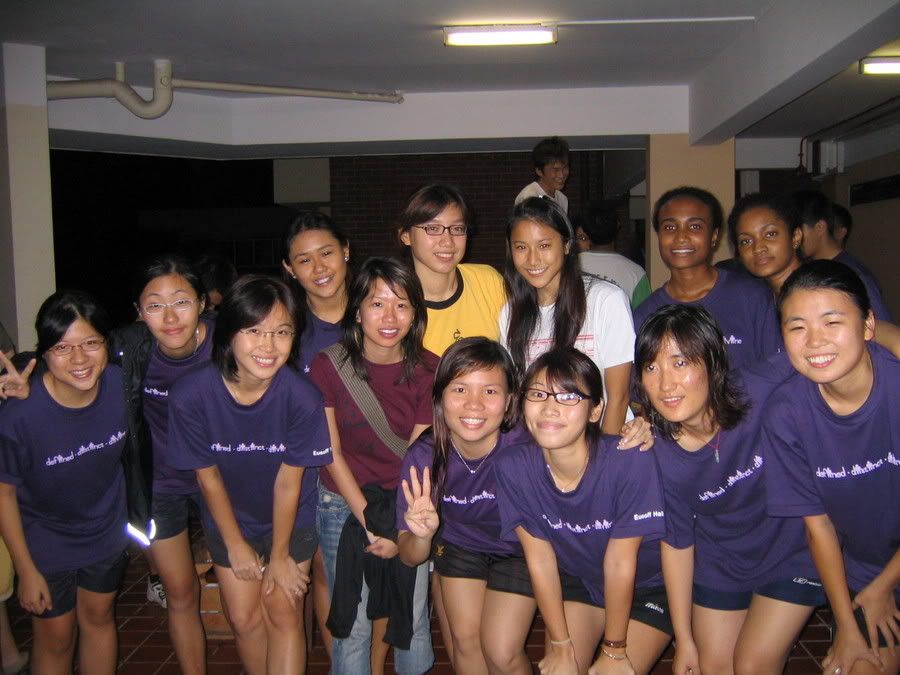 The girls on my floor. Yea I know I stand out (as if I don't already by being at least 2 sizes bigger than the rest) -- it was just cos I had worn the block tee for dance practice the other day and it was in the wash. Anyway, gorgeous, ain't we?
::::

If...
"If I speak in the tongues of men and of angels, but have not love, I am only a resounding gong or a clanging cymbal. If I have the gift of prophecy and can fathom all mysteries and all knowledge, and if I have a faith that can move mountains, but have not love, I am nothing. If I give all I possess to the poor and surrender my body to the flames, but have not love, I gain nothing."
1 Corinthians 13:1-3
My version?
If my parents understand why I choose not to follow in their beliefs and that they can finally open up to God and I do not honour and love them as He has commanded me to, I am nothing.
If I wow them with yards of inspirational verses and dole out "spiritual" advice and I have no love for them, I am nothing.
If I can finally dance well and actually understand all those French terms that pops out ever so often during dance classes and I do not desire to use it to spread His love and I do not love fellow dancers, I am nothing.
If I can produce straight As students who later go on to be successful individuals but yet I have no love for them, I am nothing.
If one day I can say that I've forgiven and forgotten the hurt that has been caused onto me by others and I do not love them, I am nothing.
This list could go on and on. Man, do I have loads to learn.
As Amy Carmichael puts it,
That which I know not, teach Thou me, O Lord, my God.
::::

From Joy, again :)
Firsts:
First Best Friend: Catherine. We were both ang-moh-fied little girls sitting in a Chinese class. Dress up. Barbies. Sleepovers. Yea we had it all :)
First Car: Forest green Kancil which belongs to the sister now.
First Screen Name: sZes
First Self-Purchased Album: Beverly Hills 90210 OST
First Funeral: Probably my maternal grandfather. When I was REAAALLLLY little.
First Pets: Chicks. Which later grew to become chickens, of course. Strangely, I don't have any recollection of what happened to them after they became chickens...
First Piercing: 8 years old. Both ears.
First Kiss: Let's not go there.
First Credit Card: 18.
First Enemy: Probably at 19? Haha. Don't know if that qualifies but we are on pretty ok terms now :)
First Musician you Remember Hearing in your House: Probably Sam Hui. OR Bee Gees.
Lasts:
Last Cigarette: Never.
Last Long Car Ride: Probably June, when Justin drove Jamie and I out to the rural areas of Kuching.
Last Good Cry: A couple weeks ago, probably.
Last Library Book Checked Out: Something about Foucault and feminism.Can't remember.
Last Movie Seen: New Police Story. Dang it was GOOD!
Last Beverage Drank: Ipoh white coffee ice blend with a shot of vodka. It was good, though.
Last Food Consumed: Hall dinner.
Last Phone Call Received: Aaron Mak. hehe.
Last Time Showered: 10 minutes ago.
Last Shoes Worn: My pink flip flops.
Last CD Played: Joy's mixed CD.
Last Item Bought: Lunch.
Last Annoyance: Don't remember.
Last Time Wanting to Die: Never.
Last Disappointment: Term papers.
Last Shirt Worn: Navy blue tank.
Last Website Visited: Gmail.
Last Word you Said: Don't remember.
Last Song You Sang: 3 0624700 3 0624770 .... and it goes on. It's a George Lam song.
::::

What was supposed to happen:
Sze-Lyn studying (or rather, re-reading) 2 sets of readings for American Law along with soft music in her room.
What REALLY happened:
Sze-Lyn with Justin in Ben's suite room along with a group of other exchange students drinking and playing games and generally being silly.
I am screwed. I suppose I can attempt ONE set of readings now.
::::

Within 2 months....
the boyfriend has transformed himself from twist-permed jappy hair to a skinhead.
And I haven't even plucked enough courage to get a really short haircut.
Maybe....just maybe.....
::::

Baffled
If
NUS is ranked #18 among the world's top 200 universities
, can someone explain to me why NUS does not even appear on this list of top 100 world universities,as released by
Shanghai Jiao Tong University
?
::::

CCTVs on the streets
First, it was CCTVs all over NUS (we make funny faces at the ones installed in hall- nobody really looks at them anyway) and now,
More 'eyes' to help fight terror
.
To fight terrorism. Ah well. *plans to make more funny faces down the huge city streets*
But lemme tell you a story about the efficiency of the CCTVs at NUS.
A friend, H, had lost his wallet at the NUS swimming pool area. He reported it to the relevant security personnel who retrieved the tape and lo and behold, a guy was spotted taking his wallet out of his bag!!
And what was done? Nothing.
NOTHING.
Really.
And a couple of weeks after I heard of that incident, a policeman who came to give a crime prevention talk in hall spoke to me, relating how wonderful the NUS security systems were, that they were even better than the ones he has at the police station.
Still. NOTHING was done.
::::

Slack Day
Despite a Feminism paper due on Monday, I went ahead to Katong with Justin and Daniel (a Canadian exchange student) for food and to visit Justin's aunt and erm, more food.
It turned out to be a lovely outing ;) Started with Katong laksa (which I had for the first time after 2.5 years here) and was faced with Kuching laksa the moment we stepped into Justin's aunt's house about 15 minutes after that first meal. The boyfriend who has been missing home with all its food was obviously overjoyed, so the guys had a bowl of laksa each while I picked a little from Justin's. The end of the trip was mainly ice cream from Marine Parade and a walk to East Coast Park, talked everything about nothing, and we had Lok Lok :) Albeit the modern kind where it's indoors :) What's interesting about this shop is that they converted a lorry into a sorta display area for their food (where the customers can just pick and choose) and the cashier area.
We also came to the conclusion that lok lok originated from poor people who didn't have the money for steamboats dinners at restaurants and hence they had to stand by the roadside to share food, a pot of hot boiling water and pots of sauces with other people at a much lower price. Now? Lok lok is possibly as expensive as eating actual steamboat :)
Oh and by the way, I joined this contest organised by a certain slimming center (name concealed to protect whatever bad reputation that they already have). It was pretty easy - take a key and try to open one of the 9 locked boxes. I was aiming for the top prize of a DVD player. Anyway, they were cheering as I won a voucher for an ultrasonic treatment worth SGD180. Of course, the consultant asked me to step aside to 'explain' the voucher to me. I was like....errr I am in a hurry my friends are waiting for me while thinking "the letter is in simple English which is pretty comprehensible thank you".
She frowned at me and said, "Oh but you have to sign it."
So I trotted behind her and signed the letter. ( I later realised that it was probably to prevent me from transferring the letter to someone else, silly me.) And she proceeded to tell me about the wonderful slimming treatments that they have on offer at the moment.
I REALLY WAS NOT INTERESTED. So I said, nah it's okay. And then she went on, oh you have to make an appointment for your free treatment blah blah. I am like, oh ok. And she goes on again about the wonderful slimming treatment and the facials. ESPECIALLY the facials.
Now that's a sore point with me. My skin may not be flawless but it was better than hers. Bleh. The only person who has ever said that my skin is BAD and is in dire need of a facial was a BEAUTICIAN whom I was helping out in one of the hall's bazaar. For the record, she said that the miniscule spots underneath my eye was VERY BAD and incurable but her center could help me blah blah.
Hence I said, I am not interested in facials and stuff. She gave me a huge black face and turned away! Daniel said later that we couldn't really blame her as she has just lost a huge commission. I suppose so, but it didn't warrant such attitude. It brought to mind one of the forums I was reading while doing my research: A consultant from this same center had said "Oh is that your boyfriend waiting for you outside? He will dump you for sure cos you are so fat."
This, coupled with SY's post about dumb Apple girls, just momentarily made me lose respect for most saleswomen.
But it was really fun -- it was like Justin and I in the older days just walking and walking about looking for food and talking nothing and having Daniel to join us was really fun too :) So we are looking forward to Monday night where quite a lot of us are going to brave the crowds at Geylang Serai for buka puasa food.
Food. Haha.
Paper. Boo.
::::

Anyone has anymore to add to this list?
Haha chanced upon
this site
while randomly surfing AGAIN.
My pet peeve is bad spelling. Like 'wierd'. Like 'Micheal'. Like 'seperate'. Like 'ocassion'.
Wait, I take that back. My bigger pet peeve is 'skool', 'lyk', 'mi' and the list goes on. In fact, this was part of the reason why I quit tutoring a Sec 2 boy. He insisted on writing like that, claiming that his school teacher allowed him to. I had to spend one hour of the lesson every week making him rewrite his essays with correct accepted spelling and punctuation! *yes he has not known the existence of the full stop.*
Grar. Dance performance tonight sucked though. I felt naked, the knot on my oversized shirt came off, I wasn't ready to perform and messed up my steps. Grar.
Off to dinner.
::::

Lettuce? No thanks, I'm on a Gravy Diet
Random surfing after completing yet another essay led me to
The Gravy Diet Revolution
. Take a look at the recipes: ingredients include 1 cup sausage/hamburger grease and 1 dose of laxative powder, among other gross stuff.
Uh I think I shall stick to dance and veggies, thank you very much.
::::

Rainy day post
For those of you who know me well, you know how
cheena
my music tastes are ;) Yup I love my jazzy and accoustic stuff but I have this thing for Canto-pop. Especially on rainy days -- Jacky Cheung and Andy Hui's crooning....hmmm.... :) hehe.
I never realised that I have
this song
in my computer -- it's a flash music video -- used to get these music videos all the time from my friends and I'd be wondering where they came from: now I've found this few HK websites which has a whole load of 'em. Anyway this song is Jacky Cheung's "wo de xin zhen de shou shang le" but I like the Canto monologue that's in it ;) SY -- me trying to look for the drop-dead romantic Andy Hui song that I've been waxing lyrical about :)
And Wye Meng,
these
bring me back to those prefect gatherings back in AMC-- where I was re-introduced to Chinese songs.
This
was when Justin and I went for Leehom's concert 2 years ago.
Ahh...rainy days are good for work and listening to music. More of listening to music and less of work though ;)
::::

Bits and pieces again
Good:
- satisfied craving.
- new discovery.
- good ol' conversation.
Not too good:
- tattered top.
- pop quiz.
- delayed essay.
Bad:
- end of term papers actually equals to liberation.
- being sleepy all the time.
Weird:
- reading
The Real Thing
without realising that I have finished it.
My thoughts are not too coherent right now. Papers, be gone!
::::

Randomly
American Law paper -- check.
Romanticism paper -- check.
The last time I pulled an all-nighter to complete 2 essays, I swore never to do it again. I had finished the Romanticism paper on Saturday but I was stuck in a bit of a rut for the porn paper.
So I pulled an all nighter last night. I obviously never learn.
Ah well.
People to add to the 'should-be-shot' list:
TH guys who think that it is hillarious to amplify their voices through some microphone thingy, laugh and shout and shriek (I was told later that there was NO soccer match at that hour!!) at
3am until 4am
in the morning.
Have just finished watching the latest episode of The Apprentice 2. Episode 8 I think.
I want Kevin to win!!!
Felt pretty smug when I predicted accurately that ********* (name concealed to protect the innocent who have not watched it) would be fired without bringing in other people, as per normal procedure.
Oh check
this
out. The photo gallery's good for a couple of minutes of procrastination.
::::