ARGH
Day
: Thursday
Time
: 4:15pm
Venue
: Clementi MRT
Destination
: Much postponed tuition class and much overdued fees
Emergency event
: Phone rings. Silently mutter "oh s***" under breath before a glance at the screen confirms greatest fear at that point of time.
Conversation
:
Student A: Teacher, I can't make it for 5pm today. I have extra lesson at school today at 5pm.
Me : At 5pm?
(thinks to self: which moron school gives information about extra lessons on THAT DAY ITSELF?!)
Student A: Yah. Can you make it tomorrow or Saturday? Student B (
his friend is another student of mine too)
says you have a class with him tomorrow. He said it is confirmed. He can make it at 5pm tomorrow.
Me : 5pm? I've already told him last night that I can only make it between 4pm-6pm for him. I need to be at Queenstown by latest 730pm.
Student A: I'll confirm with you later tonight. He will call you later. Should be Saturday.
Me : *fuming* *mental note to self: maybe tutoring girls are better*
What can I say?
It's all about the money...
::::

Remember those tear-out paper doll sheets?? / Mid Autumn
I had fun with a virtual version of it yesterday. Presenting....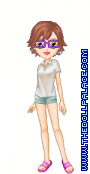 Me with glasses, tee and shorts >>> in room studying/essay writing/nothing-ness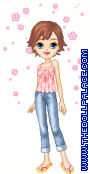 Regular day of school/out.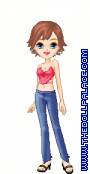 Clubbing?
Of course, this ain't REALLY a good reflection of what I look like. Add about 30 more pounds everywhere, and you'd have it just about right :)
It was Mid-Autumn Festival 2 nights ago and I have been desperately trying to recall this Chinese proverb (one of those
ming ju jing hua
that we were made to memorise not too long ago - my A2 is down in the sea!) which says something about Mid Autumn and reunion. Ah well.
Felt slightly reminiscient that night as I remember those nights at Taman Gamelan (for those of you who know Ipoh well, Taman Gamelan is this, well, dirty would be an understatement, housing estate near Menglembu) when I'd be running around with the neighbourhood kids on Mid Autumn night, scraping knees and what-not. One particular memory was the boys' cycling race but the rule was that they must have a girl behind them. I was so freaked out! Of course, the guy who had me on his bike didn't win - the one who won had a 6 year old with him or something.
D3 had a celebration that night :)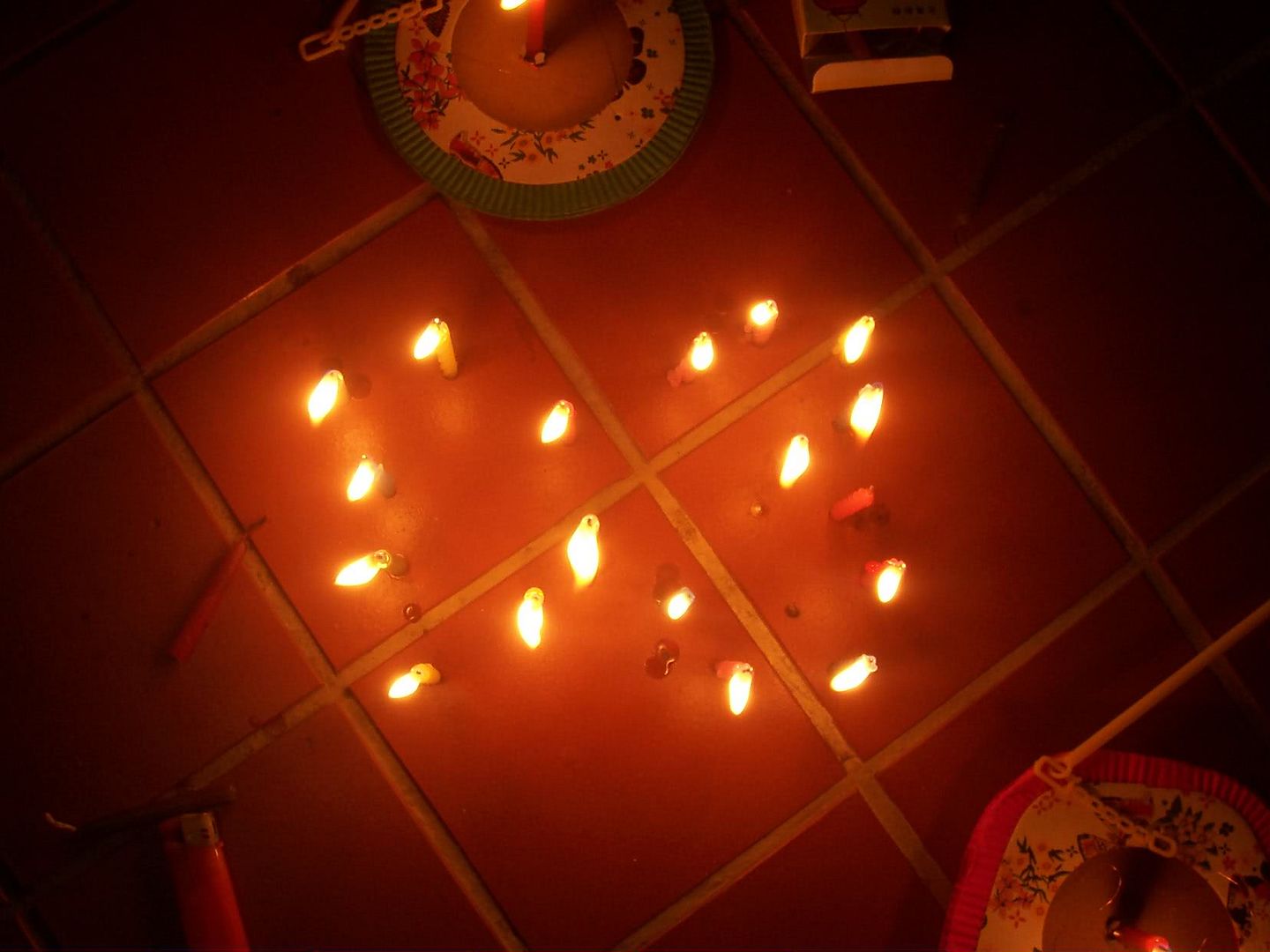 Then we met the B4 guys /B3 girls while we were on our way out from D3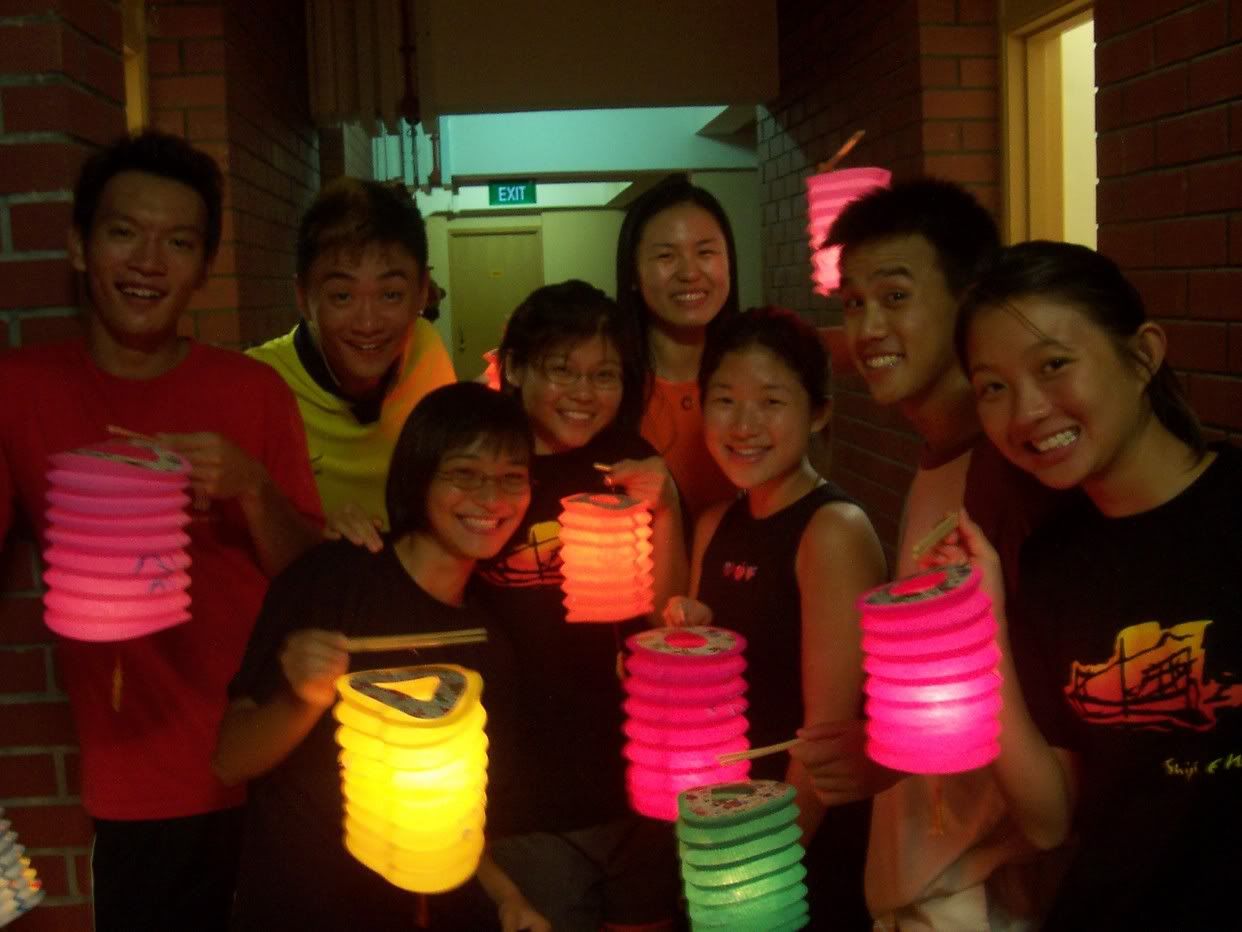 And to E3 we gathered!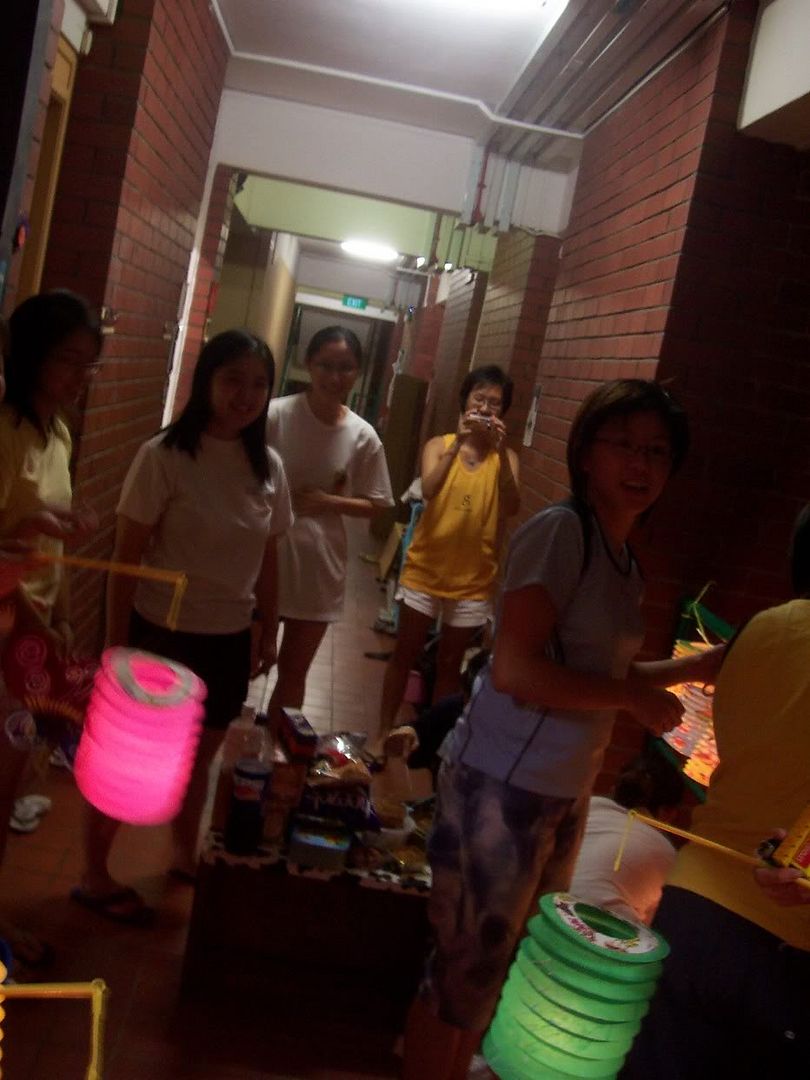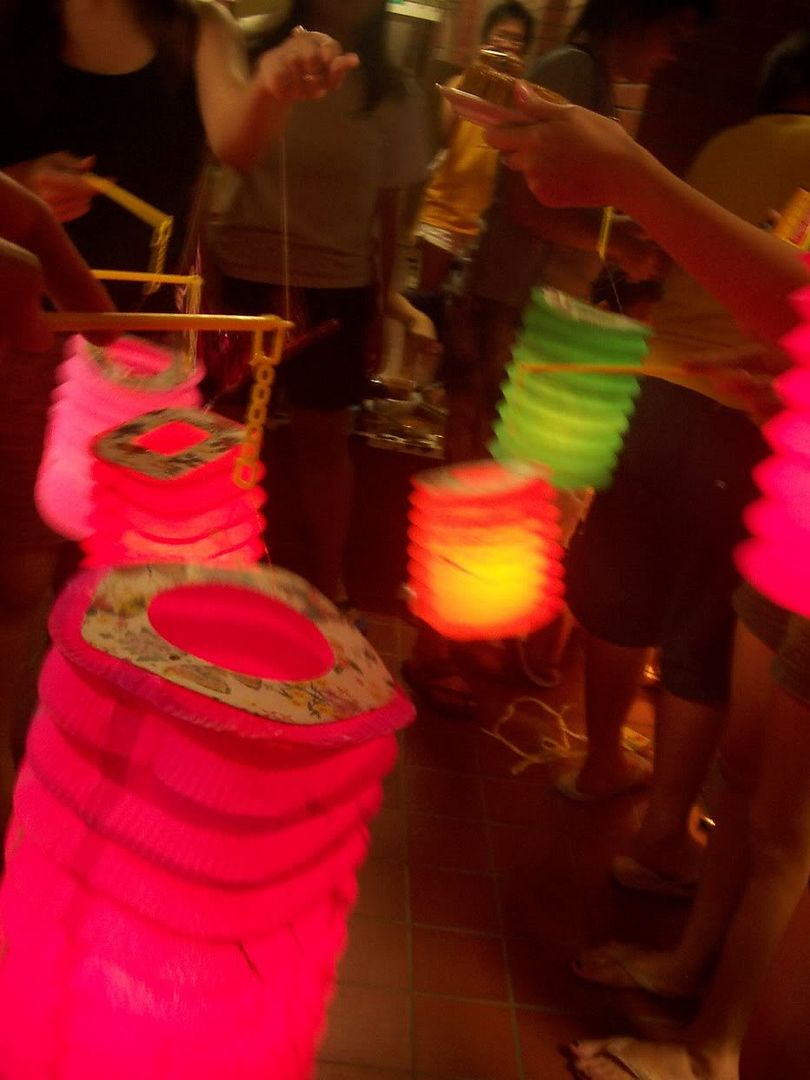 And the night ended with burnt lanterns....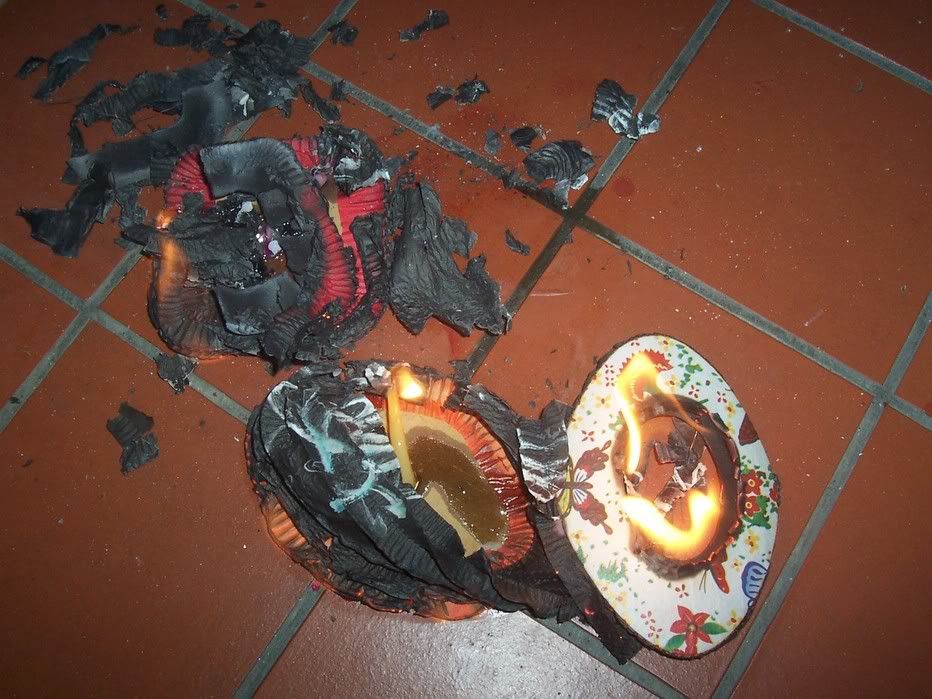 and sparklers (maybe it's a good thing that hall doesn't have smoke detectors)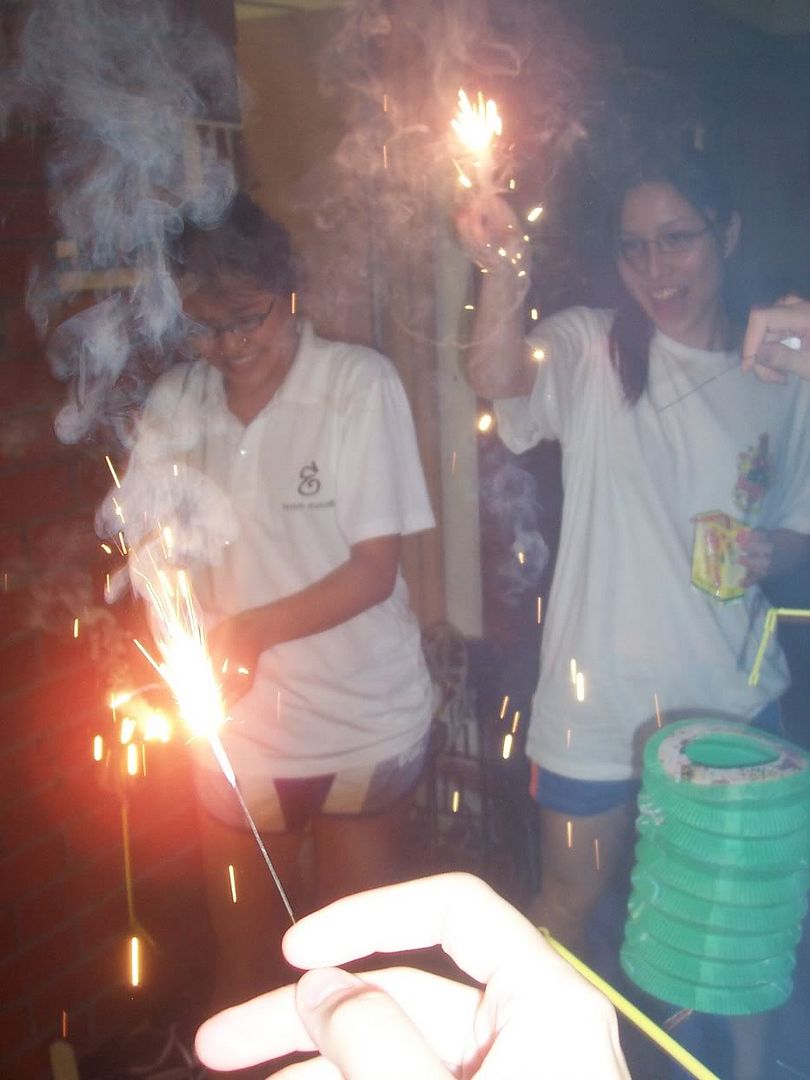 One year ago..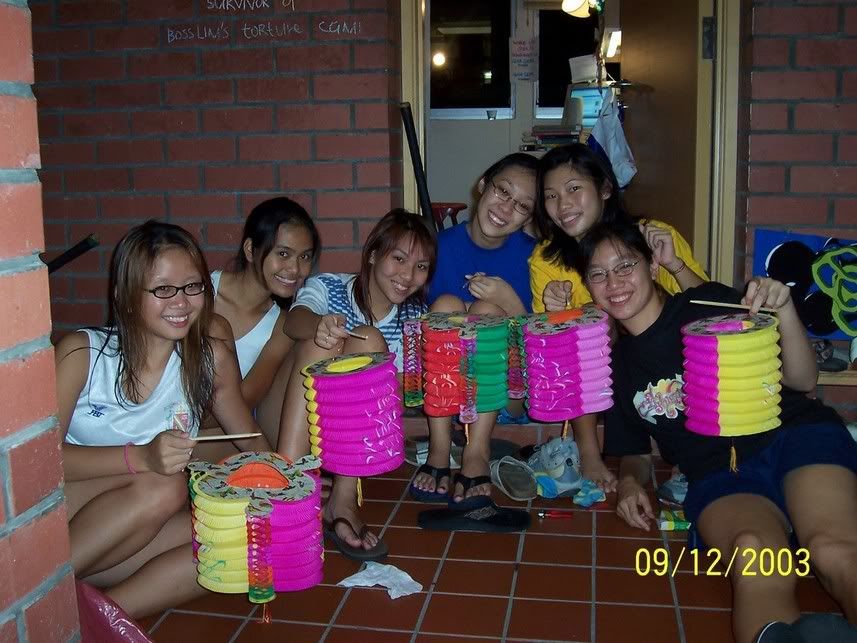 And now....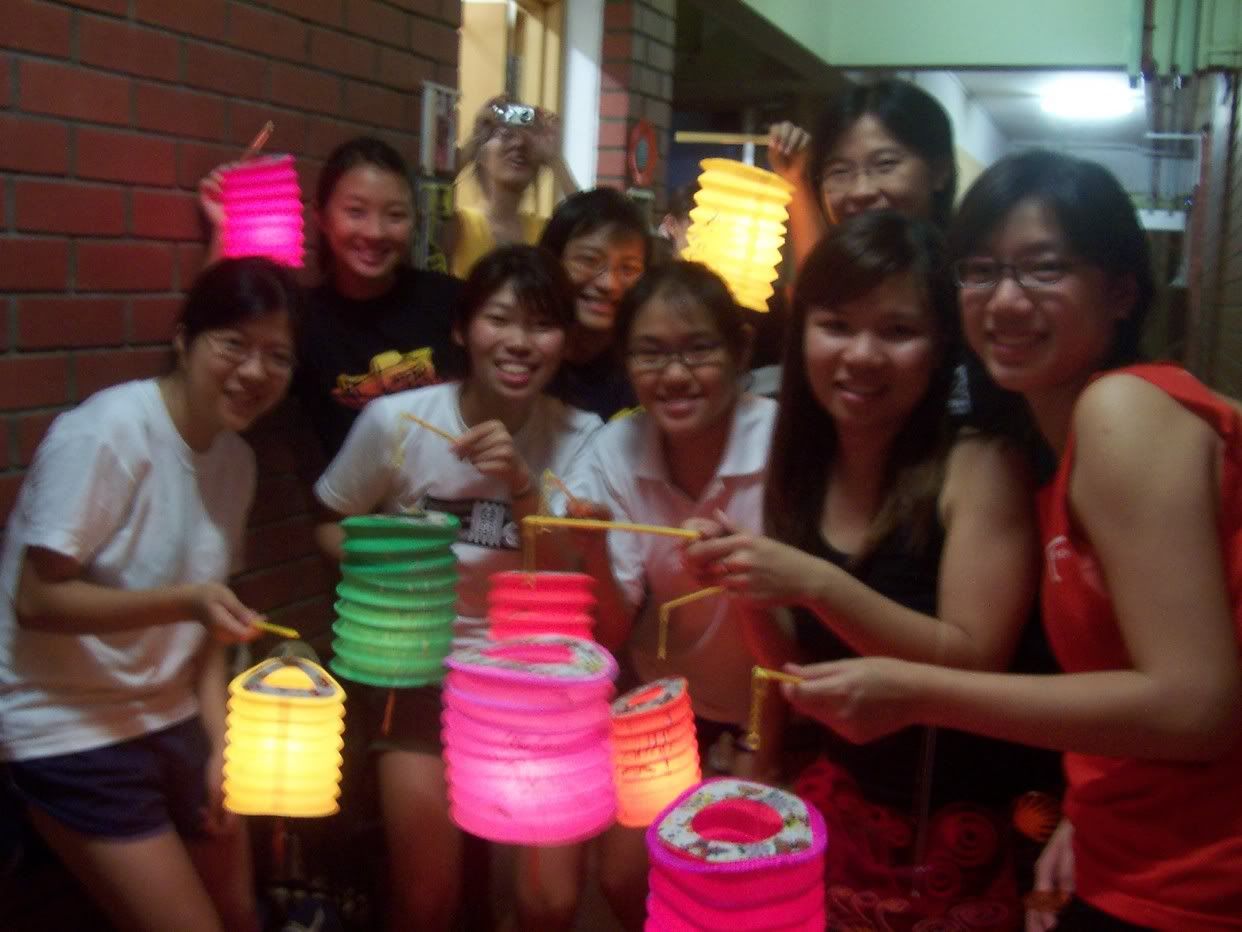 Here's to another great year together, girls :)
::::

I've killed plenty of trees today.
Having a stuffed nose and sneezes that come by every 5 minutes or so is not fun. Not especially when you are tutoring someone on *aitchew!* DH Lawrence's "Beautiful Old Age". Anyway, I did survive tuition today.
It all started on Thursday night when I was feeling quite unwell - feverish kinda thingy. I then decided to call it an early (fine...earlier) night by going to bed and promptly falling asleep at about 11pm. Woke up at 7am feeling fresh and energetic. Patted myself on the shoulder, did some readings, had a good breakfast and went for my Critical Discourse Analysis class at 9am.
Then is all started again. NUS people know how biting the air conditioning can be in NUS. Anyway, this class was in one of the smaller classrooms in AS7 so it wasn't too bad, the temperature was still manageable. But for me? I was freezing while feeling mega hot WHILE having a migraine. And I chose to stay on for the 3 hours cos I really really like that class. Ah well.
Went back to hall and made a stupid decision to go to Clementi for lunch with Justin, thinking the 'exercise' would do me good. To quote Justin : "You look quite dead." Cancelled my evening tuition and called up Michelle to say that I couldn't make it for prayer concert that night.
Nursing the horrible fever, stupid me went to support IBG volleyball cos I thought I felt better. I thought wrong. Made dinner, ate dinner, popped 2 paracetemol tablets (courtesy of Janice Ong, Hovid Sdn. Bhd.) and felt way better. But that's not the end of the story.
In short, the fever came back last night. Justin and I had just finished watching the last episode of this TVB serial we were faithfully watching and I felt really really woozy again. Took 2 FEBS. Didn't work. Decided to just sleep it off while Justin got 2 Panadol tablets from Weifeng. And I THINK (Justin says so too) I was tossing and turning throughout that 2.5 hour sleep that I had - had this weird dream which until now I can't articulate, much less last night when I started talking to Justin in a slightly drunk manner. Oh, and I have a bruise on my head too - hit my head against the wall when I was tossing and turning. Ah.
But I am alive and kicking now. Having a stuffed nose means the end of the fever for me. What an exciting way to end this weekend. Term paper proposal and feminism assignment due tomorrow. Whoopee.
::::

Oh hello, you are a woman now? No problem!
This is freakin' funny. I am registered with this online tutors agency which allows us to log in to check the available jobs etc with lotsa funky cyber junga wunga. At the very top of the list of available jobs, you can either choose to view 'ALL' or 'You are female (meaning to view the jobs that specifically request for a female tutor)' or 'You are male'.
And next to the 3 links, there is a link to 'Update your gender'.
Buaahahahhahaa.
Back to my paper on pornography :) I am having an interesting semester - just finished a term paper proposal which is a critical discourse analysis on the Marie France website. Figured that since I am so obsessed (well, not really obsessed, going by the way I was stuffing my face when I was home) with my weight and build and all that, I'd might as well do a paper to dismember the language of Marie France Bodyline, for just the heck of it.
And it IS pretty interesting. Was doing some research on slimming centres in Singapore and I stumbled upon this forum. These women were comparing the treatment (usually horrid) they received at the various centres.
Scenario A:
Potential client: I don't want to sign up.
Slimming centre rep: You don't want to sign up for this toning programme? Confirmed you will put on a tonne of weight!
Scenario B:
(Potential brings along boyfriend who waits patiently outside the centre)
Potential client: I don't think I want to sign up.
Slimming centre rep : Don't sign la. Your boyfriend out there will dump you for sure within a year or two because you are so fat.
Dramatic eh? these are just 2 of the many scenarios that I picked up from the forum. It's back to the good ol' exercise thingy for me ;) Which by the way, the Marie France website has a page called 'Health Advisory' which they tell you to cut down on fats, eat more veggies and fruits, drink more water, the works - basically things that your teacher tells you in school. The best part is? 'For more health advisory, please contact our slimming consultants.'
I don't think I need to pay someone to tell me to eat fruits and veggies and exercise. But maybe some people do. Oh well.
::::

There but not quite.
I am at home, blissfully enjoying every second of comfort as I sprawl on the yellow couch, flip channels, eat and eat, drive out whenver I feel like.
But it's ending tonight.
Gah. I want to stay at home until I am sick of Jusco and Parade. That's my definition of being long enough at home. And I'd have to wait till December for that.
Boo. Await me in the morn, Singapore.
::::

And it's me and the big yellow couch again
Me is home. Justin and I had dimsum for early early breakfast.Mom cooked lunch and dinner. Just came back from Persanjung (without eating but 2 rounds of drinks) with Jan and Siew Yee.
'nuff said. :)
::::

This is how you learn about democracy, kids
After talking to a close friend who is studying in Universiti Malaya (I was a matriculated student there for 2 days!), reading
this
made me feel really sick inside. Knowing how underhanded the tactics were, I am questioning every claim to democracy that was ever made.
Side note: Why is there a need for 'pro-government' or 'pro-opposition' candidates? To give them a real taste of the political playground? To encourage the practice of democracy?
And don't even get me started on that agreement that we were made to sign during the second day of school.
::::

Procrastination
eXpressive: 5/10
Practical: 5/10
Physical: 4/10
Giver: 6/10
You are a RPIG--Reserved Practical Intellectual Giver. This makes you a Rock of Gibraltar.
You are loyal, kind, thoughtful and conscientious. You're a good person. You make everyone around you happier and better, even if you yourself are not at your happiest or best. You just care so much about your friends and loved ones that you can't help giving them everything of yourself. It can wear you out, but you'd never let on.
You're successful, smart and fun to be with, but your self-esteem could use some boosting. You don't like conflict, and you don't like demanding things for yourself, so you can feel unappreciated. But then you wonder if you don't deserve to be appreciated. You do!
You have many small crushes, but it takes you ages to get to a serious stage with someone. You get so caught up second-guessing yourself and worrying if the other person really *likes* likes you that you never dare to make the first move. Generally you end up with another clever RPIG who knows one when s/he sees one. This adds up to one long courtship. Fortunately this also adds up to one long marriage.
You would never cheat. You would never hurt anyone's feelings. You are so sympathetic and give so many second chances that it takes a lo-o-ong time for anyone to get on your bad side.
Your only problem is you can be *too* thoughtful -- you can end up worrying and getting hung up over nothing.
You may be a boy scout.
Of the 80395 people who have taken this quiz, 6.5 % are this type.
hurhurhur. Self esteem. Nisha just told me that she hopes that I wasn't as insecure as I used to be when I was younger. My mind went like huh? I've always thought that I was an arrogant little (ok, maybe not SO little) twit.
Back to the essay.
Essay update: hitting 1000 words. but a hell lotta editing to do. Have planned out reward for myself tonight. Run to West Coast Park McD's and get myself an apple pie and waste that run away. Muahaha. Or there is always an ice cream cone from 7/11. Ah well.
::::

Concentrate and you shall see your reward.
Strangely addicted to Black Eyed Peas these days. I have no idea why. It's probably that night at Beach Club when they played "Where Is The Love" twice in a row that hit me hard. Or that night at K-Box when we were watching (yes we were WATCHING a couple of music videos in a karaoke) "Shut Up".
Gah. 1000 words to go for my Romanticism essay.
It's just me. When I start having fear for something, I procrastinate even more in doing the work for it. Similarly, I am freaked out by this module and hence more freaked out by this situation where I have to come up with 1.5k words about Romantic writers's flight to the past. I have the outline up and ready, which was produced with much difficulty because I was so scared to even come up with the introduction and stuff. So before I left for
The Terminal
(which, btw, is essentially a very much heartwarming chick flick despite having only ONE main female character)last night, I finished up the entire page (and more) of introduction.
Must finish essay by dinner time. Will then reward myself by getting out of my room, find somewhere to finish up readings for tomorrow morning. And to think of dinner at JB and going home TOMORROW.
Honestly, that is the only thing that is keeping me going right now. Just feeling mighty claustrophobic right now.
edit:
11:05am Progress - 785 words. However, my intuition and experience tells me that there is going to be a freakin' lot of editing to do as I foresee myself going WAYYYYYY beyond the word limit. 'Around 1500 words' should include roughly 2000 words too?
Listening to the "Honey" OST. I miss dancing.
edit:
11:22am Progress - No progress. Been editing and editing. Bad, I know.
Find myself increasingly drawn to The Simple Plan as well. I feel so teenybopper-ish, what with Black Eyed Peas and now The Simple Plan.
::::

T-I-R-E-D
I don't remember block initiation being so tiring. Bah. And I still have to churn out the Romanticism essay by Friday (somehow I just KNOW that I'd do a terrible job out of it).
And tomorrow night there is the charity movie screening of The Terminal. Let's hope that I can get some work done tomorrow morning/afternoon.
And Saturday morning is dimsum date with Yuan a.k.a. Sharon Cheng!
::::

S'porean robbed in JB - yet another case
S'porean robbed in JB
<<<< all these are just too familiar by now.
With the headline, one would think that this Singaporean was walking innocently down the street and a vicious Malaysian robbed him.
But no: In actual fact, he was in a goldsmith shop which was targetted by some robbers. Since he was in there, OF COURSE he was robbed AS WELL.
Yeah we all acknowledge that JB ain't too safe a place to go to. My theory is that because too many JB-ians are working in SG, what with the ridiculous conversion rates right now, they are earning much much more than the locals - hence standard of living goes up - hence all prices go up - hence some locals are left out in the rat race and HENCE the rate of theft and robbery.
But I digress.
I have problems with the way Singaporean press portrays the crime rate (more specifically, robbery and road rage cases) in Malaysia. It is always the oh-so-innocent Singaporean who is robbed/raped/murdered/whatever. All these can happen to just about anybody and not just targetted at Singaporeans. Okay so maybe the JB people can identify them (different wya of dressing, nicer cars etc) but still - is there need for the press to do as such?
Everytime I announce my plans to go home/go to JB for a breather, I will inevitably get the same comment: "You are going to Malaysia? Don't go! My friend's cousin's father's golf coach's daughter just got robbed there the other day!"
And I always reply with this: "I am going HOME!"
Bah. Lousy press.
::::

Anybody remember freevote?
There was this frenzy during Form 4/Form 5 ... y'know, those days on mIRC where the most
happening
people were constantly on #ipoh (I was sZes haha ... not very original) ..... the whole 'in' people in Ipoh kinda thing........and there was freevote.com <<<< or something like that.
I remember there were constant polls on 'cutest ipoh girl' or 'nicest ipoh girl' (vaguely remember being on that particular one for like 2 days and got booted out haha) or 'cutest guy' or 'sweetest couple' - haha. It's quite funny, remembering all that. Of course, it was really quite a popularity contest then - with all the people from the 'in' crowd of MC/MGS and SMI/ACS in there.
About 2 years ago Justin and I did a google search on freevote and we found many of the old polls - I saw the Ipoh ones and laughed and he saw the Singapore ones and laughed.
Ah well. This sprung to my mind as I remembered all the Friendster 'Hottest Girl' etc. New thing for each generation eh?
::::

Just random.
1 test down.
1 presentation down.
1 presentation to go.
1500 words for my essay to go.
4 more days to going home.
::::

Leisurely evening at City Hall
Met up with Chung Han this afternoon for sushi and frozen yoghurt haha :) It was nice seeing him again - and talking to Ye on the phone was nice too - it's weird thinking that I've known these 2 guys for 6 years already.
Was telling Han how weird I felt when people thought I was still a secondary school student and how I might need to seriously reconsider whatever I have in my wardrobe, present and future. We've agreed that 22 is a great age to be and to remain at haha.
After safely delivering Han to Marche for his dinner date with another girlfriend (I bet he has a little Black Book somewhere with all us girls' numbers) I didn't quite feel like going back to hall just as yet. So for the first time, I ventured into Pacific Coffee and sat down with a drink to read The Italian.
I've never quite understood how people could actually study in these coffee places, right smack in the middle of a busy shopping mall and all that. However, I spent a pleasant 2 hours on my own, a Peach Tea Chillino and The Italian. People were walking past non-stop but the soothing music in the cafe made up for all the busy-ness outside. I still attribute this good experience to The Italian though - it turned out to be a good read, contrary to what I anticipated with not much enthusiasm. It is one of the compulsory readings for my Romanticism classes by the way.
However, I don't understand one thing - why is it that the guys ALWAYS have to carry their girlfriend's handbags? right, maybe not specifically HANDBAGS but TOTES and SLING BAGS and SMALL PURSES.
Seriously? I bet many of us has seen happy oh-so-romantic couples holding hands walking through shopping malls and the busy city streets only to discover later that the guy is holing a MNG/Guess/Gucci
purse/bag either in his hand or on his shoulder. Girls bought these bags (oh so many of them, as yours truly is partially guilty of) to suit the different occasions, different outfits, different shoes and whatnot - not to be paraded by the boyfriends. "Dear can you get my wallet from my handbag please?" - *shivers*

Are the handbags really that heavy? Saw one guy today - he had a backpack (presumably his own) and a tote on his shoulder (presumably the girlfriend's). Many of the guys were just holding on to little bags!

Chivalry? "Here, I'll carry your shopping bags for you." <<<< That's chivalry.

I am not really trying to assert some viewpoint saying that holding their girlfriends' bags make these guys less manly or something....just that......CAN'T WE GIRLS JUST CARRY OUR OWN HANDBAGS????

No, Justin has not carried my bag before. Okay, maybe that ONCE or TWICE when I was struggling with a lot of clothes into the fitting room or something. But that's about it. *bleh*


::::


Feeling woozy and happy because....

- I haven't had such a fun time in ages
- I haven't eaten so much in ages
- Hui Siang and Justin are going home with me next weekend
- I feel like puking (ref: line 2) and nope it's not a happy thing

Lesson: Learn to put your bowl down in a steamboat dinner. Hah.

EHOC programme team celebrated our first 'month-versary' tonight with a steamboat dinner thanks to our RF in charge Dr. Ho. It was fun buying the food (thinking of the first steamboat that us main commers organised for the subcomm 2 months ago) and it was good seeing the programme team together tonight - albeit not all of them.

And Justin brought out the blender he bought last night. We had white coffee Milo smoothies and fruit cocktail + Absolut Citron smoothies. Yum.

And I come back to my room to the reality of readings and essays. Bah.


::::


For the two D3 girls who are at Pennsylvania and Vancouver respectively.

Jerraine and Serene, this picture below is for you: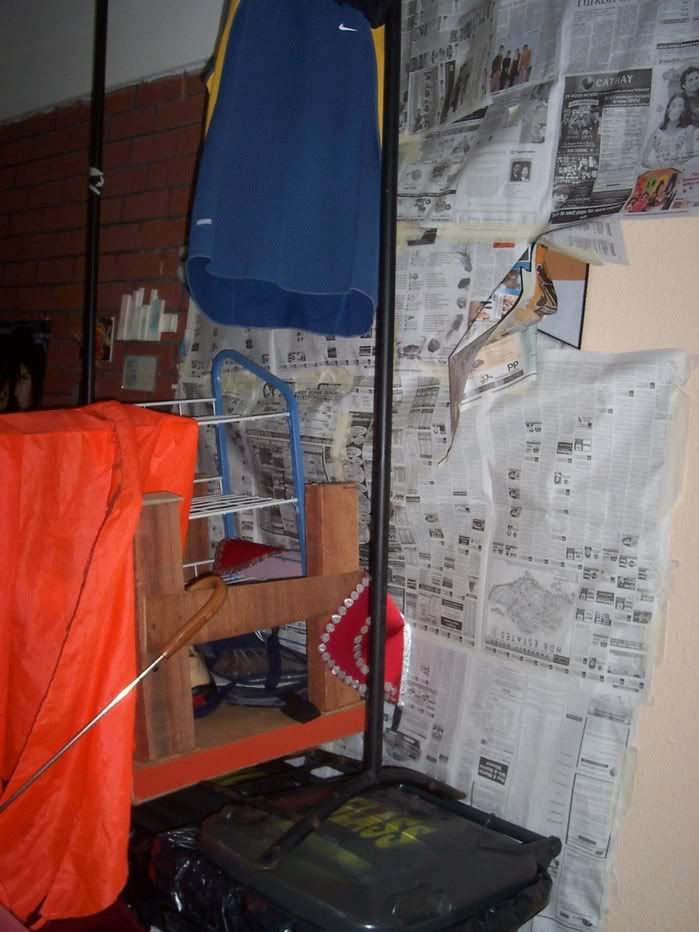 This is Hui Siang's room and something has been done to it. Why? Ask Maomao :) I have a video clip (which is more than a minute) of his reaction towards it when he came back from JB yesterday. If you want to watch it just drop me a note yea ;)

~~~~~~~~~~~~~~~~~~~~~~~~~~~~~~~~~~~~~~~~~~~~~~~~~~~~~~~~~~~~~~~~~~~~~~~~~~~~~~~~

Random pictures taken over the week....




Welcome Tea for The Ridge, the NUS publication. I am the features exec editor, which means that I edit at least 15 (mostly painful job) articles a month. Can you spot me? Hehe.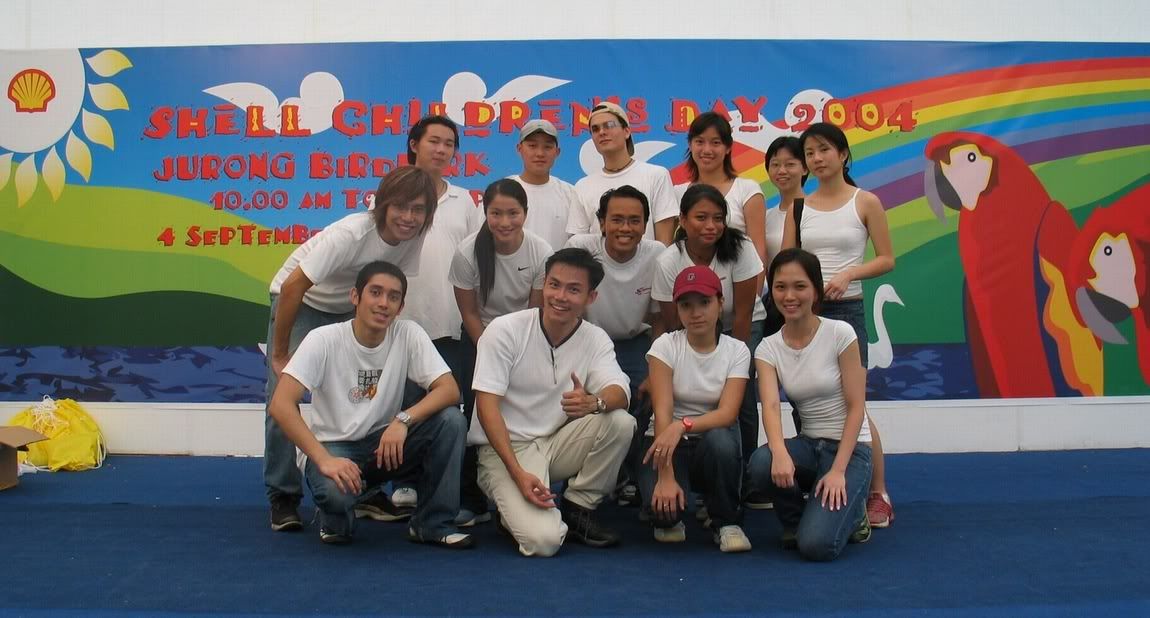 Was working on Saturday for this events management company, at Shell's Children's Day. I was in charge of the Bouncy Castle and the kids were violent with a capital V. Bear in mind it weren't the little boys - in fact it were the older girls of at least 10 years old who were creating most of the chaos. But it was quite fun in the end, albeit I didn't ask for the ugly tan line.

No more such 'happening' life for me :) Assignments and tests and papers and proposals are coming in - *welp*


::::


Harold and Kumar Go to White Castle

I have never laughed so much in a movie since, since....I don't know......but watching Harold and Kumar Go To White Castle made me laugh and wince and laugh some more.

You guys have so got to watch it. And oh, don't leave as the credits start to roll - you have to stay right till the end!

Perfect film for the Asian American lit class that I took a couple of sems ago - just, just watch it :)

*though I am not too sure how much they are censoring it in Malaysia........it's M18 here in Singapore.......*


::::


It's been a looooonnnnnggggg time

Thought of my old blog and decided to see if it still works. It does! I had it when I was in Form 6 - or was it Form 5? Somewhere along those years.

No one has read it except for myself and Justin. Flipping through those virtual pages again, reading of my past which seems so distant (though it's only about 3-4 years ago), all the stupid things that I've done (and now wish that I've never done) ... oh man.....

I think I am at the stage of my life right now that I am truly happy haha. I know what I want and *vaguely but quite sure also* what God wants for me and am working towards it. In a sense, I feel in control, as opposed to when I was younger and was feeling angsty about everything and everyone. In a sense, I think coming to Singapore has mellowed me. A senior once asked me, "Are you ok? You don't seem as bubbly as you were when you first came in." I think the biggest lesson I've learnt and am still learning is when to shut up.

I am glad I am where I am now. It was just plain embarassing reading about all the crap that I had back then. Bleh.


::::