My mom woke me up this morning sounding distressed. Apparently, one of my former students is getting into trouble again. Her mom and my mom are quite good friends and the mother asked MY mom to give me a call.
The problem was apparently this: She is refusing to do her schoolwork, hiding her homework (which she has done since Primary 1 - she is in P5 now) and has very recently been slapped until black-blue by her tutor.
The first thing her mom asked me was: Does her daughter have any learning disability? Not that I can diagnose but during the brief 4 months that I taught her, she seemed fine. Just....if I may say it....lazy.
And then there came a whole lot of questions: Are tutors allowed to hit the kids? What can be done for the child? Should they buy a computer for her? Why is she acting like that?
She also brought up a point which I regard as one of the low points whilst I was relief teaching: She pointed out that the teachers in her daughter's school just call them 'stupid' right in their faces after the kid asks a couple more questions. I don't deny that. I've seen them calling kids who are clearly slow-learners with specific learning disorders "soh geh" (meaning: crazy/mentally not right).
I couldn't say anything to the mother as I really don't know much. About whether a tutor can hit the kids, I really didn't want to comment on it cos that particular tutor is my brother's tutor as well - and she doesn't hit Ernie. I just said that it's up to the individual - I don't know of any hard and fast rule.
I suppose this is one of God's gifts to me - patience when it comes to dealing with children. This December holidays, my mom has partially accepted (grrrr) 2 short tutoring stints for me on my behalf. 1 is the above-mentioned girl (who claims that I was the only Math teacher that she understood) and another one is a 5 year old boy whose mom met me once at Meru and asked my mom to let me go over her place to give her son an 'intensive Chinese course'.
I am freaked out.
::::

Ripped off Siew Yee....
Name Four Scents You Love :
1. Estee Lauder Pleasures
2. Freshly powdered and moisturized skin :)
3. Lavender essential oil
4. Chicken herbal soup when I am up to making it :)
Name Four Things You Are Thinking About Now :
1.How tired I am
2.What songs to use for CG worship session tomorrow night
3.I shouldn't have eaten so much at the steamboat just now
4.Should I clean my room on Wednesday
Name the Last Four Things You Have Bought :
1.SGD8 white spag top at Tanglin flea market
2.Minced pork
3.Dumpling skin
4.Bread
Name Four Drinks You Regularly Drink :
1.Water
2.Oolong Tea
3.Green Tea
4.Honey water
Last Time You Said 'I Love You'?
A couple of minutes ago.
Last Time You Cried ?
2 weeks ago, probably.
What Color Socks Are You Wearing?
Was wearing white Hush Puppies earlier.
What's Under Your Bed ?
A bag of clothes which I intend to auction off, a box of last semester's papers and Andrea's luggage :)
What Time Did You Wake Up Today?
8am :)
Current Hair ?
Dark brown with fairly visible red highlights.
Current Clothes?
EHOC 03/04 tee and New Balance running shorts
Current Desktop Picture ?
The hanging branch opposite Fullerton Hotel
Current Worry ?
Whether I can ever digest the food.
Current Hate ?
The heat.
Favorite Physical Feature Of The Opposite Sex?
Smile.
Last CD You Bought ?
Can't remember. I am a pirate.
Favorite Place To Be ?
My room (when it's clean) or Kino.
Least Favorite Place ?
Woodlands Checkpoint.
If You Could Play An Instrument ?
Piano, trombone.
If yes, have you ever been on stage and win??
Not for musical instruments.
Favorite Color(s)?
Fuschia
Do You Believe In An Afterlife?
Yup.
How Tall Are You ?
Just found out that I am 170cm tall.
Current Favorite Word/Saying ?
Huh?
Favorite Season ?
Erm, spring I suppose. Not that I've experienced it much. But twice was good enough.
One Person From Your Past You Wish You Could
speak with?
Not that I remember.
Favorite Day ?
Saturday.
Something not many people know about you?
Like SY, I procrastinate.
Where Would You Like To Go?
Cliched but, erm, Europe :)
How Many Kids Do you want?
This, I really don't know :)
::::

Sze-lyn survived a camping trip!!!
So this is technically not my first camping trip. However, it's gotta be the first time I spent one whole night in a tent. During year one's camp, I woke up on a bridge with my OG mates at Sentosa. Last year's camp was THE disaster where us EHOCers trudged in rain and mud to clear up the campsite until 3:30am or so.
However, the EHOC trip to Ubin rocked! This was my first trip and before departure, we were already warned of mosquitoes, limited water supply, non-potable water and sandflies. I was braced for everything BUT sandflies. Anyway, I got through with pretty minimal mozzie bites and NO sandflies came near :) And a nice tan actually.
It was good getting to know the members from Rag and Flag instead of being with the programmers and/or my own D3 girls. The Night Walk was pretty freaky but I knew there was nothing to be afraid about - said a prayer and was uber confident that God was looking out for us. Had a pretty good conversation with Bin Bin throughout the 15 min walk. And as Bin Bin mentioned, this was the longest conversation we've ever had!
Nothing could have been better than the shower we all took after returning from Ubin yesterday. With all the dirty sand, grime, sweat, dirt on us (which we only hastily cleaned with minimal wet wipes and powder baths) - it felt good!
And here are a few snapshots...
On the boat to Ubin
Same boat
We laid flysheets on the ground to sleep at night as it was freakin' hot!
Sunset
Justin and I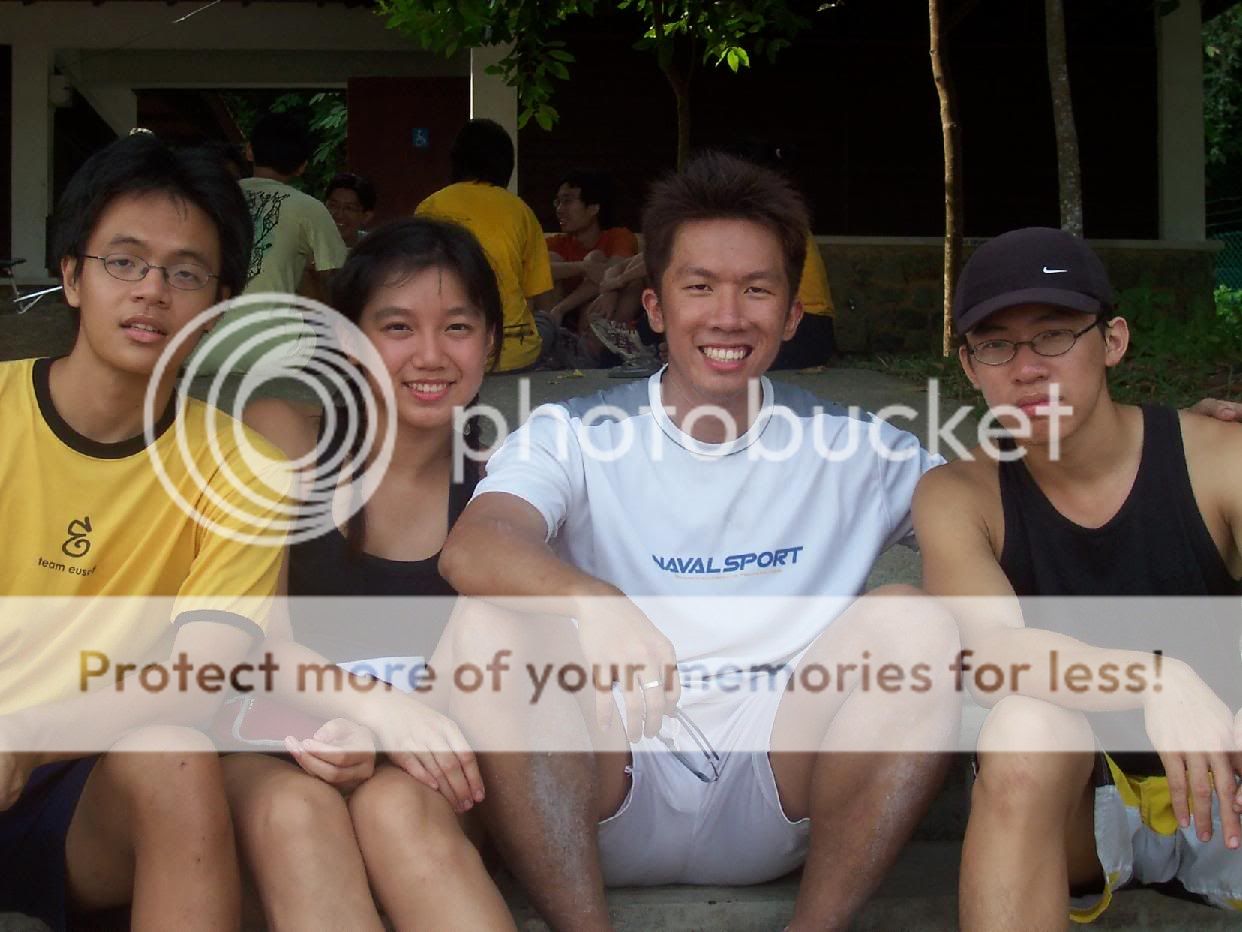 Eric, me, Andrew and Hui Siang
Happy EHOCers
More pics can be found
here
.
::::

Oops I did it again...
I jinxed the carwash AGAIN! I was one of hte marketeers today and I thought that we were off to a pretty good start - after facing 4 rejections in a row, things were looking up: I was getting lots of people who wanted their car washed, many more who gave SGD10 donations (it costs SGD10 to wash a car by the way) and one man was nice enough to donate SGD50!
But it happened again. We had to leave at about 2pm cos the parking attendants at the carpark was giving us trouble. Grrrrr. Kevin told me not to go for the next car wash. Haha. But HEY, I was happy that I got SGD300 today :)
And oh, I probably nearly died on Friday night.
The flaggers had a rented lorry that day and they decided to go for dinner, ferrying everyone on that lorry. So I tagged along cos Justin is a flagger as well. On the expressway, as we were happily sitting like Bangla workers at the lorry, Tze Chong suddenly came to a stop and there was this huge noise coming from the left tyre, and those of us at the back were nearly thrown forward. The tyre had hit something really sharp and literally exploded. Then, the guys tried to change the tyre and at that point of time, there was this 2 guys from EMAS Recovery who passed by and lent the guys their jack and helped them change the tyre.
What I can say is: thank GOD! I believe that it was truly God's hand on us that night - the fact that Tze Chong was able to brake properly, bring the lorry to the side - the fact that there was no car behind us - the fact that there were the guys from EMAS recovery passing by at such a coincidental time.
It only occurred to us later how dangerous it would have been if not for all these mentioned above: We could have been thrown off the expressway, we could have been stranded there for all we knew.
Thank GOD!
::::

This is what I was doing while talking nonsense with Andrew and Jerraine at 3:32am
10 Years Ago, I...
1. couldn't wait to get to secondary school
2. had horrible huge-framed thick glasses
3. thought I owned the world as I was a soon-to-be teenager
4. owned my first pair of jeans
5. welcomed Ernie into the world
6. scored straight As for UPSR ('xiao shi liao liao, da wei bi jia' - *sigh*)
7. first dabbled in drama
8. loved netball and basketball
9. was taller than all the boys in school save ONE
10. was traumatised during my first day in Form One as I was surrounded in a classroom full of rowdy boys and girls.
5 Years Ago, I...
1. couldn't wait to get out of secondary school (spot the pattern?)
2. hated physics, chemistry and biology
3. wrote my first and only song (fine - it was just the lyrics while the musical prodigy sharon wrote the melody)
4. obtained my driver's license
5. first gave the teaching profession serious thought.
3 Years Ago, I...
1. was at my happiest school days
2. started to take off my rose tinted glasses to see certain things in a clearer view
3. knew that God was serious about what He wanted for me
A Year Ago, I...
1. couldn't see the big deal about turning 21
This Year, I...
1. am more independant than I ever was
Yesterday, I....
1. got a slight sunburn and uneven tan lines from a 2 hour carwash
Today, I ....
1. actually turned down an opportunity to go for a sushi buffet
Tomorrow I will...
1. RUN!
::::

Told ya I jinx carwashes.....
As I set out for the EHOC carwash today, I told the programmers that I jinx carwashes. It either rains too heavily for us to continue or the carwash just cannot go on due to circumstances such as the nearby hawker centre being closed down for renovations etc.
And I did it again today. It started in the morning with us unable to get a water source. So later, the guys found the water source and we were washing away. Then, this guy in a yellow mini van stops in front of the car I was washing with Su Leen, Siew Yeun and Pearlene, asking us whether the car was ours, and telling us that it was illegal to hold carwashes there. I directed him to Kevin and the next thing we knew, we had to stop.
Darn, for the good of the flaggers, Sze-Lyn should stop going for carwashes? Haha.
The main commers (minus Jianzhong) - me, Andrew and Jerraine
The major part of the committee.
Anyway, EHOC programme has started and things have been pretty smooth, albeit with several hiccups here and there. Praying for the best, asking God to lead me to the right decisions, hard as they may be at time, praying that He will open me up to new ideas, new directions.
I was looking forward to the intensive period and now that it is here, I find myself still looking forward to it. Although I may know what lies ahead but I know it will be different from previous years. They are practically an entirely new committee with a lot of potential and ideas - it's just down to the hard work of actually making all these ideas WORK.
And here's to many sleepless nights ahead....:)
::::

Back from the land of hornbills...
There, a picture of a hornbill. JUST in case you didn't know, the hornbill is a symbol of Sarawak. And I've just spent one lovely week at Kuching. And no, I did not take a picture with those cat statues that were everywhere.
Apart from the fact that I was practically deaf and dumb at Kuching (everyone spoke Teochew, explains why) I had a glorious time :) Most of it was spent eating, naturally, but it was a good time of relaxation and exploring another Malaysian city. For those who have not been to Kuching and are familiar with West Malaysia, think Kuching as a big city with high rise buildings such as those in Penang, with roads 4 times wider and the serenity of Ipoh. Nice? I say so too.
As I said, I ate a lot and it is worth a mention that Kuching food is totally different from what we get at West Malaysia. And I noticed that creativity (or accidents?) really get into these food as there are many concoctions that I've never dreamt of, however obvious it seemed. Think......Sarsi + cincau (leong fun).....Sugar cane juice + coconut.....Salad chicken rice (it was more like thousand island dressing on the side of the fried chicken with yummy rice......and many many combinations of ice cold desserts. I ate my heart out :)
Justin and I together with his little sister Jamie went on a mini escapade a couple of days ago to the more rural side of Kuching and look where we went!
Can you see it? Can you see it?
One of my favourite pictures...
Crocodile Farm - the animals freaked us out quite a bit...
Exploring kampung roads...
This is right outside the Sarawak State Library. Never mind that the library is nowhere near the town area but it has a lake and a park with pebbled paths, mini waterfall and trees that sway with the wind!! (thinks of Perak State Library and shudders)
And now it's back to Singapore - When will I see the clouds like
this
again?
::::